Confirmed: Marshalls Coming To Sheepshead Bay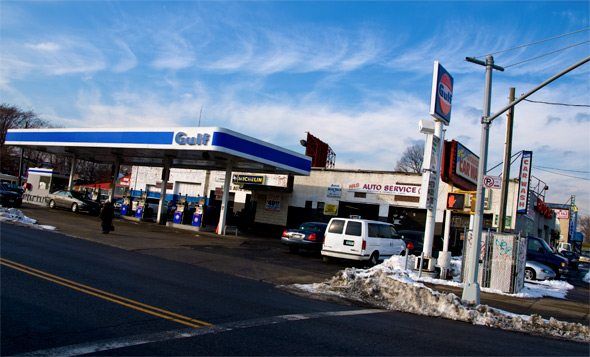 The rumor mill has been churning for months, but Sheepshead Bites has finally confirmed that Marshalls department store will open near the heart of Sheepshead Bay – but additional traffic could upset neighbors.
The 27,292 square foot, one-story department store will be constructed at 1611 Avenue Y, between East 16th Street and East 17th Street. A source close to the deal told Sheepshead Bites that construction will begin over the summer, but the opening date probably would not be until 2012 or 2013. The source added that the property will likely include a rooftop parking lot.
Four local businesses, three of which have been open for decades, are shuttering to accommodate the development: Golden Touch Car Wash, Gulf gas station, KR & S Auto Service and the fruit and vegetable market on East 16th Street.
While the market closed earlier this month, representatives of the other three businesses confirmed that they will cease operations at the end of April or beginning of May.
The business owners didn't appear to mind much, seeming rather sanguine about it when we interviewed them.
"Life goes on, brother," said William Mejin, who has managed Golden Touch for 17 years. He said the business had been there since the 1950s, with the current owner taking over some time around 1994. Mejin said the property owner bought them out of their lease, and they're currently seeking a new location. "Right now, we don't know what's going to happen to us, it could be bad. But maybe it'll mean better things for the community."
He added that most customers he told about a potential Marshalls opening were "excited, they say, 'It's about time!'"
The owner of KR & S Auto Service was similarly unfazed about the move, saying he'd find another location.
But some community leaders foresee mounting traffic problems if Marshalls goes forward, due to the other large retailers around the intersection. Currently, Doody's Hardware Store, Petco and Stop & Shop crowd around East 17th Street and Avenue Y, with an elementary school a block away on East 18th Street. The arrival of a popular retailer like Marshalls could cause a boondoggle for nearby residents.
"I'd think anything that goes there would be a traffic nightmare," said Community Board 15 Chairperson Theresa Scavo. "Traffic, traffic, traffic. Go to Petco on a Saturday afternoon – it's backed up to kingdom come. Imagine something like that where every woman will be flocking over here."
Residents just up the block, on East 17th Street, don't seem as concerned.
"If they don't block my driveway and don't do anything at night, I don't care," said one neighbor.
Another resident acknowledged that additional trucks and cars could be a problem, but she didn't think it would be much worse than the existing businesses there. She said that cars frequently line up around the car wash and mechanic, and that the gas station and food market were poor tenants. Garbage, odors, filth and more have been a constant problem over the years.
"Petco made the corner better," she said. "Maybe if they do something like that, with a parking lot, it would make it better. They've got to have a parking lot; they can't hog up our space."
The property owner declined to be quoted for this article.
Local broker assisted in researching this piece.