Coney Island Hospital, Local Artists' Group Dedicate New Exhibit Space To Recchia Staffer's Late Husband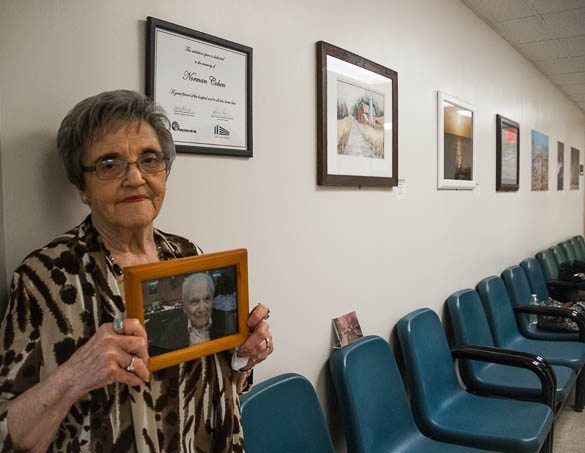 Coney Island Hospital (2601 Ocean Parkway) and the Brooklyn Streetcar Artists' Group dedicated a new exhibit space in the hospital to the memory of Norman Cohen, the late husband of Councilman Domenic Recchia staffer Roz Cohen.
Cohen, 83, passed away on January 29, 2013, at 11:45 p.m. with his family at his side, shortly after being diagnosed in October with acute leukemia. During that time, the hospital was still grappling with rebuilding after Superstorm Sandy and was in close communication with the councilman's office. Upon learning of Roz's loss, the hospital and the Brooklyn Streetcar Artists' Group decided to dedicated the planned space in his memory.
Now the ninth floor waiting area of the hospital's oncology department is a rotating art space, which will feature new pieces from the artists' group once or twice a year and be the permanent home of a plaque and photo dedicated to Norman Cohen.
"He was a really good father, a good grandfather, a good husband," Roz Cohen recalled. "He was very understanding."
She remembers Norman, who retired after working in the stock market, helping her kids and grandchildren with their homework, as well as his sense of humor.
"He had a very good sense of humor. Very dry," she said.
Norman and Roz celebrated 56 years of marriage before his passing. He is survived by Roz, his children Sharon and Howard, and five grandchildren, Matthew, Melissa, Jared, Chelsea and Ethan.
Roz has served  in Councilman Recchia's district office for the last 12 years, as the senior constituent liaison. Friends and local leaders remember Norman as a quiet fixture at her side during community events and gatherings.
"We just want Coney Island Hospital to know how much we appreciate this in the community, but Norman most of all, for all the work that he has done," said Recchia at the dedication of the exhibit space last week. "Behind the scenes, Norman was the man who made Roz what she is today. And she's still going strong. Nothing's holding her down."
The Brooklyn Streetcar Artists' Group also maintains a gallery on the second floor of Coney Island Hospital's main building and can be seen during normal visiting hours.