Pipeline Company Issues Detailed Study Of Flooding Risk To Jamaica Bay Facility Amid Post-Sandy Concerns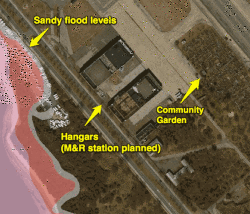 The company seeking to run a gas pipeline under Floyd Bennett Field and build a meter and regulating station in a historic airplane hangar there commissioned a report that found a .2 percent chance the planned facility would be flooded, even amid rising sea levels.
The Williams Transco pipeline company's report came in response to an April 4 letter from the New York Department of State seeking reassurance that the station couldn't be breeched after the Federal Emergency Management Agency updated its flood maps, post-Hurricane Sandy.
"Infrastructure in general was severely impacted by Sandy and NYDOS would not be adequately addressing coastal policies if we did not try to ensure that new infrastructure projects were able to withstand coastal impacts, including flooding," Laz Benitez, an NYDOS spokesman said in an email.
The meter and regulating station, to be built near Flatbush Avenue, would not be in a flood zone. But FEMA's new map shows that during Sandy, floodwater encroached the edges of Floyd Bennett Field (see diagram), including directly across Flatbush Avenue. Benitez said the floodplains appeared to move landward, "suggesting a greater inland area could be flooded."
Ecology and Environment, Inc, the company hired by Transco to study a response, said that based on the revised map, there is a .2 percent chance the meter and regulating station would be flooded in a given year. The company said the station could be within a flood zone one day, but damage is unlikely given the planned height of the facility's floor.
"Based on the current M&R Facility design, all wiring and electrical components such as generators would be located at least 1 foot above the current floor elevation of Hangars 1 and 2," the report read. "This is expected to limit risk of significant equipment damage due to flooding to less than 0.2% per year for the life of the facility, even assuming a 1-foot rise in sea level."
"Operation of non-electrical pipeline components would not be significantly affected by flooding," the report continued.
Opponents argue the project, dubbed the Rockaway Delivery Lateral, doesn't belong in the Gateway National Recreation Area, which houses Floyd Bennett Field. Supporters say the pipeline will bring needed gas – and jobs.
The pipeline would extend from an existing pipeline in the Atlantic Ocean through the Rockaway Peninsula, and into Floyd Bennett Field, where the meter and regulating station would be built 200 feet from the city's largest community garden.
Environmentalists called Sandy a wakeup call – and fear future storms could prove even worse.
"This has been a major concern," said Sandy Gonzalez, a member of the Coalition Against the Rockaway Pipeline. "The water level with the superstorm was very close to flooding Floyd Bennett Field."
Daphne Yun, a spokeswoman for the National Park Service, said she couldn't predict whether the field would flood in the future, but noted flooding was minimal during Sandy. "It's a higher elevation and it's sort of further away from the water," she said.
Asked about flooding, Christopher Stockton, a spokesman for Transco, referred to a fact-sheet the company put out addressing the impact a Sandy-like storm would have on the Rockaway Lateral pipeline: "The short answer to that question is none."
Joe Nerone, a member of the Floyd Bennett Field Garden Association, opposes the pipeline and meter station, but isn't worried about flooding. He's more concerned about the projects' potential impact on aquatic and plant life.
"We don't feel that this project belongs in a national park," said Nerone, who' s been gardening in the park since 2008.
Late last year, President Obama signed a bill to allow a gas pipeline under the park. Congressman Michael Grimm (R-Staten Island/Brooklyn), who sponsored the bill, has said the project could create 300 local jobs, create tax revenue and reduce gas prices in the area.
Floyd Bennett Field, unlike densely populated areas, is a good spot for the pipeline and meter station, Stockton said. "We were kind of challenged to kind of think outside the box," he said.
Transco plans to overhaul two decrepit 1930s airplane hangars that comprise one of the buildings off of Flatbush Avenue, and retrofit them as housing for the meter station. Stockton said the meter station and hangar project is expected to start in September, and take a year to 14 months. Work on the National Grid portion of the pipeline, extending further up Flatbush Avenue, has already begun. He noted the company will pay the National Parks Service $150,000 rent annually.
Some gardeners fear the station would discharge gases into the park. "It can reside in the soil," said Ed Bressel, a gardener, "and it runs 24-seven."
The station will periodically discharge gas during maintenance and use heaters that release nitrous oxide and sulfuric acid. Stockton said the emissions would be minimals. "Our intent is to procure and operate heaters that meet federal, state, and local standards," he said.
Zhongqi Cheng, director of environmental sciences at Brooklyn College, saw little to worry about from the station. "It's very windy at Floyd Bennett Field, right? So anything that's vapor is going to blow away, right?" he said. He said oil runoff from trucks during construction stage could be an issue, but that trucks drive by the garden already.
"It's just like a garden by a busy road, for example," Cheng said. Anyone concerned about eating the food there, "should just wash it carefully," he said, "and take some common sense."
— Shannon E. Ayala