'Community Speak Out' Planned In Support Of Alando Brissett, Who Was Pinned To Ground & Punched During Arrest At Flatbush Junction Target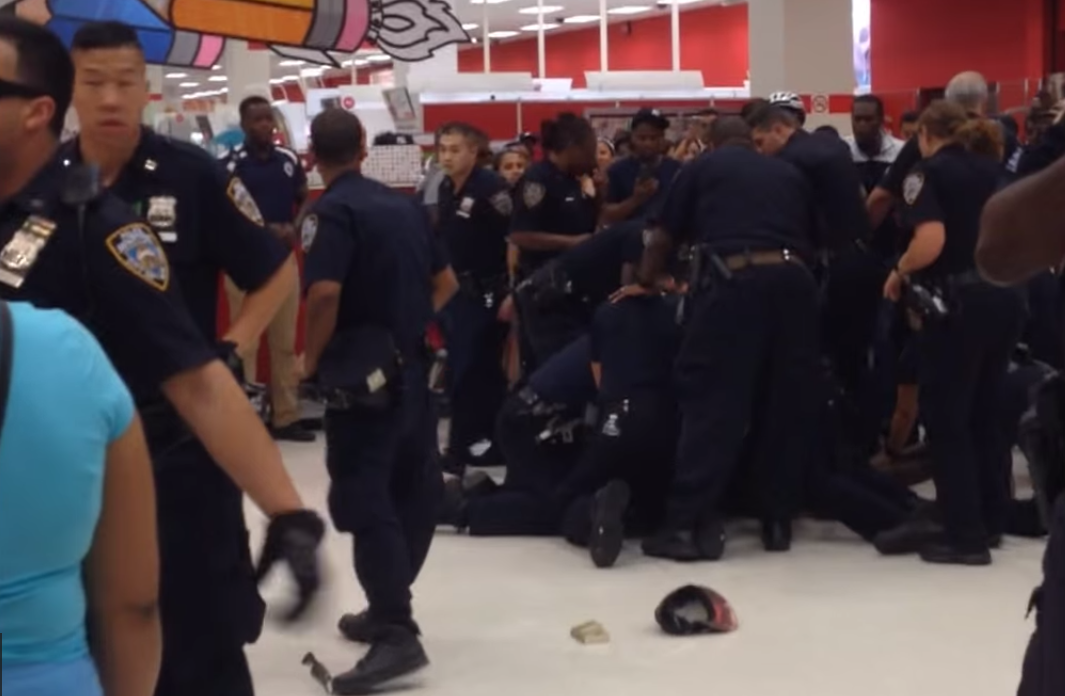 After neighbor Michael Rolland published the above video showing police officers punching a 25-year-old man, Alando Brissett, while arresting him at the Flatbush Junction Target last weekend, area activists are planning a "community speak out" in support of Brissett this coming Monday, August 3.
Equality for Flatbush will hold the event from 6-8pm on Monday at the Junction Target, located at 1598 Flatbush Avenue, by Avenue H. Brissett's family is expected to attend the event.
The 14-minute video taken by Rolland around 8pm last Saturday night has prompted an internal investigation by the NYPD, and Rolland's girlfriend, who also lives in our neighborhood, has sent the video to the ACLU, NYCLU and Equality for Flatbush.
"I would encourage people who have more information or videos — other people were taking videos — to come forward so we have a fuller picture of what went on here," Rolland said in an interview with us earlier this week. "I'm concerned about he level of response we saw."
In the video, a group of police officers are shown holding Brissett down on the ground and punching him several times. As soon as the officers began punching the individual, concerned onlookers began crowding around the scene, demanding that the police stop hitting him.
"One person, 50 police," one man yells in the video as the number of police officer swells.
Following the footage of Brissett being punched, Rolland followed him and the officers outside, where the man was checked out at an ambulance and then taken away in a squad car.
According to the criminal complaint, a Target employee called the NYPD Saturday evening after she and Brissett got into an argument when Brissett asked for a receipt after returning bottles for cash at the store — something the man's grandmother told the Daily News he often did to make some extra money.
The grandmother said Brissett "had trouble remembering things, which made it hard for him to hold down a job," the Daily News reported.
The Daily News wrote:
He had dropped out of community college, [Brissett's grandmother] said.
"He's not a bad kid, he's not a rude kid," she said of Brissett, adding he often does her laundry for her without her having to ask.
"It hurts me," she said of the video. "You cannot harm my grandson. He's not a criminal."
Police said Brissett faces charges of trespassing, resisting arrest, disorderly conduct and obstructing governmental administration.
For more information about Monday's event, you can email flatbushequality@gmail.com or call 646-820-6039.