Community Rails Against Oversized Marine Park Development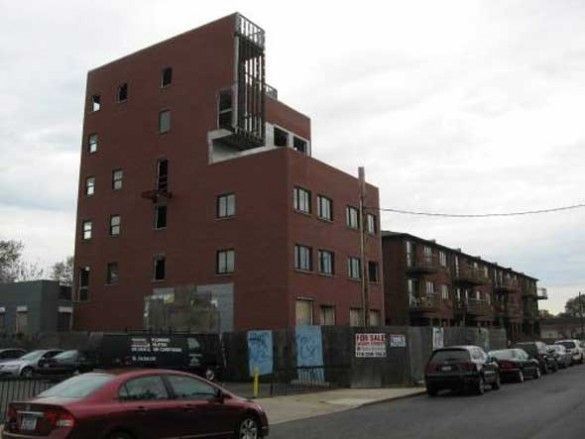 Community members and elected officials from Brooklyn's Marine Park section opposed a developer's request Tuesday for permission to complete an oversized building that violated the zoning code.
The city stopped work on the six-story building at 2232 Kimball St. five years ago after the Buildings Department realized it was bigger than the zoning permitted. The developer doesn't have the $500,000 that would be needed to remove the top two floors, its representative, Margery Perlmutter, told the city Board of Standards and Appeals on Tuesday.
Kimball Group filed a "hardship" waiver in April that the local community board, which is limited to an advisory role, rejected unanimously.
"I do not consent to the Kimball Group receiving waivers," Joann Mitchum, who lives in a neighboring building, told the Board of Standards and Appeals on Tuesday. "Actions speak louder than words. They haven't done anything to help our community."
Marine Park resident Margaret McCarthy said the developer should not be rewarded for violating the zoning regulations. "It's an eyesore, it's a health hazard," she said.
"The building was built illegally," Assembly member Alan Maisel (D-Brooklyn) said. "It's an eyesore. If they had done it the right way there would have been no hardships"
Joan Byrnes, representing State Sen. Martin Golden (R-Brooklyn), said, "If they are unable to act within the law they can file for bankruptcy."
After Perlmutter requested an extension, the board set another hearing for Dec. 6. The Kimball Group was given until Nov. 22 to submit any other materials.
In 2006, the city stopped work on the building after residents complained that the structure was oversized. With the Buildings Department taking no action, Brooklyn Borough President Marty Markowitz's staff engineer inspected the building and found violations. After that, the Buildings Department issued a stop-work order.
The building has remained partially built and unoccupied since then. Markowitz told a state Assembly committee in 2006 that he could not believe that this project was given the go ahead.
—  Becca Fink and Margarita Kukles for NYCityWatch.org