Community Leaders Break Ground On New School At 510 Coney Island Avenue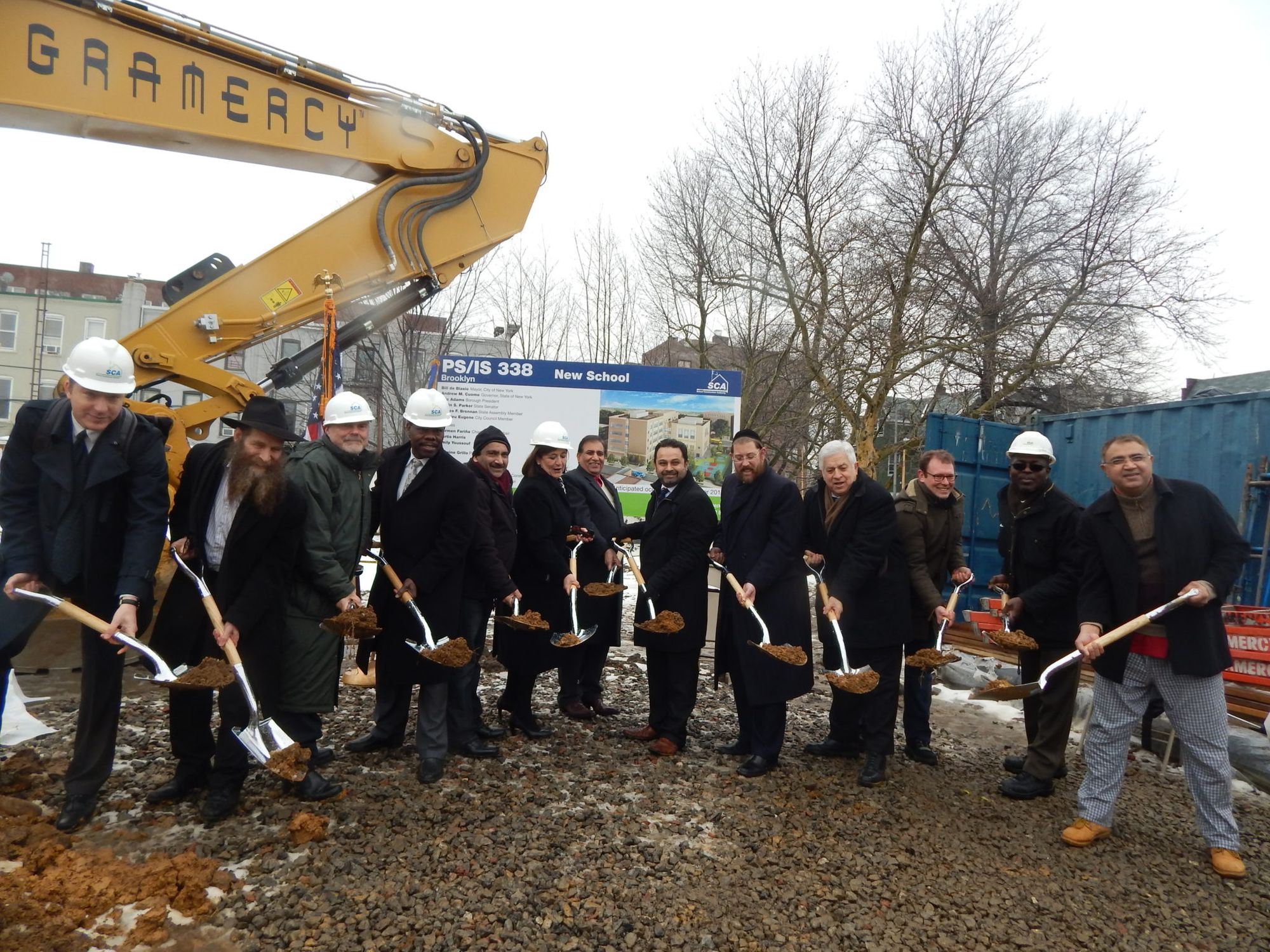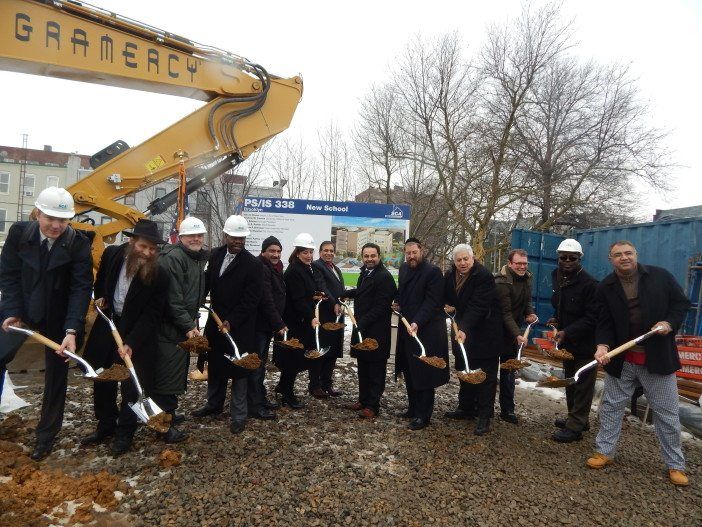 Standing in a sea of mud that will soon become a 757-seat school on Coney Island Avenue, Councilman Mathieu Eugene, School Construction Authority President Lorraine Grillo and other community leaders gathered Wednesday morning to break ground on the incoming P.S./I.S. 338.
"I am excited and delighted to see this new school coming into our area," Eugene said of the $68 million project at 510 Coney Island Avenue, near Church Avenue. " … This school is going to offer so many opportunities."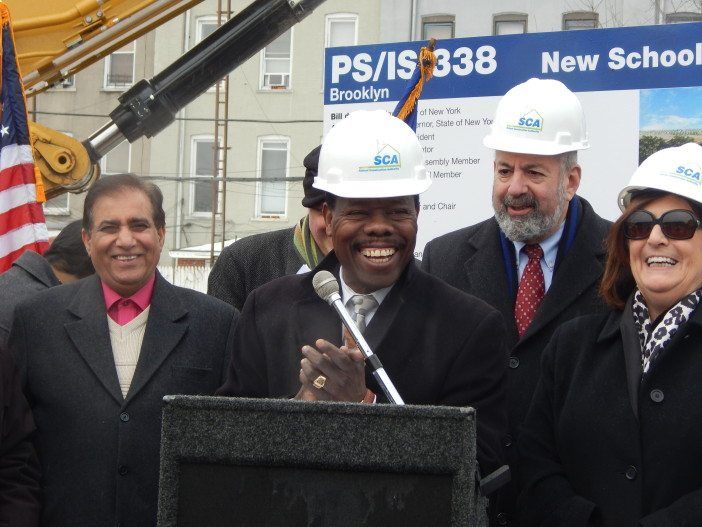 Construction is set to begin this spring, and the five-story school is anticipated to open in September 2017 with seats for children in pre-K through eighth grade. According to the city SCA, there will be two pre-K, three kindergarten, and 29 standard classrooms. There will also be a cafeteria and kitchen; a library; a gymnasium; a "gymatorium," or a gym and auditorium space combined; outdoor recreation space; a medical suite; a parent/community room; and more.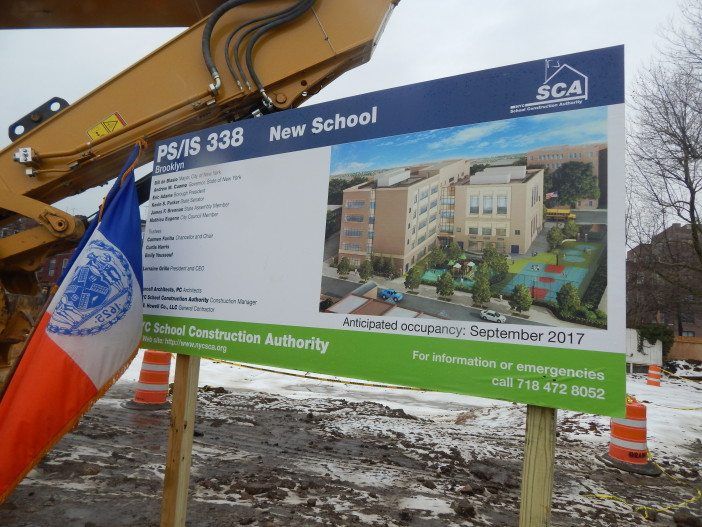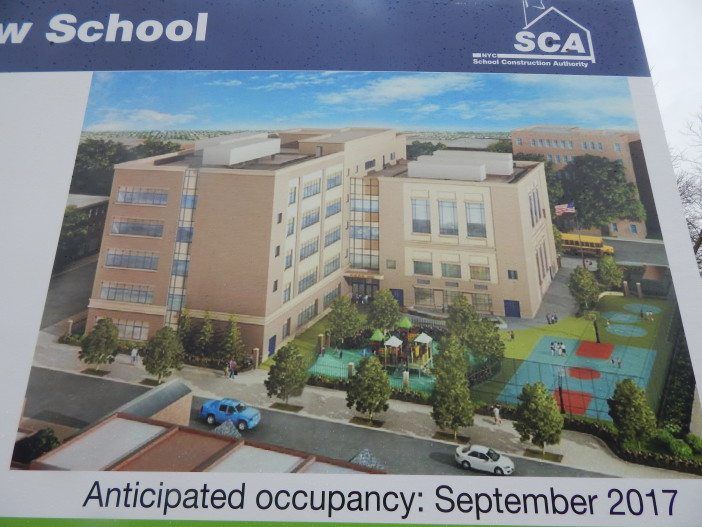 Specialized instruction space in the school will include a music suite, an art classroom and art workroom, and a science rom with work stations for primary students and lab/demo/prep rooms for intermediate students.
"The school itself is going to be a fabulous building," said Grillo, who also praised Eugene for supporting bringing P.S./I.S. 338 to the neighborhood.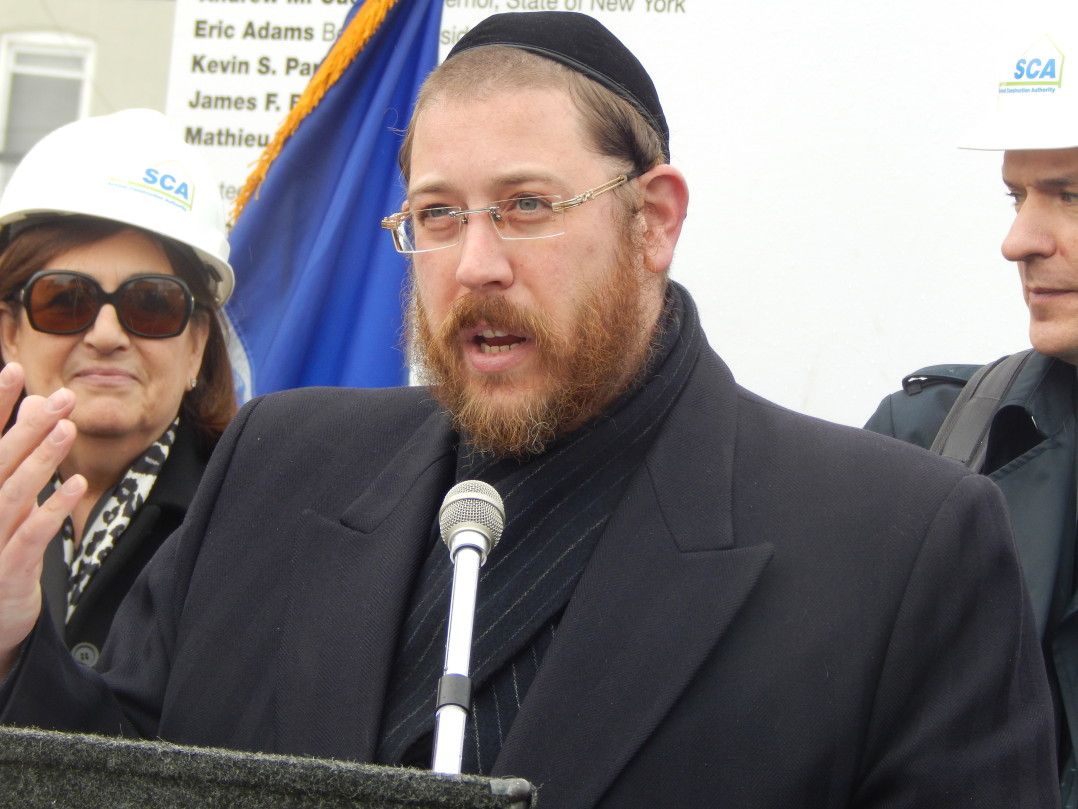 A number of area leaders attended the gathering and too echoed excitement about the incoming facility, including Community Board 14 Chairman Alvin Berk, Community Board 12 District Manager Barry Spitzer, 44th Assembly District Leader Jacob Gold, Matt Wolf of the Kings Theatre, Council of Peoples Organization Executive Director Mohammad Razvi, and Harry Schiffman of Assemblyman Jim Brennan's office, among others.
"Councilman Eugene's advocacy for … seating in this district goes back even before he was a councilman, when he was on Community Board 14," Berk noted.
While Grillo and Eugene said zoning for the school has yet to be worked out (it won't be set for at least another year, according to the SCA president and legislator), Razvi said he hopes it will alleviate some of the school overcrowding in the area.
"We have a large, growing South Asian community here," Razvi said. "We had to start a pre-K class in our community center to alleviate the waiting list at PS 217 – and still there's a wait list of about 100 people."
Gold, who was taught social studies in New York City public schools for 35 years, said a school with as many amenities as P.S./I.S. 338 will have will make a big difference for students, teachers, and parents.
"The ambiance of a school does matter," Gold said. "A new, clean environment plays a very important role."
"This school is very much needed," added Gold, who also noted that P.S./I.S. 338 isn't the only incoming school in our area – there's also a new school being built on Caton Avenue near E. 7th Street.
What do you think this school will mean for our neighborhood? If you're a parent in the area, is there anything specific you'd like to see this school offer that other area schools don't?