Cobble Hill Replaces DUMBO As Brooklyn's Priciest Neighborhood
COBBLE HILL – Cobble Hill has usurped DUMBO as Brooklyn's priciest neighborhood, according to Property Shark's recently released report Priciest NYC Neighborhoods in Quarter 2 2019.
Cobble Hill was the only Brooklyn neighborhood to make it into the top ten, coming in at number 7. Tribeca held on to the top spot, followed by the recently opened Hudson Yards, Little Italy, Soho, the Garment District, and Hudson Square. Following Cobble Hill, the Flatiron District, Greenwich Village, and Gramercy Park rounded out NYC's top ten most expensive nabes in the second quarter of the year.
Manhattan dominated the top 50 list of Priciest NYC Neighborhoods (which actually totaled 52 due to a couple of ties) with 24 entries. Brooklyn came in a close second with 21 neighborhoods, and Queens came in next with seven.
The Cobble Hill House at 78 Amity Street (at Hicks) accounted for 17 of the total 29 sales in the neighborhood, with a median home sale price of over $2.3 million. Sales launched at the luxury condo last September, according to Curbed. Developed by Vega Management, the five-story building houses 27 units ranging from one- to three-bedrooms. The property features five penthouse units each with a private roof terrace.
DUMBO saw the largest decline on Property Shark's list, dropping 40% year-over-year to a low of $1.5 million median home sale price with 12 transactions, landing in second place for the borough. Brooklyn Heights and Manhattan Beach sales also dropped by about 14%.
Prospect Park South saw an increase of 142% year-over-year prices to $1.23 million with seven sales (three of them were houses) while the Columbia Street Waterfront District saw prices increase 86% year-over-year to $1.2 million with nine transactions. Three of the area's nine sales were at the 161-163 Columbia Street condo development (between Kane & Degraw Streets), a four-story boutique building featuring 16 units.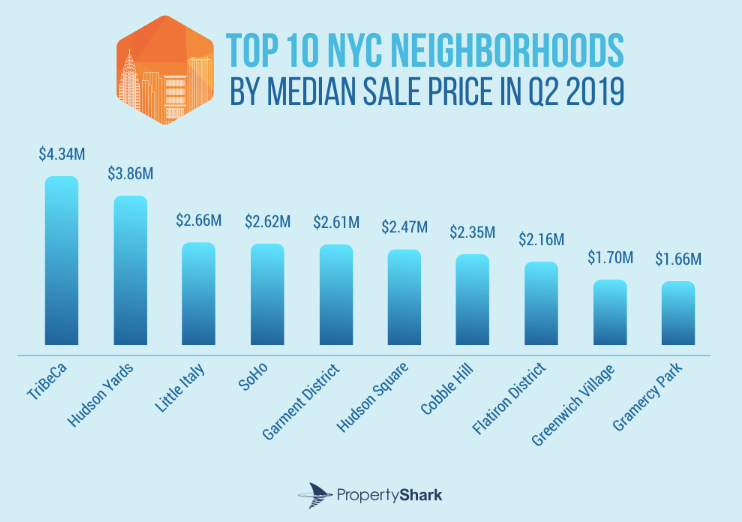 See how Brooklyn neighborhoods ranked on Property Shark's list of Priciest NYC Neighborhoods in Quarter 2 2019 below.
#7 Cobble Hill $2.35M (+171%)
#12 DUMBO $1.5M (-40%)
#13 Carroll Gardens $1.455M (+21%)
#17 Greenpoint $1.364M (+48%)
#20 Fort Greene $1.262M (+21%)
#22 Prospect Park South $1.23M (+142%)
#23 Columbia Street Waterfront District $1.2M (+86%)
#24 Boerum Hill $1.155M (+1%)
#25 Gowanus $1.142M (-7%)
#29 Prospect Heights $1.079M (-2%)
#31 Manhattan Beach $1.055M (-14%)
#32 Ditmas Park $1.025M (+67%)
#33 Park Slope $1.018M (-4%)
#34 Williamsburg $999,999 (+5%)
#35 Brooklyn Heights $987,500 (-14%)
#41 Borough Park $879K (-9%)
#43 Downtown Brooklyn $849K (-11%)
#46 Dyker Heights $830K (-6%)
#48 Homecrest $800K (+10%)
#49 Greenwood Heights $793,217 ( – )
#50 Prospect-Lefferts Gardens $775K (+22%)
Check out Property Shark's full Q2 2019 list here and click here to see the Q1 2018 rankings.