City Reps Face Angry Residents at Park Slope Town Hall Over Botched Construction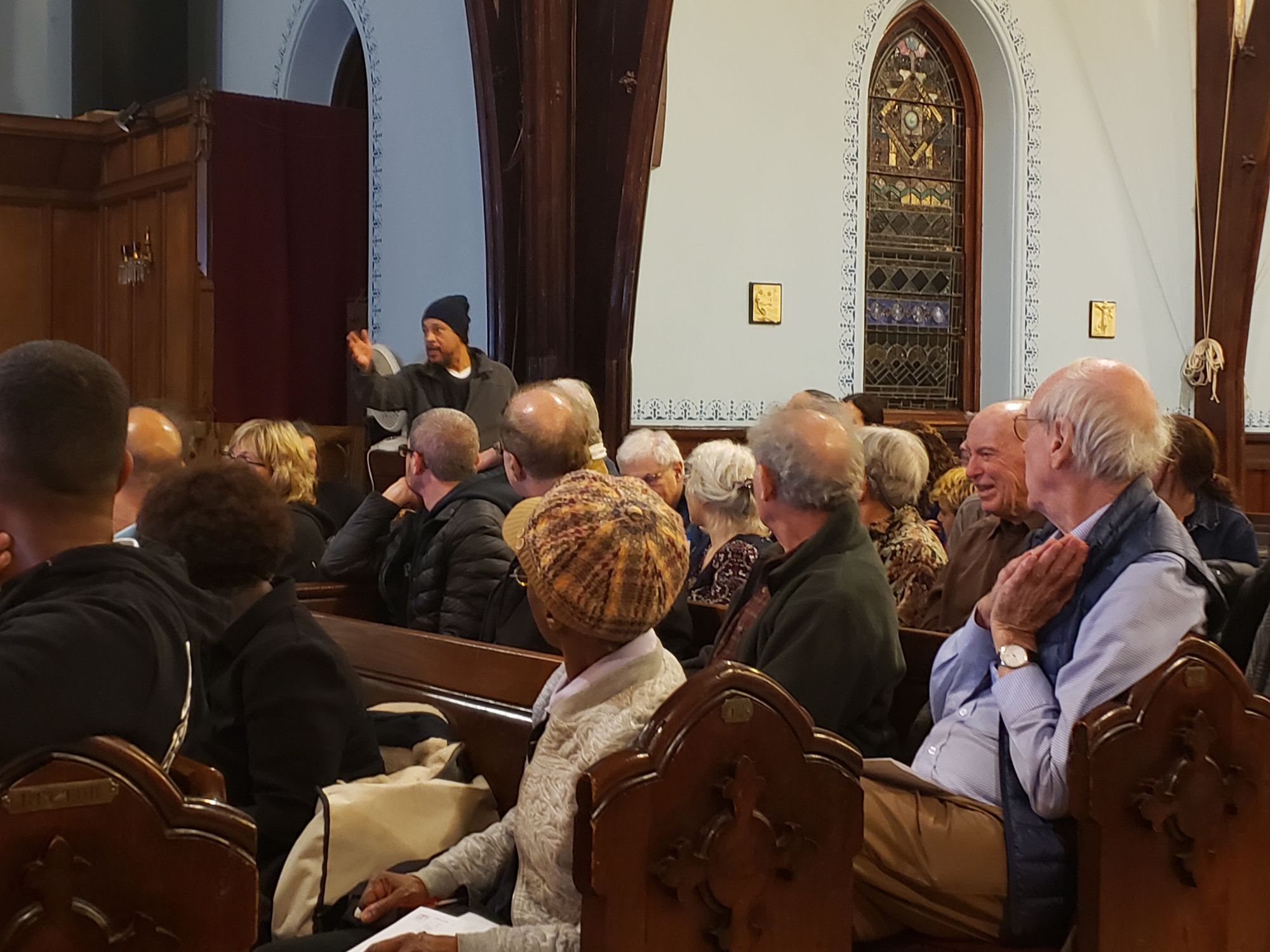 A Park Slope town hall addressing complaints about the disruptive replacement of a water main turned emotional as residents shouted down sheepish city representatives over mismanagement.
The St. John's Place Community Association (SJPCA) hosted a swath of New York bureaucrats to face the furious questions of 250 Park Slope residents.
Angry citizens shouted over speakers and were met with raucous applause. "I'm getting shaking that's enormous," interrupted one indignant resident. "I'm talking chandelier swinging enormous. I'm talking lights flashing enormous." She was met with much fanfare.
"I'm sorry we didn't get together sooner," said City Council Member Brad Lander. "These projects are always challenging… When you are having regular community dialogue in the process, it's easier to navigate."
The area of Park Slope affected by the construction consists of classic Brooklyn Brownstones — most of which are over 100-years old. Many of them are protected by the Landmark Preservation Commission. Residents fear the construction could permanently damage these historic buildings.
Lucas Ruben says he feels powerless. "I'm trying to reassure my 80-year-old mother that the house isn't about to collapse when I don't believe it myself," said Ruben who lives on 8th Ave. The shaking was severe enough to destroy his hot water heater.
The tremors aren't the only thing that has the SJPCA riled up.
Since construction started on the water main in February, 2018, residents have had to grapple with power outages, flooding, street closures, sinkholes and rat infestation.
Michael Saunders's Brownstone flooded on Labor Day. "There was water shooting through the brick work, like someone had a high pressure hose," said Saunders. He and his wife Claudia have been living in Park Slope for 10 years and didn't have flooding issues until the construction started.
One resident, Rebecca Yuen, says the air pollution from the construction triggers her allergies and makes breathing difficult.
The SJPCA have called for the cessation of construction until their issues can be addressed and an investigation can be carried out. Jeffrey Margolies, a representative of the Department of Design and Construction (DDC), said work will continue as planned this spring.
In response to many of Park Slope residents' complaints, Margolies emphasized that if city construction damaged private property, the best course of action is to file a claim with the comptroller's office within 90 days of the incident. After the 90-day window, the comptroller's office can't reimburse for damaged property.
When pressed on whether the DDC could revoke contractor Triumph's 38.6-million-dollar contract, Margolies said "Taking them off the project is challenging, it would probably cause years of delay to the work. Things would come to a halt."
"That's fine with us," an audience member responded.
The meeting wasn't entirely combative. During the question and answer session, Lucas Ruben took issue that movies are being filmed in the area while traffic and parking are disrupted by construction. "I think your idea about the film shooting moratorium is a possible one," said Daniel Abramson, the Brooklyn Borough Director for Mayor Bill de Blasio's Community Affairs Unit. "It's something I will follow up on immediately."
Park Slope residents will get a break from the chaos over the winter, but construction is still in the preliminary phase and isn't projected to be finished until summer, 2021.