City Promises That Despite Setbacks, Brighton Bathrooms Will Be Built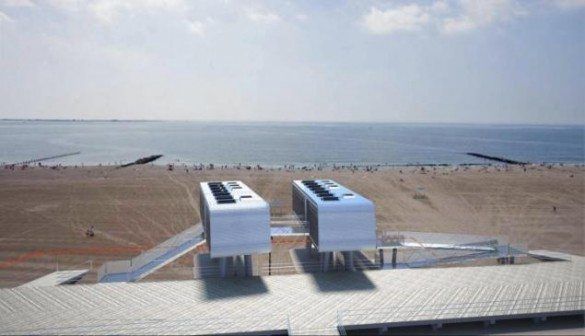 The Brighton Beach bathroom pods are currently parked at the end of the boardwalk but they won't remain there forever, much to the consternation of residents of the Oceana luxury condominiums (50 Oceana Drive West). The New York Daily News is reporting that the Parks Department is dead-set on placing the bathrooms eventually, in spite of fierce opposition.
Last week, we reported on a preliminary injunction signed by a Brooklyn Supreme Court judge that ordered a full environmental impact study to be conducted before construction can continue. Opponents of the bathrooms, including Assemblyman Steven Cymbrowitz, hailed this decision as a victory for Oceana residents who are sickened by the prospect of staring at a public bathroom from their windows. Despite this victory, the Daily News is reporting that the city plans to continue their fight to put the bathrooms in place:
Officials have refused to provide information about the construction snafu, but a spokeswoman said the city will continue its push to install the loos.
"The petitioners' repeated efforts to halt the new comfort stations unfortunately means that a vital facility for the greater public continues to be delayed," Meghan Lalor, a spokeswoman for the New York City Parks Department.
While the the legal effort put forward by Oceana residents focuses on environmental and safety concerns, comments made by residents to the Daily News reflect the notion that opposition still suggests other priorities:
"I paid so much money for an oceanview apartment," [Alexandra Tsepenuk] added. "And to have that massive structure right in front of my window is ridiculous. My kids won't be able to see anything."
Other residents said the structure will attract drug dealers, gang members and other undesirables, not to mention the expected disadvantages of being next to the loo.
"I don't want the nasty breeze from the toilets to come into my apartment," said Olga Norman, another resident who also has an ocean-facing apartment.
"Restrooms are great, but why can't they put it further down the boardwalk? I'm scared about drug deals taking place under the structure, and all the homeless people that will gather there."