City Delays Mosque Plans As Another Review Begins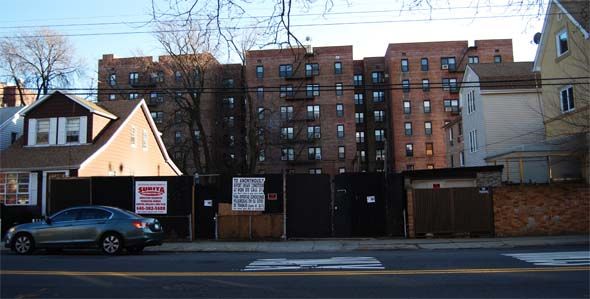 After a year-long Department of Buildings review of the proposed Voorhies Avenue mosque finally passed examiner's muster last week, the city stunned the center's proponents by placing a hold on the project.
The agency's records show that the plan for 2812 Voorhies Avenue was approved on Wednesday, then reviewed and approved a second time on Thursday. After approval from the plan examiner, the filing is now branded with a "Job on hold" message, just as the mosque's organizers were seeking contractors to begin work.
"Why? I have no idea why," said Ibrahim Anse, the center's architect. "It's a unique situation that puts the DOB in a question mark."
Anse was told the plans are now going straight to the top of the agency, and are being reviewed by the commissioner himself. He added that it's unusual, as jobs are normally put on hold only if construction has started and work doesn't match the approved plans. The organizers' legal team is following up on it, and is requesting a sit-down with the DOB's commissioner.
"Our case was just approved after a one-year review, he said. "This is a question mark we have to have the answer to."
The property owner, Ahmed Allowey, said that the city is bowing to pressure from mosque opponents and unfairly delaying plans with the additional scrutiny.
"It's only common sense to assume that," he told the Brooklyn Paper. "We lowered our plan from four floors to three out of deference to our neighbors. And now everything is on hold again."
Brooklyn Paper is also saying the turnaround "smacks of a back-room deal" between local politicians and mosque opponents, but some community leaders are saying it's for the benefit of the mosque organizers.
Opponents have vowed to continually file complaints to the DOB to cause as many delays and obstacles to the construction as possible. Ensuring the validity of the plans before work begins protects the project's proponents from spurious complaints later, according to local leaders.
"If I'm building something that [is going to draw numerous complaints from neighbors] … wouldn't it be better if I take every if-and-or-but away from the equation?" said Community Board 15 Chairperson Theresa Scavo. "Let's not give [opponents] one thing to find."
State Senator Carl Kruger echoed Scavo's reasoning.
"The proponents of this mosque should be happy [with the second review]," he told Brooklyn Paper. "After this, nobody is going to be able to go to them once they started work and say 'This is not appropriate.'"
Both Scavo and Kruger have previously supported the organizers' rights to move forward with the project despite community complaints, citing religious freedom.
The property owner, Allowey, has been told the latest review will take up to five months.
Sheepshead Bites is awaiting a statement from the Department of Buildings' press office.