Church Avenue Welcomes New State of the Art Health Care Center
A newly constructed, modern medical facility has come to our community.
The Brooklyn Hospital Center (TBHC) has opened an ambulatory care facility at 2244 Church Avenue, between Bedford and Flatbush Avenues. The hospital's new, spacious Flatbush location offers primary care, dental care, podiatry, cardiology, gastroenterology, gynecology services and comprehensive travel medicine / Infectious Diseases and HIV treatment services for the entire community.
The long-term plan, said Dr. Leonard Berkowitz, who heads TBHC's Division of Infectious Diseases and is Medical Director of HIV/AIDS services, is to bring a broad range of comprehensive medical services to residents and provide care for the entire family under one roof.
Future offerings at the Flatbush location will include ophthalmology and dermatology services, Dr. Berkowitz said. Service expansion plans will accommodate the neighborhood's health care needs.
As part of its primary care mission, the new facility will address medical issues that are prevalent in our neighborhood, such as hypertension, diabetes and elevated cholesterol. The new, state of the art dental suite offers Flatbush residents access to immediate, quality dental services.  "There is room for everybody," said Dr. Berkowitz.
TBHC's Church Avenue Family Health Center is open Monday through Friday, with plans to open on Saturdays in the spring. All are welcome to walk in to schedule an appointment. Staff are available to make an appointment or answer questions; please visit us at (718) 826-5600, or www.tbh.org for more information.  Hours of operation are flexible to accommodate residents.  The Center can be reached by the B, Q, 2 and 5 subway lines, along with multiple bus lines.
Serving a Critical Need for HIV/AIDS Patients
As part of the new Center, TBHC continues its long-standing, comprehensive HIV/AIDS services for Flatbush residents.  TBHC's former program (located at 2222 Church Avenue) has relocated to the newly built facility just steps away at 2244 Church Avenue.  TBHC's mission to  provide comprehensive infectious disease care to approximately 1,200 HIV/AIDS patients in downtown Brooklyn and Flatbush remains strong, Dr. Berkowitz said.
The Church Avenue Center offers comprehensive services ranging from case management, nutritional counseling, midwifery and Hepatitis-C positive patients.
The greater Flatbush community has been particularly hard hit by HIV/AIDS, said Dr. Berkowitz. Zip code 11226 has a high concentration of HIV/AIDS cases relative to the rest of New York City, he noted. "There is a tremendous need here."
Treatment for HIV/AIDS has advanced so much that a diagnosis is now a manageable situation, stressed Dr. Berkowitz. The vast majority of HIV patients are able to live normal, full-length lives.
Dr. Berkowitz spoke enthusiastically of TBHC's long history in the Flatbush neighborhood, dating back to its work at Caledonia Hospital on Parkside Avenue.  TBHC is devoted to, and supports, its patients, he said. "Our hearts are in the right place."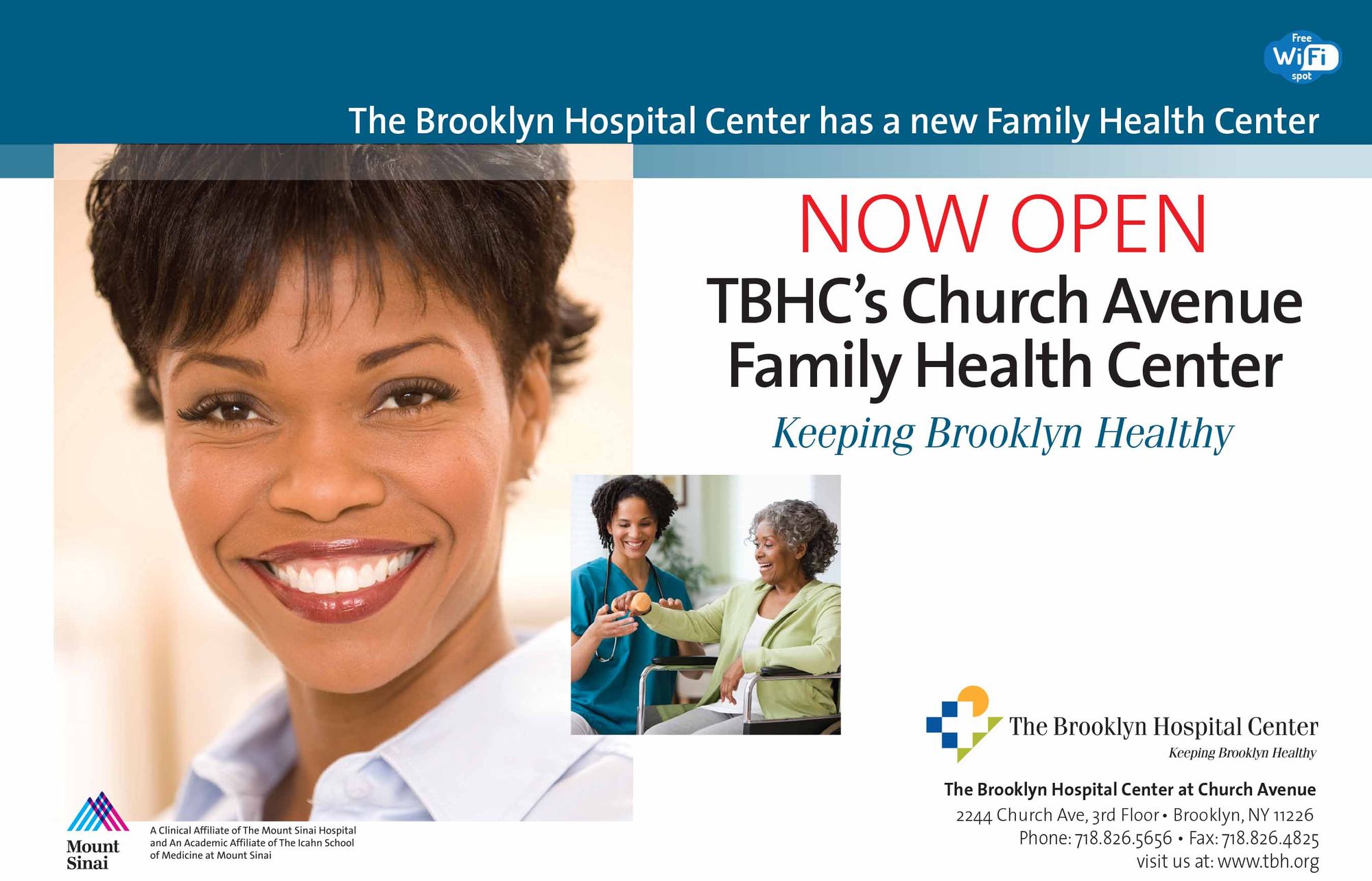 This post was provided by The Brooklyn Hospital Center. If you would like to reach our readers, please contact us.