CHiPS Features Italian Pop-Up Restaurant For Homeless, Pregnant Mothers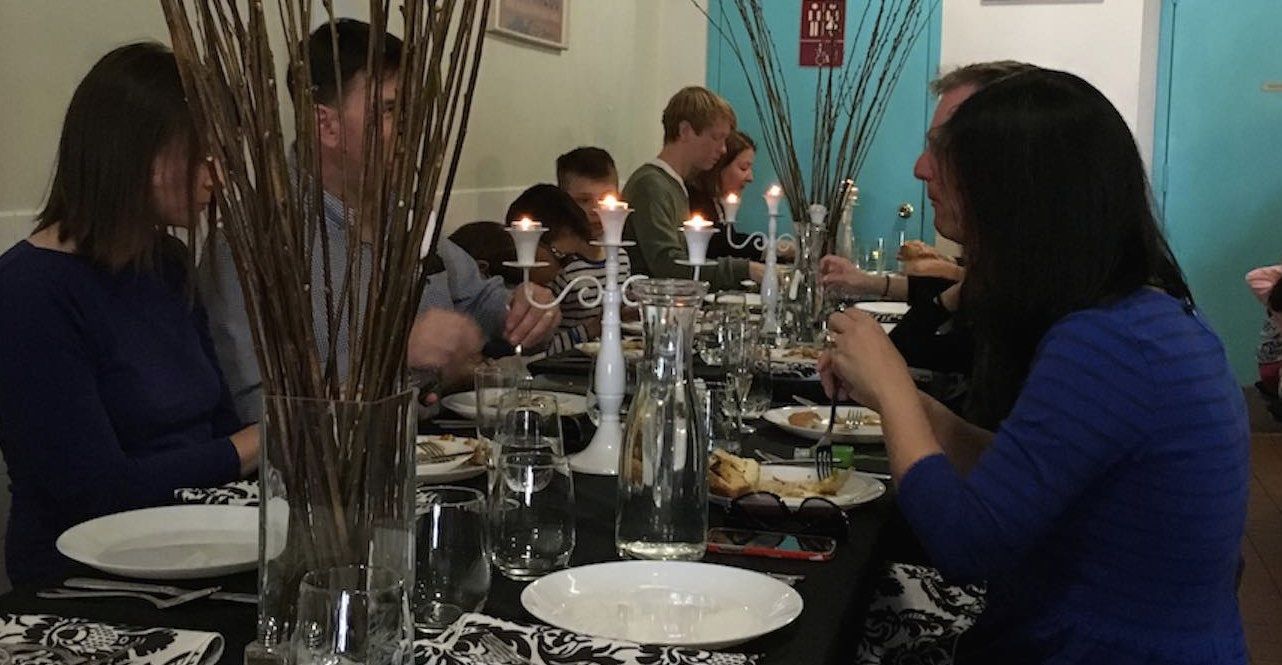 The 84 diners who shared a Mother's Day feast this past Sunday did more than honor the women in their families. They raised almost $5,000 for the Frances Residence at Community Help in Park Slope (CHiPS). The Residence houses up to eight low-income women and their newborn infants with the goal of getting them on solid footing for a life beyond homeless shelters.
For one day, the CHiPS soup kitchen (200 4th Avenue at Sackett Street), which serves 250 free meals every weekday, was transformed into an Italian Pop-Up Restaurant under the co-leadership of Chef Teresa, formerly of Enoteca Maria on Staten Island, and restauranteur Alessandra Marini.
"Everyone was so supportive, that was the magic of the event," said Marini, a long-time friend of CHiPS.
Diners enjoyed multiples courses, including an eggplant parmesan appetizer, cannellone stuffed with ricotta, veal, and much more. The tables were tastefully decorated and candlelit, and guests were welcomed at the door with Prosecco donated by a local wine shop.
Volunteers and customers of the soup kitchen helped with food preparation, clean-up, and logistics, making it possible to serve a nine-course meal to two shifts of diners at 1:30pm and 5pm. Owners of local businesses and their families were among the diners.
The next Pop-Up Restaurant is scheduled for Father's Day in June. After a break in July and August, the plan is to make this a monthly event.
"We hope to count on the support of different chefs and community groups to make each Pop-Up a unique and successful experience," said CHiPS executive director Denise Scaravella.
Tickets for the meal cost a minimum donation of $35. Proceeds will significantly boost the budget of the Frances Residence, allowing for increased services for the residents, Scaravella explained. Check back on the CHiPs website for ticket purchase information.
The Residence, which opened 25 years ago, accepts low-income women in their last trimester of pregnancy and houses them for just over one year, providing a safe landing place during the delicate birthing and post-partum period.
To date, Frances Residence has operated mostly with private donations. Residents are asked to pay just over $280 dollars in monthly rent, so a successful Pop-Up Restaurant could be a valuable revenue stream for the program, which presently depends mostly on volunteers to help the residents find permanent housing and develop job, parenting, and life skills.
"My real goal is to keep the women here from going into the homeless system," Scaravella said. "We want to give them a helping hand to get them back on their feet." But that's an expensive proposition, and individual donations don't go far enough.
One of the highlights of the Mother's Day Pop-Up Restaurant was feeling the support of local businesses and residents from Park Slope, Scaravella said. "It's what we need and we really appreciate it," she said. "Please support us, because we don't want to go away."
The Mother's Day event was featured on NY1; click here to watch a clip.
Denise Oliveira contributed to this reporting.