A Chick-fil-A Has Opened Across From Barclays Center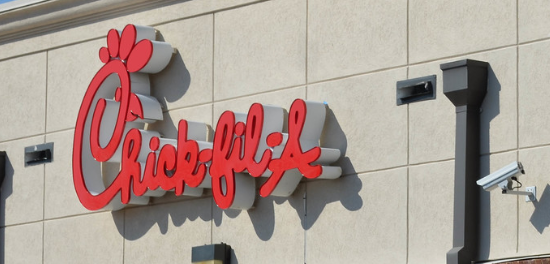 BARCLAYS – The burger joint Chick-fil-A opened at 166 Flatbush Avenue this morning, right across the Barclays Center, with lines around the corner.
The big Southern chain known for its chicken sandwiches — which has also faced criticism after its founder spoke out against same-sex marriage — announced its Brooklyn opening last year, and today, it finally opened right next door to the Shake Shack. It is the seventh Chick-fil-A in NYC and the first in Brooklyn.
But not everyone is too happy.
"Fuck Chick-fil-A and fuck people who eat there knowing Chick-fil-A supports anti-LGBT groups and the CEO is homophobic," Elizabeth Starace, a resident of Dyker Heights, and a member of the LGBT community said. "We don't need Chick-fil-A here. There are better options."
To celebrate the opening, Chick-fil-A's operator Brandon Hurst did a promotion event where prizes were to be awarded for the first 100 people. Registration began today at 5 a.m., and before 7 a.m., lines were taking up the entire block. In 2015, Hurst opened his first Chick-fil-A in Baltimore. The Baltimore Sun reported that he had been working at the restaurant for seven years helping other operators open their business.
"I went by at around 7 in the morning and the line was way too long," Tamara Nay told Bklyner. "They had these red velvet ropes outside the place. I'm planning on going back later tonight when it's hopefully less crowded."
The Brooklyn Chick-fil-A has mobile ordering, catering pick-up, WiFi, and breakfast.
There are also job opportunities available for hourly or management positions.