Celebrate 15 Years Of 'Dropping Trou' On Sunday With No Pants Subway Ride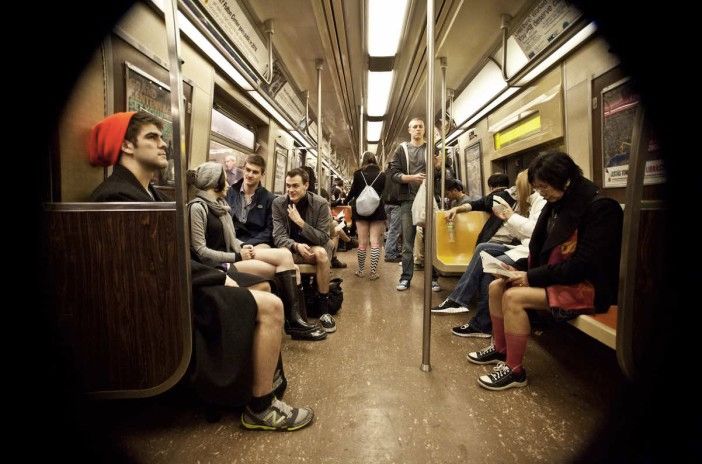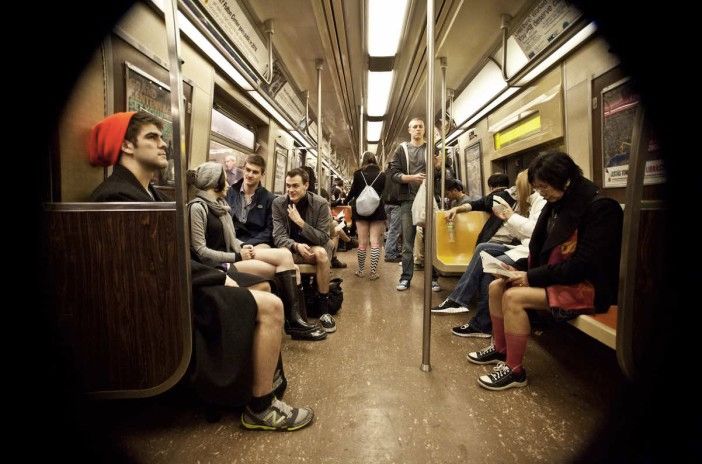 What is it with January and stripping down? Is it something called collective unconscious?
The cold weather must bring out the exhibitionist in all of us. Just a few days ago, the Coney Island Polar Bears took the plunge in their annual ritual. Well, that's been a tradition for 112 years.
Improv Everywhere's No Pants Subway Ride 2016 is next up for us — except this one will be taking place all over the world.
It's the 15th year that you, your friends, and loved ones will have the opportunity to ride the subway in your underwear — with thousands of participants (roughly 4,000 in 2015). In addition, participants from over 60 other cities around the world will be joining you.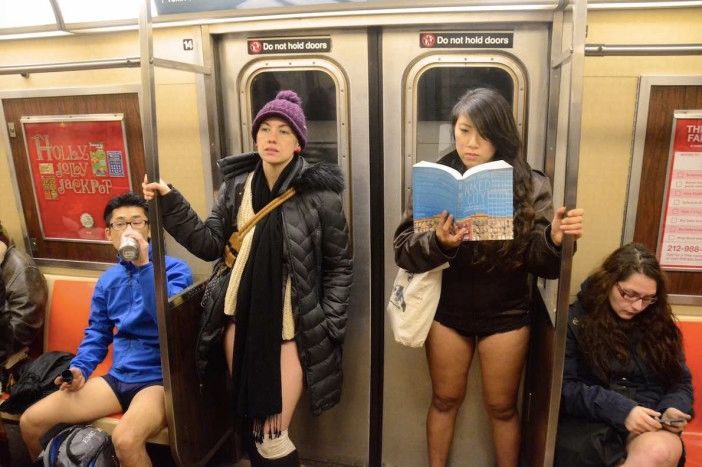 Improv Everywhere bills themselves on their website as "a New York City-based prank collective that causes scenes of chaos and joy in public places." Most recently, the group brought their community-participating antics to Prospect Park for their Mp3 Experiment last September.
If you've been an innocent bystander in previous years, this all may be old hat to you. But if you haven't been initiated to the annual ritual, here's the basic idea.
Riders are organized into various departure points and subway cars throughout the city, and converge at Union Square in Manhattan.
Improv Everywhere tells the participants the following:
"As soon as the doors shut at the stop before yours, stand up and take your pants off and put them in your backpack. If you'd like to use a briefcase, purse, grocery bag, or whatever instead of a backpack that's fine too. If anyone asks you why you've removed your pants, tell them that they were 'getting uncomfortable' (or something along those lines.)"
But while the event is a bit of a goof, Improv Everywhere knows that — in order for something to be as funny — participants have to take the comedy seriously.
"You can wear fun underwear if you like, but nothing that screams out, 'I wore this because I'm doing a silly stunt,'" explains the organizers. "Wear two pairs of underwear if it makes you feel more comfortable. Don't wear a thong or anything else that might offend people. Our aim is to make people laugh, not piss them off."
Brooklynites have two options for meetup points, which will take place Sunday, January 10 at 3:00pm.
The Old Stone House (336 3rd Street between 4th and 5th Avenues) in Park Slope. See the map here.
Maria Hernandez Park (Irving Avenue, Knickerbocker Avenue, between Starr and Suydam Streets) in Williamsburg/Bushwick. See the map here.
More logistical information can be found on the event's website.