Ceiling Collapses Last Night At 2010 Newkirk Avenue; Tenant Unable To Reach Landlord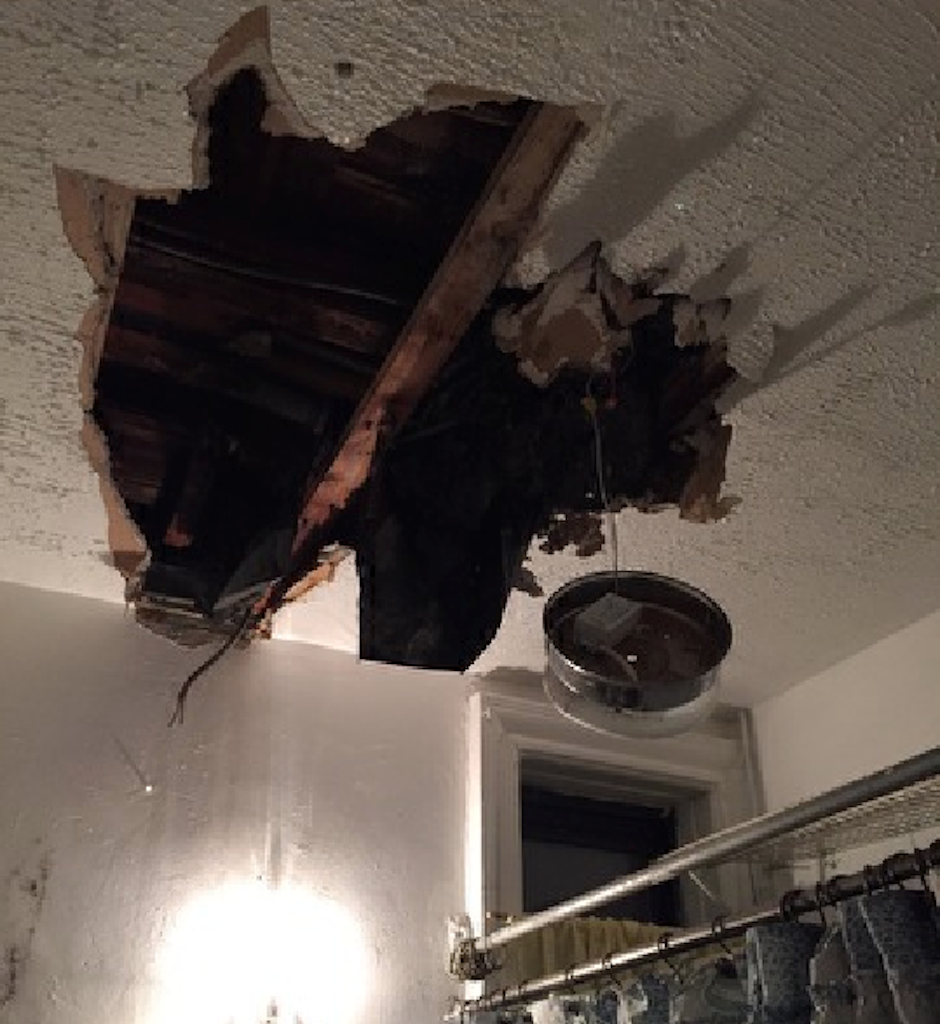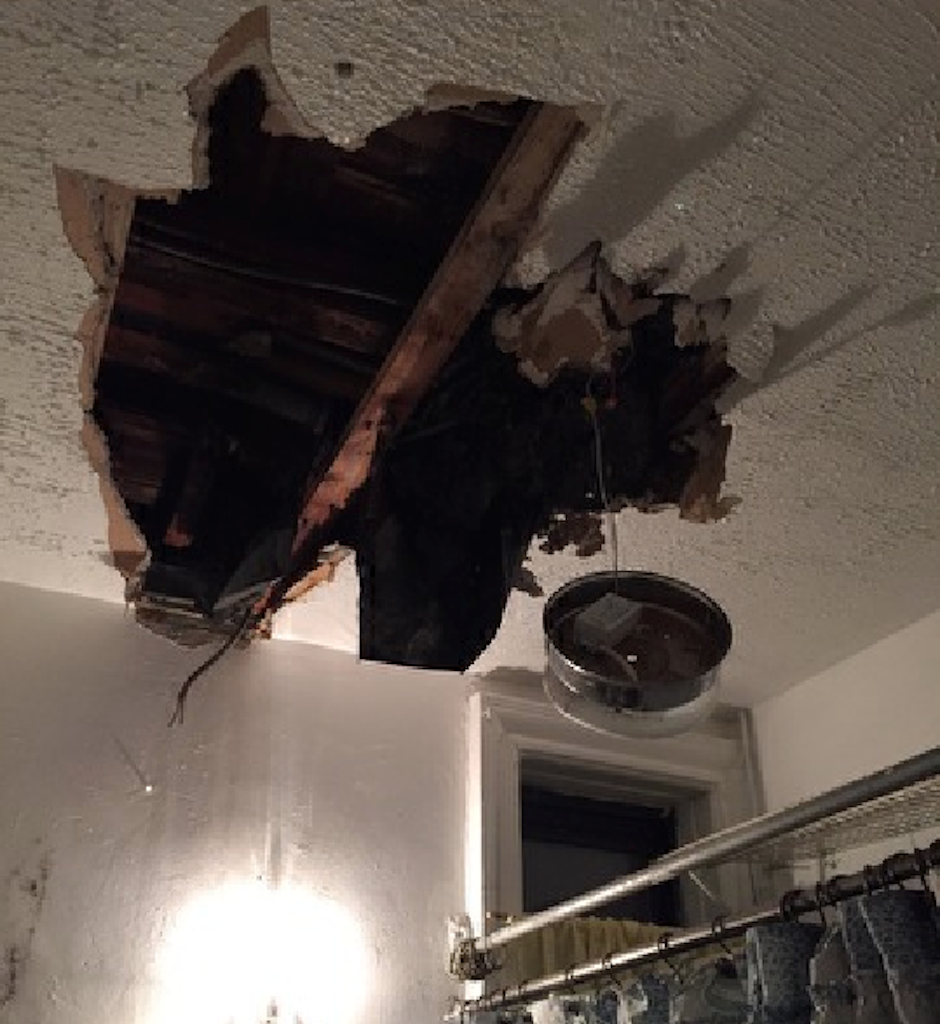 A Ditmas Park building, whose owner has been on Public Advocate Letitia James' "Worst Landlord" list, was the scene of another emergency last night as FDNY emergency crews struggled to contain a "cascading" water leak that caused part of a bathroom ceiling to collapse.
A massive leak in a third floor apartment caused the bathroom ceiling of apartment 2D at 2010 Newkirk Avenue to cave in between 8 and 9pm last night, said apartment resident Altagrace Aime.
Aime, a surgical technician who had recently come home from work, had just exited the bathroom and was not hurt. The collapse caused debris and dirty water to "pour" into her bathroom.
As of 4pm today, Aime had still not reached the building's owner, Moshe Piller, or other management. We were also unable to speak with anyone at Piller's office at MP Management, located at 1276 50th Street.
Aime told us that there is no super on-site at 2010 Newkirk Avenue, which has 34 units. A custodian who works for Piller was at the building today, and placed a temporary board over the hole in Aime's ceiling. She said she does not know when repair work will begin.
The City's Department of Housing Preservation and Development (HPD) was on the scene at Aime's apartment today, and they too are trying to contact Piller, she said. We were unable to reach HPD for comment about how they plan to proceed.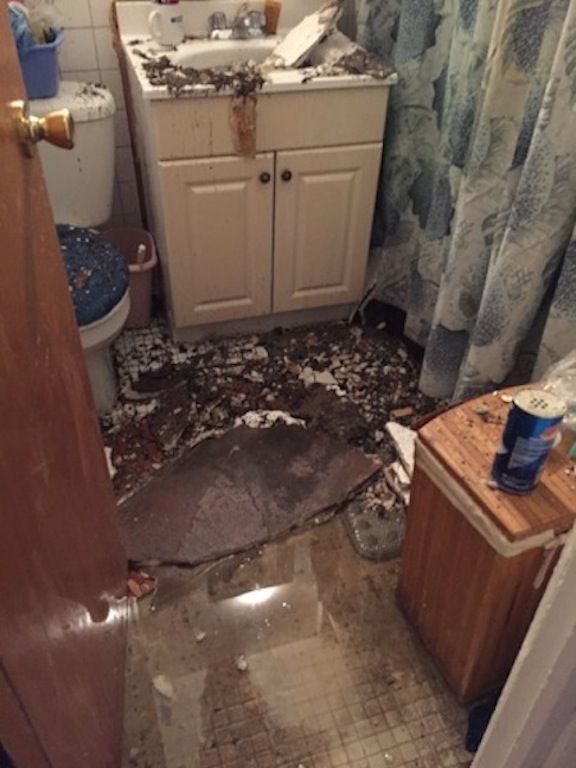 The collapse last night was compounded by the fact that the tenant above Aime — with the leak — did not want to allow Fire Department personnel into her apartment, she said. The FDNY was ultimately able to stop the leak and now Aime is trying to get landlord Moshe Piller to address the issue once and for all.
Aime, who has lived in the building since 1981, said there has been a problem with the plumbing in the apartment above her for years — her bathroom ceiling collapsed in a similar incident about three years ago. Her bedroom ceiling also collapsed around the same time, she said.
And while Aime believes the tenant above her needs to allow greater access to her apartment, she put the fundamental responsibility for the situation at the feet of Piller.
The repairs made by the landlord three years ago simply did not resolve the leak, Aime said, and she now also has a leak in her kitchen ceiling. Aime, who emigrated to the U.S. from Haiti, said that she never lived in such conditions in her home country.
The Flatbush Tenant Coalition called living conditions at 2010 Newkirk Avenue "deplorable," in a statement today, saying that tenants have been fighting to improve the situation in the building for years.
In March, 2015, a fire broke out in the building, completely destroying one apartment and damaging two others. DPC reported then that the City's Department of Buildings website detailed a long history of tenant complaints regarding faulty electrical wiring and exposed wires dating back to 2001.
Moshe Piller continues to ignore court orders, violations issued by HPD, and tenants' demands, the FTC said in their statement this morning.
Earlier this month, Legal Services NYC's Brooklyn program filed suit against Piller on behalf of 12 long-time tenants at 2010 Newkirk Avenue. The tenants "have been victims of a years-long campaign of harassment designed to force them from their rent-regulated apartments," the organization said in a statement.
The complaint against Piller seeks the return of tens of thousands of dollars in rent overcharges that Legal Services says tenants paid, an injunction prohibiting Piller from harassing his tenants in the future, a separate injunction barring Piller from making "false, deceptive and misleading representations" to tenants and in housing court, along with statutory and punitive damages.
Piller has been issued "dozens" of rent reduction orders by New York State's Division of Homes and Community Renewal dating back to 1993, according to Legal Services.
The orders were issued for a variety of reasons, from decreased services to problems such as "clogged and backed up pipes, buckling and collapsed ceilings, unsealed windows, leaks, roach infestations and sinking floors."