C is for Court Street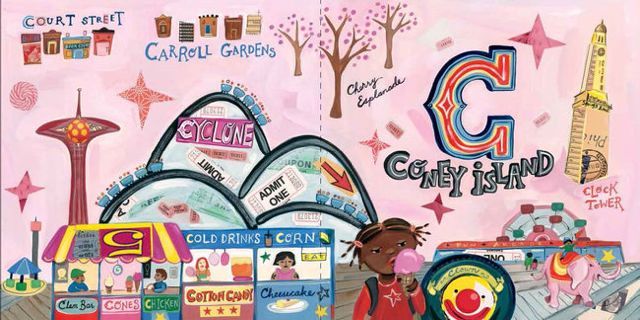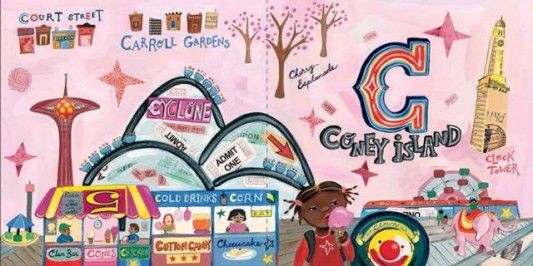 photo via the NYT
The Times raves over Park Slope illustrator Selina Alko's "B is for Brooklyn," a borough-centric alphabet book that teaches Brooklyn pride along with letters.
Each insiderish but inclusive spread is dedicated to a letter and its corresponding Brooklyn attractions. C, for example, stands for Court Street (complete with BookCourt), Carroll Gardens, the Cyclone, the cherry esplanade in the Brooklyn Botanic Garden, the clock tower and Coney Island.
And according to the paper, Alko's enthusiasm for the borough is contagious. More than a children's book, "B is for Brooklyn" is a love letter (and an argument against the suburbs), making its case with mixed-media collages and broad-brush paintings. Here's the Times again:
In this spirited rendition of Brooklyn, a baby-toting mother celebrates the local outdoor pleasures alongside an interracial couple, a mustachioed gentleman in his 50s and a blond girl in a wheelchair. A particularly gorgeous Mermaid Parade struts by for the letter M. With hoopla like this, wavering Manhattanites may wind up in Fort Greene rather than Larchmont.
It's not the first time Alko's turned to the city for inspiration: she's also the illustrator of the similarly civic-minded and also-gorgeous "My Subway Ride" and "My Taxi Ride."
Of course, there's a danger in so much Brooklyn so young — what if your kid rebels by going moving to Sitka post-grad to live in a yurt off the grid after graduating from Reed?