Bushwick Farm Stand Provides Fresh Produce and Job Skills to Locals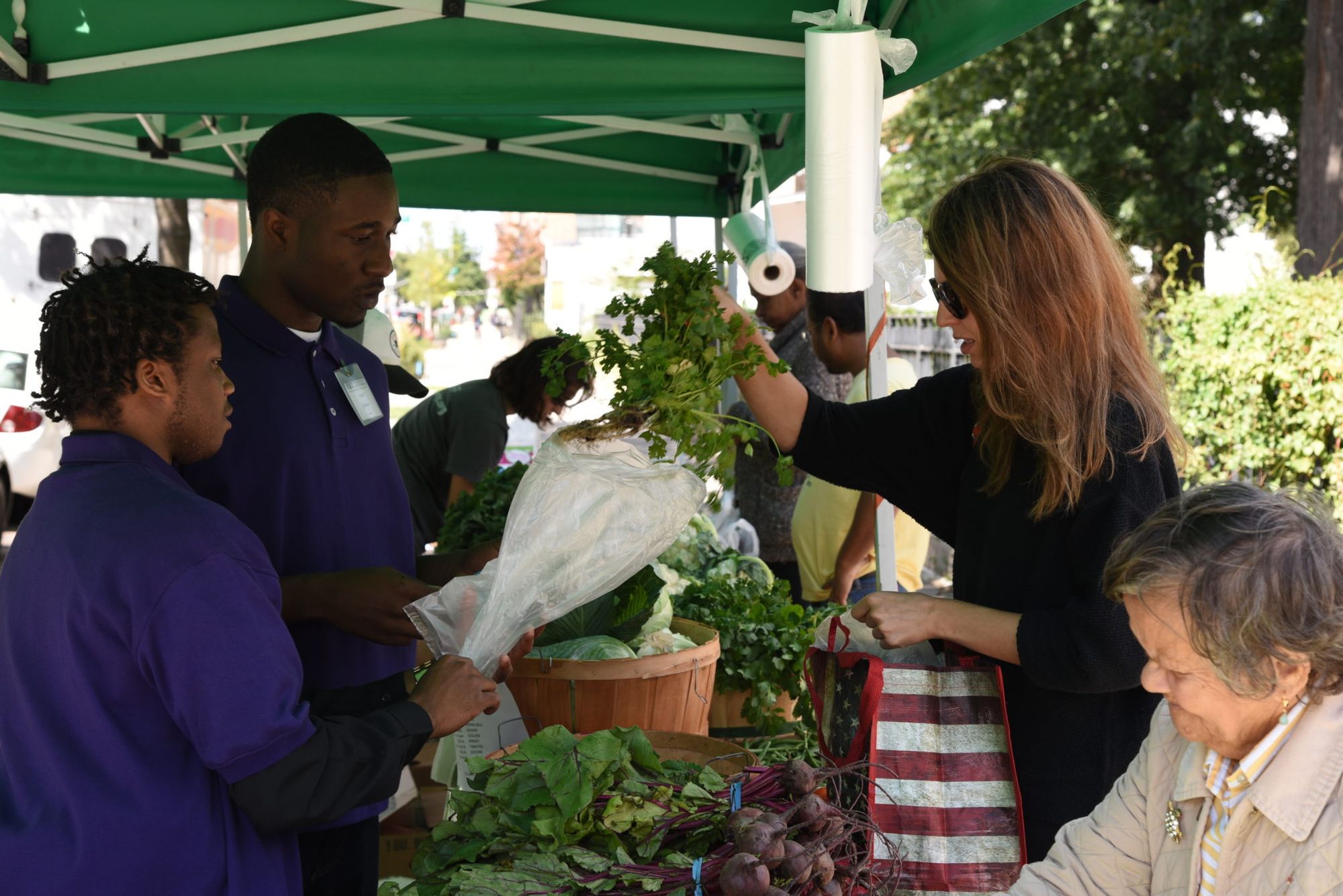 BUSHWICK – An urban farm stand has popped up in Bushwick for the fall, bringing local produce to community members and jobs to local youth.
On the corner of Wilson and Halsey, at Irving Square Park, Bushwick residents stopped under the pop-up tents to admire cabbages, fresh corn, peppers, apples and more. They turned over the produce, inquiring about prices and liking what they heard—the food was fresh, local, and best of all: cheap.
The stall is a collaboration between GrowNYC and Opportunities for a Better Tomorrow through the GrowNYC Youthmarket program, which places farm stands in neighborhoods that are underserved—where fresh produce can be hard to come by.
At the Irving Square Park stand, local youth are employed through Opportunities for a Better Tomorrow, a nonprofit organization that provides educational opportunities and job training for low-income residents of NYC. At the Youthmarket stand, they can earn some money while gaining business skills, learning how to operate a small business like a farm stand.
The influx of fresh produce has been appreciated by community members. Bushwick resident Tatjana Gall was out shopping, excited by the new stand in an an area without many options.
"It's a long walk to get to places that have the things I'm looking for," said Gall, excited by the  variety of seasonal and local produce that was available.
Gall used to walk to the Bushwick Co-op from her place near the Knickerbocker M, but found the walk too long and the non-member prices too high.
"It's a blessing," she said, "They bring fresh food to you—and it's affordable."
The produce stand, located at Irving Square Park, will be open on Fridays from 12 – 5pm through the end of October. Customers can find deals on a variety of local vegetables and herbs: cabbages, carrots, squash, peppers, cilantro and more. Packaged goods, like honey and sunflower oil, are available, too.