Bullet Points: Board Denies "Precedent-Setting" Special Permit Application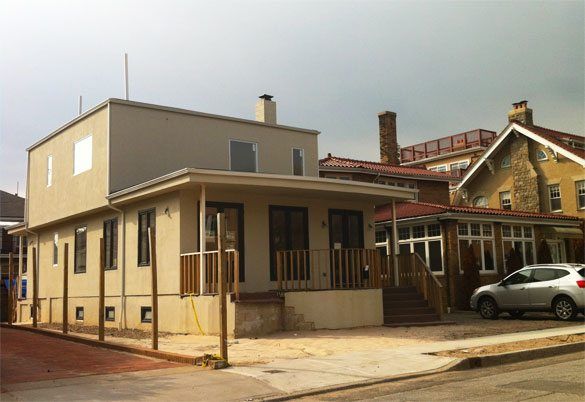 "Bullet Points" is our format for Community Board 15 meeting coverage, providing takeaways we think are important. Information in Bullet Points is meant only to be a quick summary, and some issues may be more deeply explored in future articles.
Enlargement denied: Community Board 15 said a Manhattan Beach homeowner's request to expand his home would set a bad precedent after learning that the homeowner previously dodged zoning laws, got caught, tore down his home and rebuilt it – all to try for the permit for a second time.
Owners of the home at 282 Beaumont Street, one house in from the water, sought to expand their two-story home by adding a third story, bulking out the building in the front and the rear, and doubling the floor area allowed by zoning standards. But, during questioning at the public hearing, Community Board members expressed concern that the homeowner had previously got caught dodging zoning, and rebuilt a shoddy house with the intention of coming before the Board for a new application.
"Since [violating zoning laws and having the permits revoked,] the owners constructed a new home that appears to be purposely built to be destroyed," said neighbor Samuel Falack, who lives on the block and also spoke on behalf of the Manhattan Beach Community Group. "It has a shabbily built second floor and a flat roof that has pipes leading to what they hope will be an attic or a third floor with the expectation that a second special permit will be granted."
Falack called the application disingenuous, and urged the Board to oppose it.
The Board first reviewed an application for the property in 2008, denying it in the face of community opposition. The Department of Buildings' Board of Standards and Appeals, which has final say over such applications, approved the application over the Community Board's objections. But once the developer began work in 2009, he was busted by the department for doing work beyond the scope that the permit allowed, and the agency rescinded their approval.
In the time since, the developer built an as-of-right two-story home.
"It was built out with the express purpose of going to the Board of Standards and Appeals to enlarge the home and bring it back to essentially the same approval that was granted earlier by the BSA," admitted attorney Eric Palatnik, who represents the property owner.
Palatnik argued that the owner has suffered enough financial hardship, having been forced to demolish the property, rebuild a home and obtain a Certificate of Occupancy before coming before the Board again.
Some at the meeting considered that an end-run around zoning laws, noting that the landlord should not be rewarded for violating zoning in the first place.
"The Department of Buildings penalized the owner properly, and the owner has withdrawn that application and is now complying with the law entirely. So there's absolutely nothing going on now that is not in compliance with the law," said Palatnik. "It's actually the right way to legalize the problem … We've actually argued against [requiring] someone to waste this much time, this much money, to get to the same end, which is a new home on this property."
Ultimately, the Board voted 22-3 against the application, with one boardmember saying approval could encourage developers to bypass community zoning on new construction by making temporary homes with the expectation that the Board will give special applications to enlarge.
"This is a house that basically was built in response to the fact that the special permit was rejected," said boardmember Oliver Klapper. "This creates a whole new ball game. This is something where we're in territory where we've never been before."
Other Board items and information:
Chris Greif, representing the Brooklyn Developmental Disabilities Council, noted the council is holding a support fair on May 23.
Oliver Klapper, speaking for himself and the Kingsborough Community College rep, congratulated the school on being named one of the nation's top community colleges.
A representative for State Senator Marty Golden promoted the upcoming Easter Egg Hunt in Marine Park, and told residents to call 311 if they need help with mold removal following Superstorm Sandy, or appealing SBA loan denials.
A representative for Brooklyn Borough President Marty Markowitz promoted the beep's Women's "Herstory" month, including his award ceremony in which Community Board 15 Chairperson is receiving the Lady Deborah Moody award.
A representative for Congresswoman Yvette Clarke told those with mold issues to call the mayor's office's hotline at (855) 740-mold (6653).
A representative from the Homecrest branch of the Brooklyn Public Library said that her branch, and most of the others affected by Superstorm Sandy have reopened. The Coney Island and Gerritsen Beach branches remain closed.
The district manager announced that the Social Security Administration has stopped sending paper statements and now offers information for pre- and post-retirement beneficiaries through this website.
Residents are reminded to change the batteries in their smoke and carbon monoxide detectors if they did not do it on the day Daylight Savings Time took effect.
There will be regular garbage collection service on every block in the district on Monday, March 25, to accommodate chometz disposal ahead of Passover. There will also be special dumpsters on Nostrand Avenue near Kings Highway and at James Madison High School Sports Field (south side of Quentin Road between East 26th Street and East 27th Street) all day on Monday to service Jewish residents in need of disposing leavened foods ahead of Passover.
People in charge of burning chometz either in front of a home or a synagogue must ensure that the fires are small and controlled so that the fire department is not called to an out of control fire. Chometz burning should end at 11:59 a.m. on Monday.
Plumb Beach Phase II has been funded and may begin as early as July.
A request for angled parking on Shell Road has been denied by the Department of Transportation.
Manhattan Beach park and beach will be open by Memorial Day, according to the Parks Department.
The U.S. Postal Service at Bay Station / Bill Brown Station is up and running, with full service and an additional automatic machine.
Local police have announced they have caught a team of fire-escape burglars responsible for a spike in crime in the neighborhood, and crime rates have already started dropping.
Madison-Marine-Homecresit Civic Association President urged Chairperson Theresa Scavo and the other candidates for Michael Nelson's seat in the City Council to outline their plans for removing trash from commercial corridors and subway station underpasses, decreasing commercial vacancy rates on Avenue U, and studying the cause of high rates of Stop Work Orders and Environmental Control Board violations issued throughout the district.