Building Workers Protest For Back Pay, New Contract at Williamsburg Development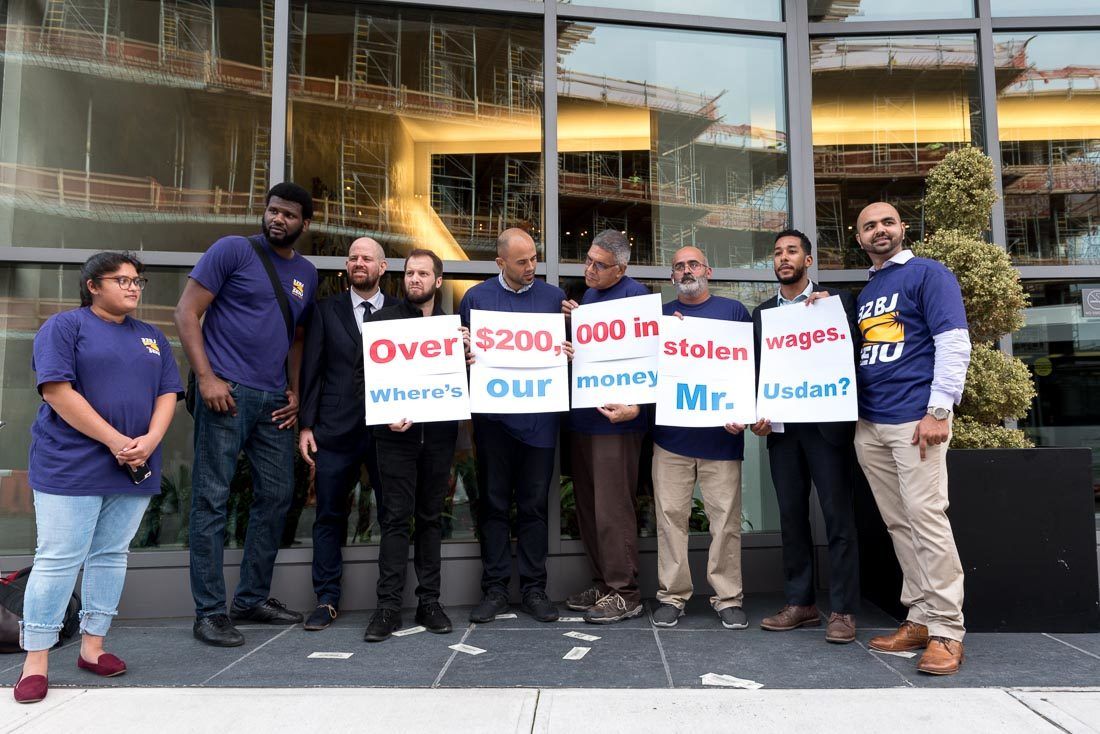 WILLIAMSBURG – Seven workers at The Williams, a luxury-rental development in South Williamsburg, are looking for what they're owed—about $200,000 in back pay, they said.
Yesterday evening, outside the building at 282 South 5th Street, members of the 32BJ service workers union gathered in solidarity to rally for back pay and a contract for the workers at The Williams, specifically calling out John Usdan, CEO of Midwood Investment & Development, the development outfit behind the building.
While most of the aggrieved employees were on shift and couldn't join the protest, concierge John Stoica, 58, came outside on his break to join the protest and explain the demands of the workers.
"We want to be hired with Midwood," said Stoica. "We had a terrible experience with Planned."
Planned Companies is the building services contractor used by Midwood to staff the Williams. They'd been paying their employees, like Stoica, minimum wage—$13/hr as of January 2018—instead of the $18.25 wage required due to a tax break Midwood received for the project.
Stoica has been working at The Williams for nearly two years, and while Planned Companies agreed to pay the higher wage this summer, the employees aren't satisfied.
"We did the math—they ower us a little under $200k in back pay," said Stoica.
Planned Companies also doesn't offer them medical insurance, and while Stoica's kids are grown, his coworkers have families to think about and insure, he said.
More importantly, after being bilked out of what they were owed, the employees want to break with Planned Companies and be hired directly at The Williams at the dictated wage.
"We want to go forward with Midwood—we don't want Planned anymore," said Stoica.
As the concierge returned to his shift after his break ended, members of 32BJ put on a bit of street theater, with one of their organizers prancing around wearing a mask of Midwood CEO John Usdan's face, throwing $100 bills around as a philanthropist while pickpocketing actors playing service employees.
While the employees are owed money by Planned Companies, organizers from 32BJ said they're calling Usdan by name because of his company's decision to contract with Planned, a company "well known for breaking the prevailing wage law," said Alex Hecht, a researcher with 32BJ.
"Usdan is the decision maker—whether he helps with the bill is up to him," said Hecht. Usdan is known for his philanthropy—especially in support of his alma mater, Wesleyan University—a fact invoked in 32BJ's street theater to contrast with what they point to as tacit approval of wage theft in contracting with Planned Companies.
Already, union pressure has secured the family-sustaining rate for employees, and now Hecht said they're targeting Usdan to help secure back pay. The CEO also sits on the board of the Brooklyn Academy of Music, he added.
City Councilmember Antonio Reynoso also attended the rally, accepting a letter of thanks for his support from 32BJ and briefly addressing those gathered on the sidewalk.
"We respect the work unions do," said Reynoso. "And we have an owner that should know the privilege of building on the tax credit."
Reynoso said that the workers at The Williams were only asking for what was fair, what was owed to them. With the rampant development in Wiliamsburg since the rezoning of North Brooklyn, developers have used tax breaks to build luxury rental developments throughout Williamsburg, the community Reynoso represents.
With rents skyrocketing in North Brooklyn over the past decade, landlords and developers have capitalized—but even with a major influx of residents willing to pay more to live in Brooklyn, workers have been left behind.
"It speaks to why we need to be paying attention and why we need unions more than ever," said Reynoso.
The 421a tax abatement typically lasts 10 years, and was designed to encourage development in under-utilized land in New York. But by using that abatement for their development, Midwood was required to pay their employees a family-sustaining wage.
32BJ organizers suggested that Midwood was complicit in the failure to pay the agreed-upon wage by contracting with Planned Companies. The union visits buildings that were built on 421a tax breaks in order to check for issues like wage theft. In one of those routine checks, they discovered the case at 282 S 5th Street. Enforcement has stepped up recently, said Hect, so cases like this one are less common.
"That's also why it's particularly egregious," he added.