Brooklyn's Dutch Houses A Borough Treasure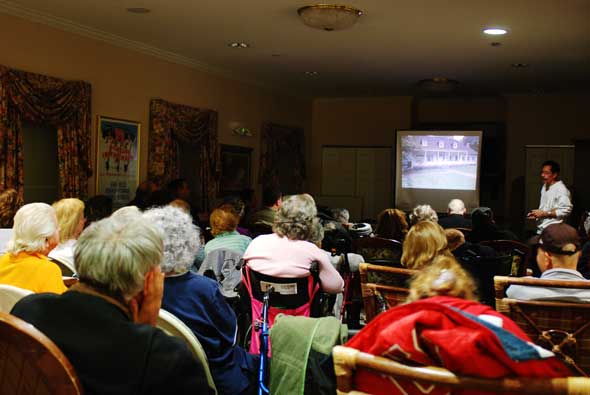 Did you know a dozen original Dutch houses still stand in Brooklyn? Dating back as far as 1652, the houses are owned by both public and private interests, and some are even still used as residences. The homes were the topic of discussion at last night's Annual History Night, hosted by Bay Improvement Group.
Brooklyn Borough Historian Ron Schweiger regaled a crowd of around 60 residents with stories of the houses and their families. Some of the homes stand intact and even have crockery, furniture and other artifacts that go back hundreds of years. Other houses, like the Old Stone House in Park Slope, were torn down and rebuilt from mostly original pieces (in the case of this house, it was rebuit in the 1930s when a Work Progress Administration park project on the site uncovered the stones and other items from the 1699 building).
The hour-and-a-half presentation kicked off with the history of the Dutch in New York State, from their naming Coney Island (originally Konijnen Eiland, meaning Rabbit Island) to exploring the rest of the state. Schweiger traced back some of the famous families, many of whose names grace our roadways (Hubbard, Henderson, Ryder, Van Wyck). The talk then turned to Dutch architecture, with Schweiger pointing out that all Dutch houses have curved roof lines and face south, before turning to the individual houses and their histories. Some of the houses reflect new preservation efforts, and are adding to Brooklyn's status as a historical asset. Not everything gets razed to be a condo…
Schweiger worked on the presentation for months (following an illness and emergency surgery from which he's recovering) selecting slides and visiting the homes. He added a few Sheepshead Bay photos at the last minute, with images of the racetracks, racing clubs, restaurants and roadways.
Bay Improvement Group Steve Barrison presented Schweiger with a "deed" to the Brooklyn Bridge, to honor the historian for his work on preserving the borough's history. The deed was given to the group to offer to Schweiger by Carlo Dipalmer, a local resident and history buff who appreciates the preservationist's efforts. [Corrected]
The best part, according to Schweiger, is that all the homes are within 25 minutes of each other. The proximity creates an opportunity for a personal tour, so use the list below to explore Brooklyn's unique Dutch history yourself.
Pieter Claesen Wyckoff Farmhouse – built 1652 – 5816 Clarendon Road at Ralph avenue
Old Stone House – built 1699 and rebuilt in the 1930s – 5th Avenue at 3rd Street in J.J. Byrne Park
Hendrick I. Lott House – built 1719 and 1800 – 1940 East 36th Street between Fillmore Avenue and Avenue S
Wyckoff-Bennett-Mont House – built 1766 – 1669 East 22nd Street at Kings Highway
Lefferts House Museum – built 1770s and rebuilt in 1783 – Flatbush Avenue in Prospect Park
Stoothoff Kouwenhoven Baxter House – built 1747 and 1811 – 1640 East 48th Street between Avenue M and Avenue N
Johannes Van Nuyse Magaw House – built 1800 – 1041 East 22nd Street between Avenue I and Avenue J
1926 East 28th Street between Avenue S and Avenue T
Hubbard House – built 1835 – 2138 MacDonald Avenue between Avenue S and Avenue T
Ditmas-Coe House – built 1790s-1800 – 1128 East 34th Street off Flatbush Avenue
John Williamson House – built 1799-1801 – 1587 East 53rd Street between Avenue M and Avenue N
Willimson House – built 1869 – On Hubbard Place between Flatbush Avenue and Kings Highway
[Correction: The original article implied that Barrison and BIG supplied the deed. It was, in fact, Dipalmer, and the article has been updated to reflect this.]