Brooklyn Heroes: State Trooper Joshua Kaye, Jacob Abraham, Hopeton Kiffin, and Obocho Peters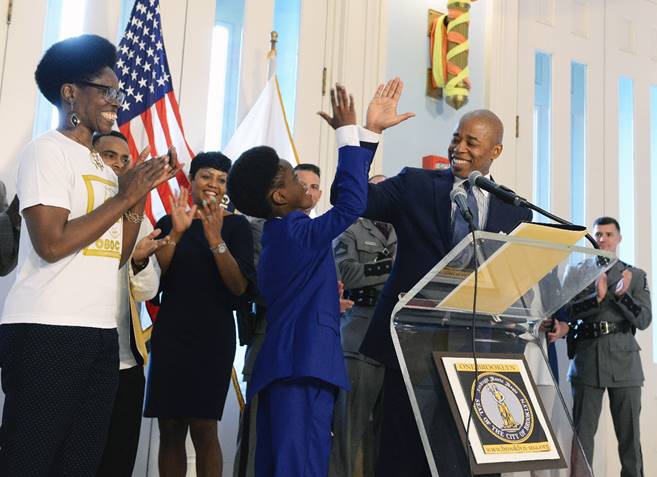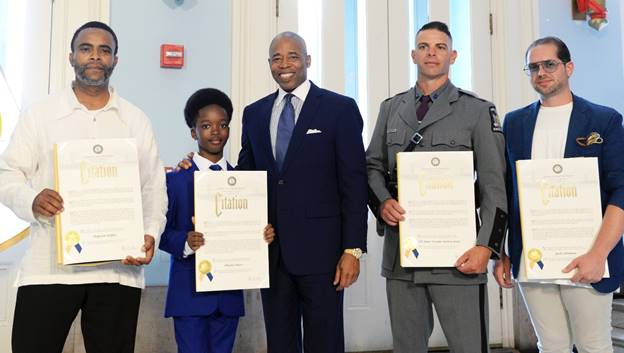 BOROUGH HALL – On Wednesday afternoon, Borough President Eric Adams recognized four Brooklyn residents – State Trooper Joshua Kaye, Jacob Abraham, Hopeton Kiffin, and Obocho Peters – with awards for exceptional, heroic behavior. The ceremony was held in the marbled Borough Hall rotunda, decked out in rainbow streamers in celebration of Pride month.
Jacob Abraham and State Trooper Joshua Kaye Saved A Man Trying To Jump Off Verrazzano Bridge
BP Eric Adams first spoke to congratulate Brooklyn residents Jacob Abraham and State Trooper Joshua Kaye. On April 1st, at roughly 2:15 PM, the two saved a 79-year-old man attempting to commit suicide by jumping from the Verrazano Bridge. The 79-year-old man had stopped his car on the bridge and climbed to the lower rail. In his car, he had left behind a note detailing his intentions.
Abraham stopped his car behind the man's and quickly ran to reach for him from above. State Trooper Kaye assisted Abraham, and together they hoisted the man to safety.
BP Adams commended Abraham, stating, "Jacob quickly jumped into action, not thinking twice about his personal safety, but trying to save a life." State Trooper Kaye then gave remarks, reflecting, "I'm very humbled to take this, although I don't think this was an act of heroism, I think this was an act of humanity."
Hopeton Kiffin Saved A Six-grader On Subway Tracks
Hopeton Kiffin, an MTA train operator, was the next to receive the 'Hero of the Month' award. On the morning of Thursday, April 4th, Kiffin spotted a red jacket on the rails before his train. A sixth grader had climbed down into the tracks on his way to school and was positioned near the fatal third rail.
Kiffin stopped the train and descended onto the tracks, guiding the boy off the tracks and towards safety. Kiffin remained level-headed, later saying, "I have an 8-year-old daughter, and I was just trying to be calm."
Kiffin thanked BP Adams for the award, as well as his sister, who stood beside him. His sister, Kiffin said, was the person who gave him the MTA job application years ago. He said that she was responsible for enabling him to have this award.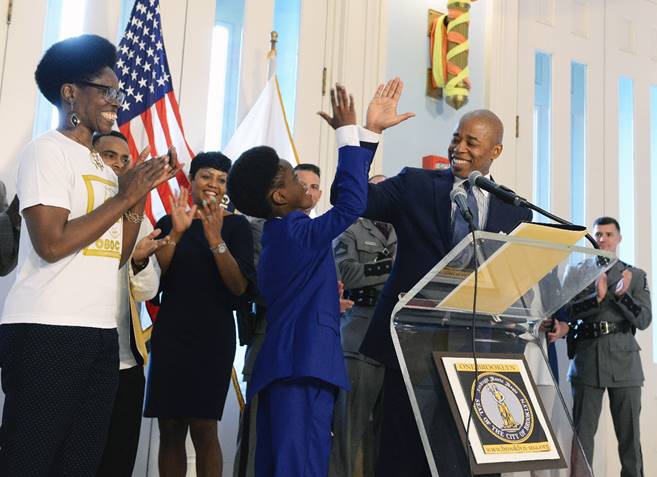 Obocho Peters, 10, Started An Online Thrift Store "Obocho's closet"
Obocho Peters was the final honoree. The 10-year-old Flatbush resident, Peters "may be our youngest hero of the month," said Adams. Peters started an online thrift store for low-income families, called Obocho's Closet, with hopes that families will put the money saved in a college fund for their children.
His motive was simple: "If it's a challenge for my mom to pay the rent, take care of me, and take care of herself at the same time, I know it's a challenge for other families." Attendees erupted in applause. Peters' mother stood beside him, beaming, and donning a t-shirt with a graphic of Obocho.
The event ended on this joyful note, with the reminder that any Brooklyn resident can be a hero, regardless of age.