Brooklyn Book Festival: A Week Of Literary Events, Sept. 11-17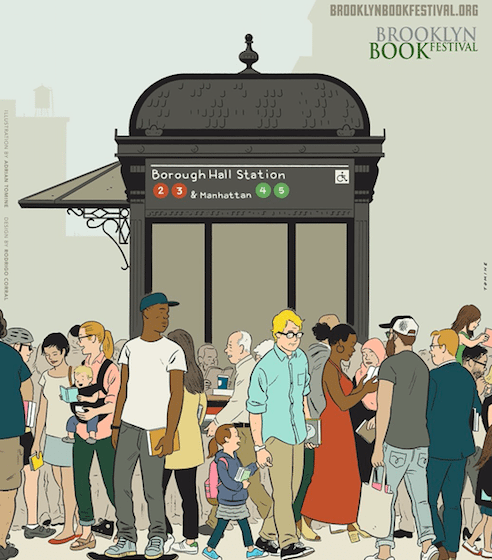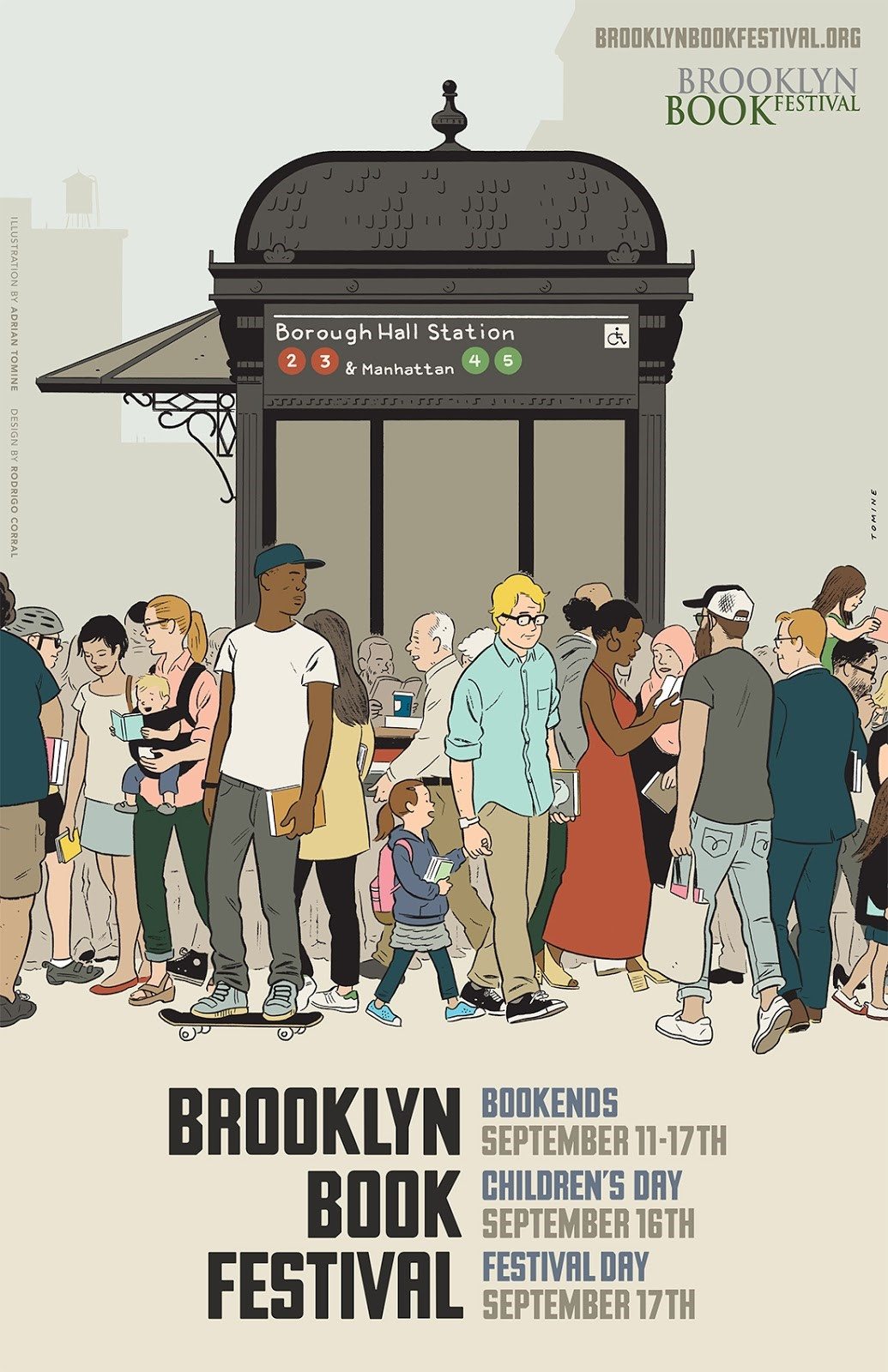 Book lovers will want to book it to the bevy of events lined up for this year's edition of the Brooklyn Book Festival, which returns September 11 through September 17. The Festival features a packed schedule filled with literary events featuring more than 300 authors.
Starting on Monday, September 11, the BKBF's Bookend events will include more than 60 special events throughout the city that highlight New York City's literary diversity, including parties, film screenings, book launches, restaurant and musical pairings, all leading up to the main Festival Day scheduled for Sunday, September 17.
Some Bookend event highlights include:
Monday, September 11
The events kick off with a bang with Patti Smith reading from her latest book, Devotion, at St Ann & the Holy Trinity Church (157 Montague Street). Sold out
Brooklyn Book Festival Opening Night Party at King's Beer Hall (84 St. Marks Place), presented by The Authors Guild, Catapult, Electric Literature, and Lit Hub. Kick off the annual Brooklyn Book Festival at this opening night party with fellow bookworms, free drinks, and music.
Tuesday, September 12
The Nocturnal Brigade and author Tracey Hecht (The Fallen Star) will be at the Prospect Park Zoo (450 Flatbush Avenue) starting at 3:30pm for an afternoon exploring the zoo's nocturnal animals with an educator, crafts, face painting, bingo, and other activities for kids ages 5-12. Free with zoo admission.
Malachy McCourt (Death Need Not Be Fatal) will be at Greenwood Cemetery's (500 25th Street) Historic Chapel at 6:30pm to discuss his new memoir that tells readers how to grow old without acting old and how to die without regrets.
Literary Death Match Brooklyn returns to The Bell House (149 7th Street) at 8pm. Part literary event, part comedy show, and part game show, Literary Death Match pits four writers in a read-off competition critiqued by three celebrity judges. This edition features John Leguizamo, Mitchell S. Jackson, Jordan Carlos, Melissa Febos, Sam Sax, Christine Nangle, Tess Morris, and Glory Edim. Tickets $12 in advance, $15 at door
Wednesday, September 13
The Gowanus Dredgers Canoe Club and Ugly Duckling Press host a canoe ride and reading from Virginia Woolf's The Waves at 6:30am. Meet at 164 2nd Street at the Gowanus Canal to participate in a canoe or join at the Carroll Street Bridge at 6:45 AM to listen to the readers on the water.
Gemma Correll (A Pug's Guide to Etiquette), Aaron Meshon (The Best Days are Dog Days), and Sam Kalda (Of Cats and Men) will be at Grumpy Bert (82 Bond Street) at 7pm to discuss their furry friends and their experiences illustrating animals. Moderated by illustrator, Debra Ziss.
Thursday, September 14
The Center for Black Literature and The Center for Arts & Culture at Bed-Stuy Restoration Corp. (1368 Fulton Street) present at 6:30pm a literary salon with Marita Golden whose The Wide Circumference of Love chronicles a family's devotion as a member battles Alzheimer's. The event will include a discussion about Alzheimer's and how it impacts the African-American community. Golden will be in conversation with Malaika Adero, writer and founder of Adero Literary Tribe LLC.
Salar Abdoh, ​Young-ha Kim, Giuseppe Caputo, and Krys Lee will host Crossings: An Evening of Conversations Across Borders with Guernica and Words Without Borders at North Brooklyn Farms (320 Kent Avenue) at 6:30pm. Attendees are welcome to picnic on the lawn.
Jeremiah Moss (Vanishing New York) and Alessandro Busa (The Creative Destruction of New York) discuss the never-ending changes to the cityscape and how it affects the social fabric in NYC at 326 Clinton Street at 7pm.
Karl Ove Knausgaard presents the first part of his new autobiographical quartet, Autumn, at 7:30pm at 245 Clinton Avenue. The author will discuss his new project and sign copies of the book. Tickets $30, includes a hardcover copy of the new book.
Film activist Jonas Mekas and writer Charity Coleman host a discussion and screening at Issue Project Room (22 Boerum Place) at 8pm. Mekas will present his film Reminiszenzen aus Deutschland—a non-chronological presentation of the filmmaker's time in German forced labor camps and displaced person camps, detailing his story from 1944 until 1949. A reading and discussion will follow the screening. Tickets $15
Friday, September 15
Greenlight Bookstore (686 Fulton Street) partners with several Brooklyn independent book and magazine publishers to host the Annual Brooklyn Indie Party at 7:30pm, celebrating independent publishing in the borough.
H.I.P. Lit, VIDA, and The Rumpus present Transcending Spaces: A Literary & Aerial Spectacular at The Muse (350 Moffat Street) at 7:30pm. Hosted by comedian/writer Elissa Bassist, there will be readings by Hala Alyan, Alana Massey, Alissa Nutting, Téa Obreht, and Camille Rankine, as well as aerial performances. Suggested donation $8-$15 per person.
Saturday, September 16
C&R Press hosts a Spontaneous Reading Party at 4pm at Concrete & Water (485 Driggs Avenue) with pop-up readings, drinks, and a secret afterparty.
Dear America and the Forum @ St. Ann's present From the Inside Out: America's Broken Criminal Justice System at 3pm at St. Ann & the Holy Trinity (157 Montague Street). Speakers include Yusef Salaam, activist and one of the wrongly accused Central Park Five; Marlon Peterson, ex-convict and social and criminal justice advocate; Heather Ann Thompson, author of the Pulitzer Prize winning Blood In The Water: The Attica Uprising Of 1971; and James Forman Jr., author of Locking Up Our Own: Crime and Punishment in Black America. $10 suggested donation
BKBF Children's Day
On Saturday, September 16 at MetroTech Commons, BKBF will host Children's Day from 10am to 4pm. The day will be filled with children's book authors and illustrators, costumed characters, art projects with authors, workshops, yoga for children, music, readings, and more.
Geared toward young readers between two to eleven, Children's Day will include favorite kid's and middle-grade authors presenting their board books, picture books, and chapter books via readings, performances, workshops, and music. Kids will have the opportunity to meet the creators behind their favorite books and have copies of their books signed.
There will be illustrator draw-offs, writing and STEM workshops, a showcase of children's books from around the world, a Literary Marketplace, and an interactive "Art Spot" where kids can participate in creative projects with authors.
BKBF Festival Day
Everything above will culminate with the main event—Festival Day—on Sunday, September 17, with 14 stages featuring free literary events that typically bring in thousands of visitors each year. Themes at this year's BKBF will focus on contemporary social and literary topics, such as refugees and immigration, music writing, science fiction, and love.
Festival Day will take place at Brooklyn Borough Hall from 10am to 6pm and will feature more than 300 writers of fiction and nonfiction, poetry, and graphic novels, who will participate in readings, panels, and performances. An outdoor Literary Marketplace will host more than 200 independent booksellers and publishers.
Some of this year's featured guests include: Thi Bui, Seymour Chwast, Jonathan Safran Foer, Jonathan Lethem, Hisham Matar, Pankaj Mishra, Joyce Carol Oates, Morgan Parker, Linda Sarsour, Colson Whitehead, Jumaane Williams, Jacqueline Woodson, and many, many more.
Check out the full Festival Day schedule of events at the Brooklyn Book Festival website.