Brighton's M&I International Plans To Expand, But Community Demands More Parking
M & I International, the "mecca of Eastern European food" at 249 Brighton Beach Avenue, shuttered its doors in September with plans to renovate and enlarge the building, but neighbors are threatening to oppose the construction if the landlord fails to add required parking spaces.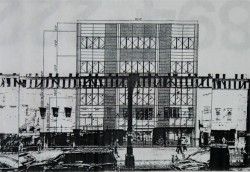 The plans were revealed during Community Board 13's meeting last Thursday, where the landlord's attorney, Eric Palatnik, requested the community's green light to build a larger than permitted structure that lacks 76 required off-street parking spaces.
"[The owner] would love nothing more than to put 100 parking spaces underground below that property. It would improve the value of his business exponentially … but he can't. There's water," Palatnik noted, referring to the neighborhood's high water table.
Palatnik said the landlord – the owner of M & I International – hopes to enlarge the two-story structure to four stories, and increase square-footage from 22,800 to 45,600 – or 11,400 square feet more than zoning allows. The two new floors will be used as a daycare and  medical office, and the rent will be used to offset the renovation of the building, which suffers from a sloped first floor and varied ceiling heights, as the space has assimilated multiple buildings on five tax lots as it has grown over the years.
The landlord is also seeking to legalize the second floor restaurant, which has been operating contrary to zoning laws for years.
But residents balked at the possible influx of cars two new businesses would bring without adequate parking.
"There's a reason for having the parking requirement. And to say that 76 parking spaces which you would be required to provide [is unnecessary], you're dismissive of the fact that there will be a significant increase," said one resident, receiving an applause from attendees.
Palatnik, though, said the lack of parking is a longstanding issue, and the construction of an enlarged building with two new businesses won't add to the neighborhood's woes. He also claimed that a daycare and medical center have no need for parking, since most clients will be locals.
"Nobody is traveling from midtown Manhattan or Southern Jersey or New England to come to the medical offices. It's all going to be local people," said Palatnik. "You're right on top of the subway line. You're right in the most densely populated part of Brighton Beach. We're going to be drawing the customers for the medical from the immediate community. Same thing with daycare. Nobody is running around the city dropping their children at a daycare that's 35 miles away from their home."
But that comment sparked protest from Ida Sanoff, a 35-year Brighton Beach resident and longtime business owner, who said she "knows something" of being a neighbor to exactly the kind of businesses Palatnik's client wants to attract.
"If there's one thing that Brighton Beach has more than enough of, it's medical facilities," she said, noting that she has a medical facility near her residence, and that "98 percent" of the time there's ambulettes in front and drivers can't get by.
Palatnik could not answer questions about where ambulettes would drop patients off or how frequently they would do so, but claimed, "we don't believe it's going to be such a substantial impact that it will block the roads."
Sanoff also said her business was hurt when a daycare center opened on their block. Even though all the clients were local, they still crammed the roads twice a day as parents would line the street during pickups and drop-offs, blocking access to her storefront.
She also warned the Board that they would be setting a precedent, allowing a 58-foot-tall building in an area of mostly two- or three-story structures.
But Palatnik defended the plans, suggesting that the area is booming because of business owners like his client.
"Brighton Beach is a victim of its own success," he said. "I think it's a blessing to have someone coming into your community and building up to what's allowed to be built to, and investing such massive amounts of money into your community."
Community Board 13 will vote on the proposal on October 17, during a meeting at their office at 1201 Surf Avenue, 3rd Floor. If you would like to comment on the proposal, call the Board at (718) 266-3001 or e-mail cb13chair@gmail.com.