Brighton Seniors Distraught As Met Foods Supermarket Closes Its Doors
After 30 years in business, Brighton Beach's Met Foods supermarket is closing its doors in just two more weeks, leaving neighborhood seniors distressed about future food-shopping endeavors.
The supermarket, located at at 100-120 Brighton Beach Avenue, is being replaced by a modern two-story office and retail complex. Rather than housing a different convenience store, the new complex will be open to a variety of vendors that will be able to sublet office-sized space, with retail on the ground floor.
But Brighton Beach locals are unenthusiastic about the change. Many Met Foods customers are worried about the inconvenience that this close will cause on the elderly population residing in the community.
Marian Rosenfarb is one of these unhappy customers. She has been shopping at this Met Foods location for 27 years. In that time, she's developed a collection of memories, even recalling that she went into labor once, right by the vegetable aisle. Today, she has a comfortable kinship with much of the staff, some of whom have been working here since the store's opening decades ago.
"They all recognize you," Rosenfarb said, complementing the employees that she said always made her feel welcome in their store. "They say hi. They've seen you coming here for years. It is a very well-rounded store."
Her daughter, Alyce Grossfield, agreed. She remembers a time when the supermarket used to have saw-dust sprinkled across its floor.
"It's one of the last old-fashioned groceries in the area," Grossfield said.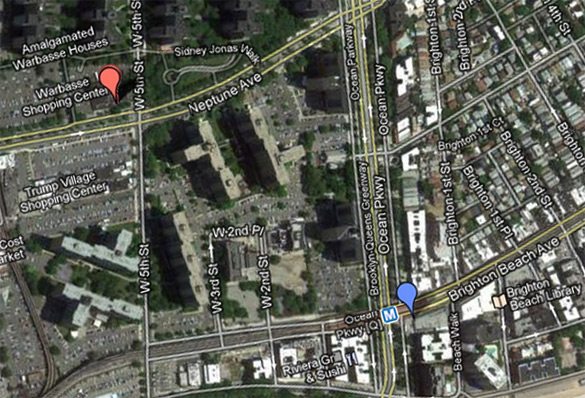 According to Rosenfarb and Grossfield, other Brighton Beach supermarkets are "far and expensive". The closest supermarket that is comparable to this Met Foods is Key Food, located on Neptune Avenue, and almost one mile away.  The nearest Met Foods location is near Kings Highway, in Midwood, approximately five miles away.
Victor Ramirez, a manager at this Met Foods for more than 20 years, said he was worried about the elderly community being able to comfortably go food shopping once the store shuts down.
"I don't know how these people are going to travel to get food," Ramirez said. "It's going to be a collapse to the neighborhood."
He included that even public transportation will not be convenient for customers, as many frequent shoppers cannot carry their goods on their own.
"We knew all the customers, and always tried to do what we could to make shopping easier for them," he said. Ramirez referenced many times when he would carry cases of spring water directly to the door of many elderly customers' homes. "Other supermarkets don't do that. There's nothing like us here."
Another manager, who preferred to remain anonymous, said that the high rent was the reason behind the close. When the landlord doubled the price, Met Foods just couldn't afford to stay in business.
"The lease went up to $100 per square foot," the manager said. "Nobody can beat the landlord."
Lenora Saltz, another everyday shopper, was shocked to learn about the upcoming close. "They can't do this to us," she said. "We are elderly people."
Now in her early eighties, Saltz recalls shopping at Met Foods for decades. She even remembers a time when she didn't have enough money to cover her entire transaction.
"They were so nice to me," Saltz said. "They told me, 'Don't worry. Pay us back whenever you can.' They're wonderful people. This is really going to hurt the neighborhood."
But as October arrives, Met Foods will shut its doors forever, leaving customers without a local convenience store well-suited for the community.
"It's very sad," Grossfield added. "This [store] was for everybody."