Brighton Beach Firefighter Will Rep Borough In Citywide FDNY Cookoff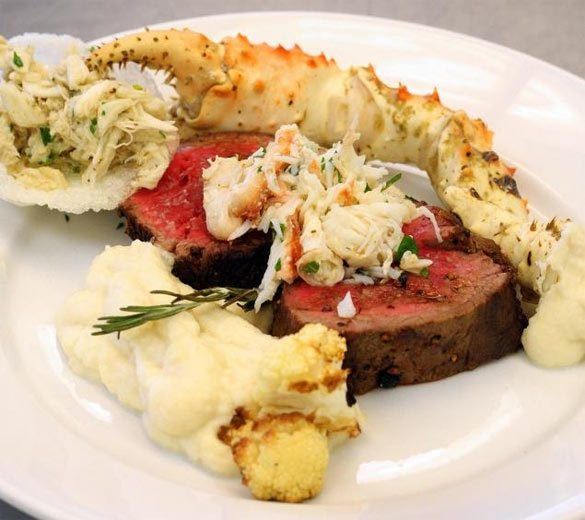 Oh, man, look at that food. Surf, meet turf, with a glob of cauliflower heaven to boot.
That's the dish John Sierp, a firefighter from Ladder 169 on the Brighton Beach – Sheepshead Bay border, cooked up to win the top prize in the Brooklyn semifinal of the Daily News' 5 Alarm Cookoff at William E. Grady High School.
It's a pepper encrusted beef fillet, paired with king crab leg, king crab salad on prawn crisps, an heirloom cauliflower and parsley root puree, with a decorative hunk of maple-roasted carrots and parsnips.
"I've never made it," Sierp told the Daily News. "It's just all stuff I like and thought would be good together."
Sierp's dish may have been cooked on a lark, but that wasn't the case for his chief rival, Jing Kong, an EMS responder stationed in Carroll Gardens. Kong had a well planned buttermilk fried chicken cooked in duck fat and served with mini cheddar waffles and jalapeno rosemary honey.
"I love anything with duck, and who doesn't love fried chicken?" he asked. Good question, sir.
Both Sierp and Kong are previous winners of the event. Kong won the citywide competition once, two years ago. Sierp has emerged as the Brooklyn semifinal winner three times, including last year's, which we wrote about at the time.
The food fight wasn't all fun and games, though. The paper reports that the two trash talked from the beginning, kicking off with Kong faking Sierp out, showing that his beef was burning.
A more modest Sierp conceded that Kong was tough competition. "I'm a little concerned," he told the paper.
But he needn't be. He eventually won, with the judges giving the highest praise – keeping the plate for licking even as the staff tried to pull them away.
Now Sierp will go on to compete against the winners from each of the other boroughs on an upcoming episode of Rachael Ray. The winner goes home with a $5,000 prize, a makeover for their firehouse's kitchen and a Key Food gift card worth $2,500.