Brighton Beach Show Struggles For Unique Identity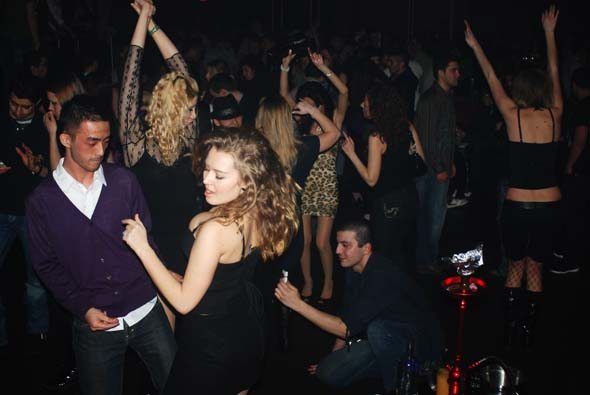 Anastasia Kurinnaya, shod in a pair of black Aldo booties with five-inch heels, stepped carefully down the 10 rickety plywood stairs that led from the coat check into the grimy basement of Passion, a popular Russian dance club on Coney Island Avenue in Brooklyn.
…
Ms. Kurinnaya, 25, said she had been anxiously waiting all week for this moment. She wanted to get on the show to make her ex-boyfriend jealous.
"If I hook up with somebody I can throw it in his face," she said.
At 11 p.m. on Saturday, Ms. Kurinnaya was the first person plucked out of Passion's swelling crowd and led downstairs.
By 4:00 a.m., nearly four dozen other young Russian-Americans charmed, pleaded or simply shoved their way into the audition, determined to prove that the Russian version of Snooki or The Situation can outdo his or her Guido counterpart.
…
The creators of "Brighton Beach" said their show is not exactly a rip-off of "Jersey Shore," or any other reality show.
"We're trying to portray what goes on inside the Russian community and to expose people, introduce people, to what Russians are really like," said Elina Miller, 25, who, along with Alina Dizik and Christine Mahin, is one of the show's producers.
"Russians have a place in pop culture," Ms. Miller said. "But it's not necessarily a realistic or true portrayal. I realized that the best way to break down these stereotypes was through a show."
– "How Do You Say 'Jersey Shore' in Russian?", New York Times; March 11, 2010
Let me start by saying that you should read the above Times piece in full. It's well-written, got a lot of great quotes, and they included some audio interviews that are pretty amusing. But when you're done, come back here.
Now, that you've read it, let me tell you this: it's a fun read, but it misses the point. Every media outlet in the world (including us when we broke the story) portrayed this as the "Russian Jersey Shore" with outlandish characters, over-the-top stereotypes, and regurgitated mouthfuls of Snookie and The Situation with a borscht aftertaste.
And that's what's wrong with the Times piece. Despite the producers' insistence that it ain't no Jersey Shore-remake, media-types everywhere are contradicting them with cherry-picked examples of the shlubs who reinforce the Jersey Shore narrative. Because, hell, that's a lot funnier to write about. But is it better to watch?
At Saturday's casting call, I got a different sense of what Brighton Beach can be. Producers Elina Miller and Alina Dizik are fighting an uphill battle to distance themselves from Jersey Shore's putrid stigma while still feeding off its popularity.
Yeah, in public arenas like their Facebook fan page, the producers are championing idiots like Toronto's Last Russian Prince, a big fat mound of obnoxious. But when I first got to the cramped plywood hell that was Passion's basement-turned-studio, Miller's first words to me were "Did you see that guy? How ridiculous!"
Miller didn't say whether they'd be considering the Prince, but she did say that they've found contributions like him to be a useful means to attract a more diverse cast. By splattering the public forum with awful stereotypes, she told me, they've been able to attract a more diverse applicant pool. People have come out to fight the stereotype, pleading with them to have Dosteyevsky-reading intellectuals and Russians who can appreciate maturity.
"It's great because [the Prince] is bringing more attention to us," Miller said. "The more attention we get now, we can get really diverse people to even out the house."
Take Yana Aronova for example. The 20-year-old student is giving up a "literary adventure" to Paris for the chance to be on the show. She says she wants to offer up an "honest" representation of Russian-American culture.
"I'm definitely not going to be one of those characters," said Aranova. "What I'd bring to it would be pure honesty" as opposed to people who do things for the camera.
Aranova lives in Queens and has only been in Brighton Beach a handful of times. She rarely drinks or visits clubs like Passion. She has never dated a Russian man. She's hardly the stereotype.
But of course, in the end, the producer's protests that this won't be just another Jersey Shore, but instead will be an honest exploration into the diversity of Russian-American culture, comes down to the cast they choose. They can say now that they want a Dosteyevksy-reciting ballerina on the cast, but if she chooses what many say are the "safe" choices of boorish, beefy, vodka-swilling chumps… well, then Russian-Americans deserve to be pissed off.
It's important to remember that Brighton Beach hasn't been bought yet, and the cast they choose will be what drives it to development. So that begs the question, will a network exec prefer another Jersey Shore clone? Or will they actually want an original series that explores a rising cultural phenomenon (which can still be plenty amusing)?
I think Miller & Co. have a better chance if she sticks to her aspirations, develops a unique identity, and avoids the prurient path. Your thoughts?