BREAKING: Stabbing By Sheepshead Bay Train Station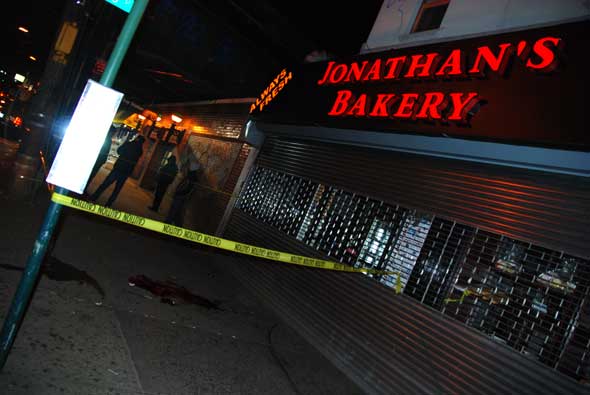 A two-foot wide pool of blood  marks the spot where a  young man was stabbed this evening in front of Jonathan's Bakery (1424 Sheepshead Bay Road), and the suspect may still be on the loose.
An altercation broke out between a group of four men and a disgruntled driver, shortly after 9:00 p.m. Moments later, the driver pulled a knife and stabbed one of the men.
The victim and his friends appeared to be in their early twenties, according to Abdul Alkiyam, an employee of Quick Stop Deli and Grocery next door. Alkiyam was working when a passerby ran into the store and told him to call police.
The men were drunk and tried to cross the street against the light, getting in the way of an oncoming vehicle, said Jimmy Mash, the owner of nearby Bay Ristorante & Pizzeria. Mash didn't see the altercation, but a police officer told him that some curses were exchanged between the driver and the group.
The driver circled the block and returned moments later to confront the group. Words turned to blows, as a fist fight broke out. In the middle of it the driver pulled a knife and stabbed the man.
The driver fled the scene in a white Infiniti, driving north on East 15th Street.
The victim's condition and the status of the suspect is still unknown. We will report more as information becomes available.