BREAKING: Retired NYPD Officer Suffers Self-Inflicted Gunshot On East 17th, Ave Y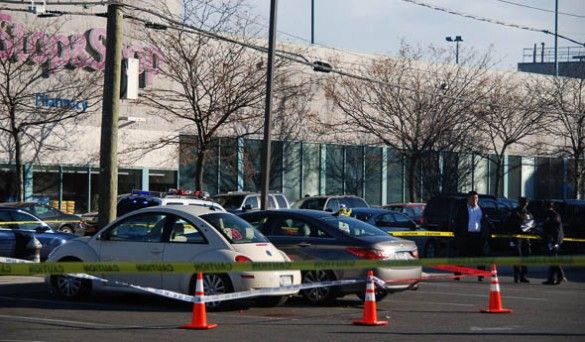 A large police response has turned out for what initial reports indicate is a self-inflicted gunshot wound suffered by a retired NYPD officer at East 17th Street and Avenue Y.
Scanner reports indicate that the unidentified officer mistakenly shot himself herself in the leg. EMS has removed the victim from the scene and the Emergency Services Unit is now set up in the Petco parking lot on East 17th Street and Avenue Y. The 61st Precinct commander Captain John Chell is also on scene with community affairs, and police units from the 60th Precinct are also present.
We have no additional information at this time about the extent of the officer's injury.
UPDATE (2:10 p.m.): The officer has been transported to Lutheran Hospital for treatment.
UPDATE (2:32 p.m.): The incident occurred shortly after 1:00 p.m. in the Petco parking lot, and two vehicles (seen above) are taped off in connection to the shooting. There is a small pool of blood near the rear driver's side wheel of the white Volkswagon.
The victim is female, and expected to survive. The victim's status as a police officer or retired police officer has not yet been confirmed.
Detectives are on the scene, investigating the circumstances around the firearm's discharge. Officers are telling Petco customers to return in about an hour, when the store will reopen.
Emergency Services left the scene, and it appears the incident is wrapping up. NYPD's press office does not yet have information about the incident.
This is a breaking news story and may contain inaccuracies. We will update it as more information becomes available. If anyone has more information or additional photos, please send them to tips (at) sheepsheadbites (dot) com.