Brad Lander Announces Bengali-Speaking Community Liaison In Kensington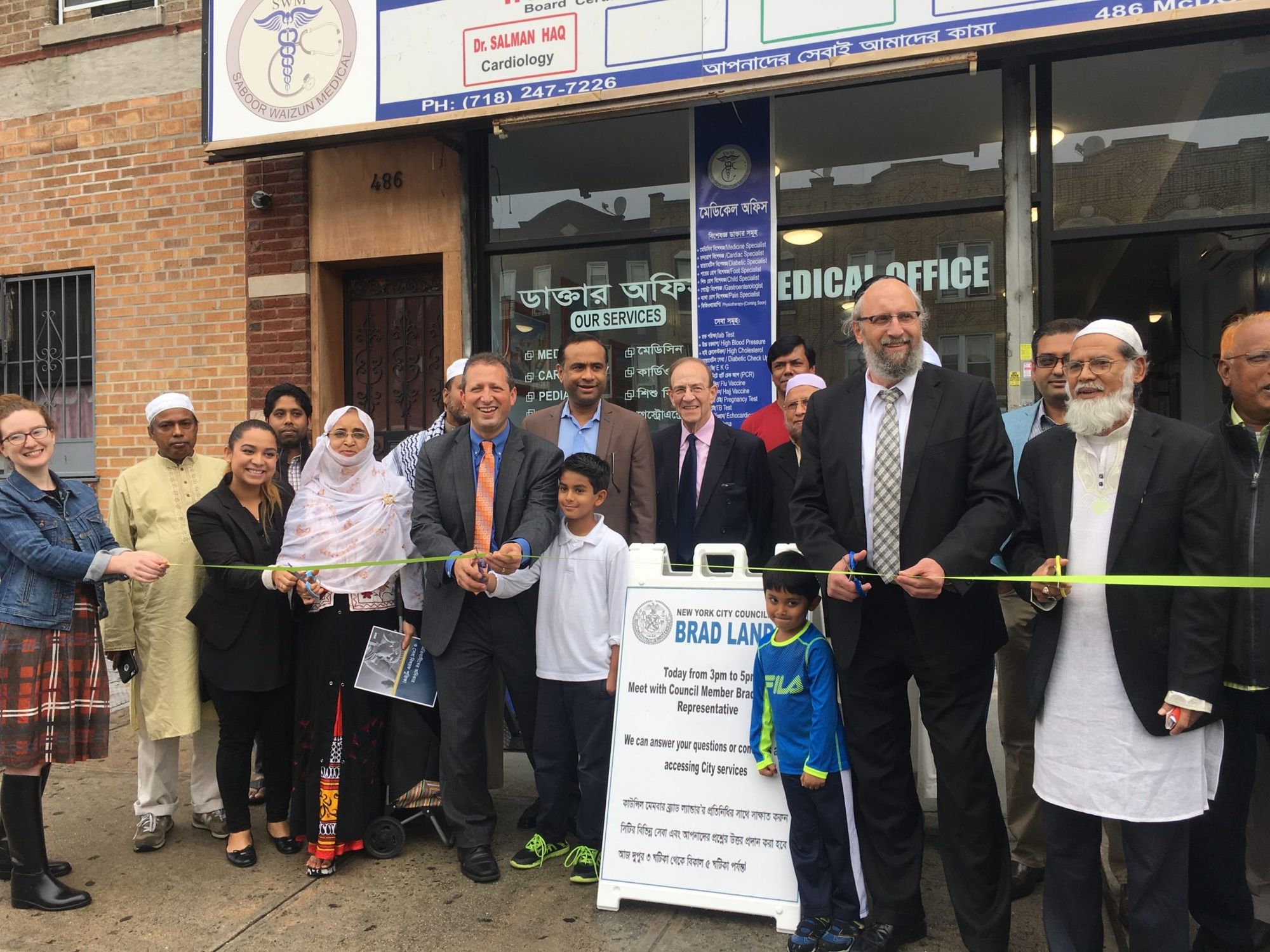 Friday, City Council Member Brad Lander announced a dedicated office annex for Bangla speakers in Kensington, staffed by community liaison Rubina "Ruby" Abdul — the first Bangla-speaking staff member at Lander's office.
Starting on Tuesday, October 25, the office will be open to community members every Tuesday and Wednesday from 3pm to 5pm, in the Saboor Waizun Medical Office at 486 McDonald Avenue.
During office hours, Abdul will be on staff to help residents access programs like SNAP and Medicaid/Medicare, address local concerns like 311 complaints, register to vote, and provide advice on tenants rights.
"It's the classic idea of putting out a shingle," said Lander at a press conference on Friday. "The Bangladeshi community (which represents about 15 percent of my district) is an essential part of the broader community in Kensington, but one with its own particular needs," said Lander.
Before taking the job, Ruby Abdul, a Bengali woman who lives in East Harlem, volunteered for three months in the West Bank. "Growing up, I saw the need my parents had for knowing who to go to [for services]. Our parents did a lot of this on their own, so [liaison] is a very special position for me," Abdul told DPC.
"The Bangladeshi community, like any other community, has a right to have city services they can actually access. I look forward to earning the trust of Bangladeshi members and serving as their voice and navigator through the city system," she said.
Abdul began working in Kensington this summer, beginning with the Peace and Unity Rally at the Avenue C Plaza. "I'm hoping that this [new office] will provide an opportunity to be visible to the community, so they can come to me. People don't go all the way to Park Slope, so we're bringing it to them," she said.
She's already familiar with the community's concerns and told the predominantly male audience to encourage their wives and daughters to come meet her. "We need more representation from the women in this community," she said.
To spread the word, Abdul is working with the Bangladeshi Institute for Performing Arts and Art & Democracy, and speaking with parents at PS 230 and PS 179. "In my office, I've planted the seed for a community garden for Bangladeshi women. The women here often feel uncomfortable on the streets or in the Masjids, so we have to give them a safe haven to come out and organize themselves," Abdul said.
For Lander, the strength in this new office stems from partnerships with community-based organizations like Housing and Family Services for Greater New York, South Asian Youth Actions, the Bangladeshi Institute for Performing Arts and more.
"With funding allocated through Council Member Lander, we will be able to provide services for seniors and new immigrants both in our office and at selected times at the new McDonald Avenue office," said Rabbi Yeruchim Silber, executive director of the Boro Park Jewish Community Council.
Lander's new office joins other organizations working to increase access for Kensington's Bangladeshi-American population.
"My favorite part of this neighborhood is standing at the F train at Church Avenue and seeing the diversity of the people who come off the train station," said Larry Jason, of the Albemarle Neighborhood Association and Housing and Family Services of Greater New York. "But there are many people who live in the houses across the street who may not know their tenant rights."
"The majority of the people here are faced with a language barrier and cultural stigma," said community leader Mian Quandry. "Our greater cause is to service the community we live in."