BQX Has Sunset Park Residents Worried About Displacement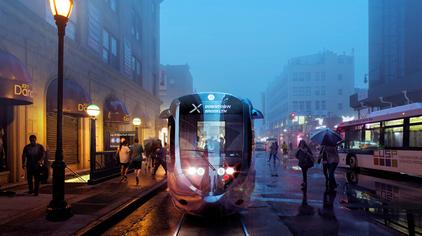 Officials from the Economic Development Corporation (EDC) met with Sunset Park residents on Tuesday to discuss plans and opinions regarding the proposed Brooklyn Queens Connector (BQX), a $2.5 billion streetcar that would run through Sunset Park's industrial waterfront, reports Gothamist.
Some residents voiced their concern over being displaced due to the streetcar raising property values around its route from Sunset Park to Astoria, Queens.
The streetcar, which would connect hubs like Industry City, and the Brooklyn Navy Yard,  would also run near NYCHA housing projects and new residential waterfront developments.
"To come up with this offer that's going to solve all of our problems because it's pretty, that's an insult to our intelligence," said Maria Roca, founder of Friends of Sunset Park, told Gothamist.
Polly Trottenberg, commissioner of the city's Department of Transportation (DOT), was at the meeting to hear from residents. With her was Maria Torres-Spriger, the president of EDC.
Roca, who is also a member of Community Board 7, challenged them both.
"Why can't we float bonds to take care of the needs of the working class and the middle class?" Roca asked.
Trottenberg replied by explaining that supporting the BQX wouldn't take focus away from other transit developments.
This compounds Sunset Park residents' worries about being priced out of their neighborhood. As Gothamist reported:
But many residents worry the streetcar will benefit Industry City at their expense. The 32-acre complex recently requested zoning changes to accommodate hotels and retail. The streetcar would compliment such development, they argue, and potentially price out small businesses and factories (the city has said that the streetcar could pay for itself by raising property values along its route).
"If they are successful in rezoning their space, that will put the rest of the waterfront at risk of being displaced," said Ana Orozco, a spokeswoman for UPROSE, a neighborhood-based environmental justice nonprofit. "It's the same thing that happened in Williamsburg."
"What was $800 for a one bedroom is now almost $2,000, which is absolutely insane," Council Member Carlos Menchaca told a group of his constituents on Tuesday. "If this is going to accelerate that, I'm not for it."
The EDC defends their Sunset Park Vision Plan, arguing that ultimately it will help upgrade infrastructure and generate more jobs.
"By growing and strengthening the Sunset Park Industrial Waterfront and realizing the recommendations set forth in this Vision Plan, the City can also realize substantial job creation and emissions benefits," according to the EDC site.
The BQX is part of Mayor Bill de Blasio's $442 million plan to add industrial jobs across the city, including $37 million for Sunset Park infrastructure projects and $115 million for an additional 500,000 square feet at the neighborhood's South Brooklyn Army Terminal, which is expected to support thousands of new and existing jobs.
Some residents had points to support the BQX. The streetcar might make access to Bush Terminal Park, the neighborhood's waterfront green space that opened in 2014, easier.
"I have children I want to take to the park," said Jennifer Wertz, a Sunset Park resident who also works for the EDC, at the hearing. "The G train doesn't go there and the R train is unreliable. It would help to have another option."
Community feedback was stressed by the EDC at the meeting as a way to make the plan work for everybody. However, Roca did not buy it.
"They say, 'We have this plan and we're here to hear from you—to tweak it with your ideas,'" she told Gothamist. "'What do you need in order to be a viable community?'—that is never the first question."
Tuesday's meeting was the fifth "visioning session" held for the streetcar plan, and followed an earlier hearing Monday in Brooklyn Heights. What do you think of the BQX? Will it provide crucial transportation for residents from Sunset Park to Queens, and improve infrastructure in the neighborhood? Or will it cause too much displacement? Share your thoughts in the comments!