BPL Debuts 7 New Murals By Award-Winning Children's Book Artists
PROSPECT HEIGHTS – On Monday, the Brooklyn Public Library's (BPL) Central Branch celebrated a series of new murals in the youth wing created by seven renowned children's book illustrators.
"A little over a year ago, Jesse Montero, Director of the Central Library, suggested that the youth wing could use a spruce up," Judy Zuckerman, Director of Youth and Family Services for the Brooklyn Public Library explained at the event. BPL contacted a group of Brooklyn-based children's book illustrators who had previously participated in programming at the library. They asked Sophie Blackall to serve as art director on the project, coordinating her own busy schedule with those of the six other artists.
"We suspect that Sophie didn't exactly know what she was signing up for when she said she would do it, because as most of you in publishing know, it's a bit of a challenge to get seven very, very busy artists to work on the same timeline," Zuckerman said.
"There's almost nothing I wouldn't do for the Brooklyn Public Library," Blackall told Bklyner when asked why she agreed to take on the challenge. "When I first came to this country and I really didn't know a soul, we arrived in New York in the middle of a bitter winter. I had an infant son and he learned to walk in the youth wing of this library. It was warm, it was free, and we read our way through the stacks of books." Blackall moved to Brooklyn from Australia nearly 20 years ago. She currently lives in Park Slope.
"At the same time, I was beginning my career as a children's book author/illustrator…so while I was reading to my children, I was also learning about how books are made," she added. "I feel like I have this debt to this library. It's such an important part of my community."
The artists first met in June 2018 to discuss the project. "We did come up with some seeds of ideas at that meeting, which turned into viable saplings. The one that we thought was most viable was this idea of what happens to a book when it leaves the library," Blackall told the crowd gathered for Monday evening's event. "We are all connected by the books that we borrow. I as a kid, loved looking at the cards in the back of the book and you could see who else had borrowed it. I kind of had an empathy for the books that had not been borrowed very much and I would take those out—they were often terrible…."
"That idea that the book leaving the library, goes out into the community," she continued, "does it get read in bed? Does it get read in the treetops? Underground, in the subway? All of those ideas. And also, where the book takes you. To imaginary places, to outer space, to dreamscapes. This was the idea, that there would be one book and it would follow through these murals."
Each artist initially worked independently on his or her individual panel, incorporating a red book into each work. The group borrowed elements from each other's drafts for consistency. The whimsical final murals feature the Central Library building, UFOs, butterflies, aliens, and some of the figures from the Central Library's front door.
The seven artists selected for the project each gave a brief presentation Monday evening regarding the piece they created. The artists include (in the order in which their works are displayed, left to right):
Stephen Savage – the Brooklyn-based author and illustrator is a 2015 Sendak Fellow and creator of 13 children's books, including the Geisel Award Honor, Supertruck and the New York Times Best Illustrated Book, Polar Bear Night, written by Lauren Thompson. His panel incorporates UFOs and spaceships.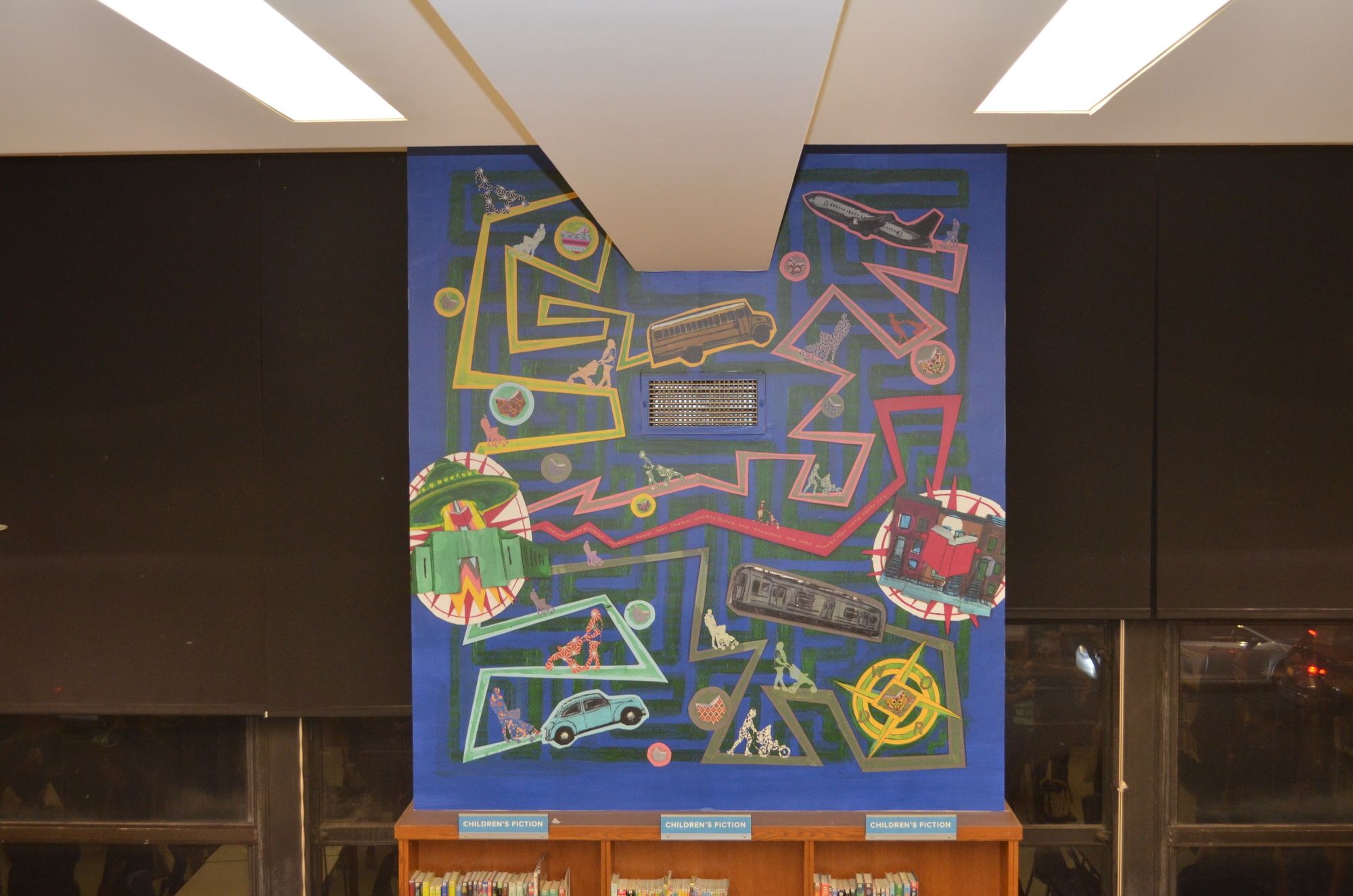 Javaka Steptoe – Brooklyn-based artist, designer, and illustrator Steptoe is a recipient of the 2017 Caldecott Medal for Radiant Child: The Story of Young Artist Jean-Michel Basquiat. His debut work, In Daddy's Arms I Am Tall: African Americans Celebrating Fathers, received the Coretta Scott King Illustrator Award. His panel was inspired by video games as well as travel, and features cars, trains, and planes.
Selina Alko – the award-winning Brooklyn-based writer and illustrator created B is for Brooklyn and Daddy Christmas & Hanukkah Mama and more. Her mural features Brooklyn homes and neighborhoods.
Yuyi Morales – the New York Times bestselling author and illustrator of Dreamers is also a 2015 recipient of a Caldecott Honor for her book Viva Frida. Her mural includes a mother and child, a baby stroller, and monarch butterflies—a symbol of migration, she explained. "I wanted very much to honor those children and those families that have come trying to find a better place…." the author said in her emotional speech. Morales immigrated to the U.S. from Mexico.
Paul O. Zelinsky – the Brooklyn-based illustrator and creator of The Wheels on the Bus has won numerous awards, including the Caldecott Medal for his Rapunzel and three Caldecott Honors, for Hansel and Gretel, Rumpelstiltskin, and Swamp Angel. He recently received the Society of Illustrators' Original Art Lifetime Achievement Award for Illustrator. His mural incorporates Morales' baby stroller as well as a family of aliens and another alien playing a bongo.
Sophie Blackall – the Brooklyn-based illustrator of 45 children's books is a two-time Caldecott Medal winner and four-time recipient of The New York Times Best Illustrated Picture Book Award. Her mural incorporates some of the figures from the library's front doors, including birds, a dinosaur, and a whale. "Books to me are an escape into other worlds, so I wanted this idea of reading to be a form of freedom, that you kind of float above your existence when you're reading a book," she explained of the floating figures.
Christopher Myers – the acclaimed Brooklyn-based author and illustrator has illustrated his own titles and has worked with several authors, including his father, Walter Dean Myers. The father-son duo collaborated on the Caldecott Honor winner Harlem, as well as the Coretta Scott King Honor winners Black Cat and H.O.R.S.E. Myers' mural was inspired by his love of flight. "Every interaction with books is a way of getting your own wings, of finding a place to fly and I'm so excited to be flying with you all, because talk about those monarchs, they don't fly alone," he said. "There's a whole bunch of us, and it's a gift to be part of that."
The murals were installed in June of this year. They were paid for by the Central Library Gift Fund.
"I have renewed respect for every editor and art director who has to wrangle artists," Blackall said following the presentations. "It was not my forte but I love these artists and I love what they did. We were just elated that we had managed to do this thing together and the fact that it will last for generations is thrilling."
"It was extraordinary," she said of the overall experience of creating the murals. "It was a joyous collaboration that was a gift to us and a gift to our community."