Boost Mobile On Sheepshead Bay Rd. Now Open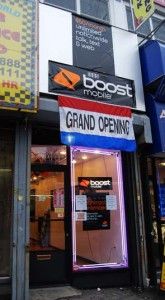 The new Boost Mobile at 1505 Sheepshead Bay Road opened up earlier this week. They're still waiting on a sign to be installed, but business is up and running.
We've all seen the ads that are – literally – everywhere, so I don't need to tell you what Boost is or how they differ from other cell phone companies.
This particular Boost is owned by Craig Shulman.
, who also owns the Boost Mobile at 3703 Nostrand Avenue (off of Avenue X).
It was previously an independent retailer of several phone services including Boost and Sprint, and closed in October.
Correction: Shulman has no affiliation with the Nostrand Avenue Boost Mobile. We regret any confusion the error may have caused.