Books Through Bars: Brooklyn Program Provides Books To Inmates Across The Country
RED HOOK – You might have to watch your head as you walk down the steep cement stairs that lead into a basement stacked floor to ceiling with books, the headquarters of NYC Books Through Bars located beneath Freebird Books at 123 Columbia Street.
Books Through Bars is a volunteer-run group that sends donated books to incarcerated people across the country. The non-profit organization has been responding to handwritten requests for books from people in prison for 20 years.
Beena Ahmad, a three-year member of the collective, said the organization started off as a political model that also had a political agenda. They recognized if people in prisons could be armed with knowledge and have a sense of their own empowerment, they'd be able to better their situations. The Books Through Bars board currently has 11 members who are all also volunteers.
"We try to think about what the sort of literacy or educational function of the request letter is, and how we can achieve that," Ahmad said.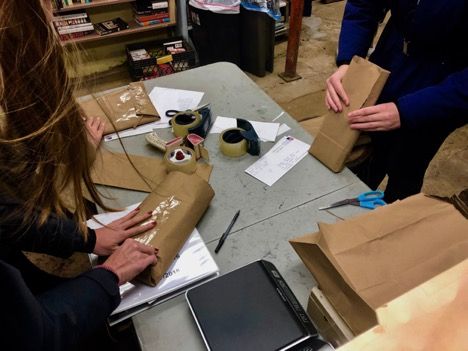 Books Through Bars advertises in national lists that are circulated to prisons, but generally word of mouth through inmates is the most effective promotion. The organization receives up to 500 letters a month from across 40 states and tries to respond to every one.
While most letters are sent from male prisons, the organization is actively trying reach out to more female facilities in hopes of getting more requests from women. "Our thinking is we want to directly send something to the person that's requesting. We want to make sure that they get it," said Ahmad. Some of the most requested subjects include history, mystery, science fiction, dictionaries, and books about how to start a business.
Book donations are accepted from the general public. Click here to see what is accepted.
Volunteers have strict guidelines they must follow when fulfilling requests. Packaging the books prior to shipment is a process. Volunteers must make sure that they use a sturdy bag that is clearly stamped "NYC Books Through Bars." The shipping address and an identification number are cut directly from an inmate's letter and taped onto the package.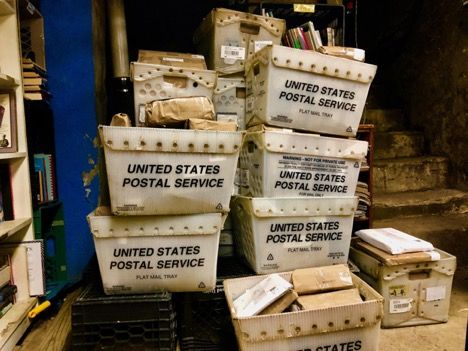 Two to three pounds is what volunteers aim for when packaging requests—generally, three to four books. Postage is given a great deal of consideration since this is the only expense that Books Through Bars pays.
"We're a small operation, we fund ourselves. We're aware of how much every dollar is worth. That's the caveat," said Ahmad.
After fulfilling the requests, if there is enough space for an additional book, an uplifting read, such as a memoir, will also be included.
The library where all the books are stored is organized in a range of genres including fiction, reference, self-help and health, religion, writing, plays, philosophy, and sports.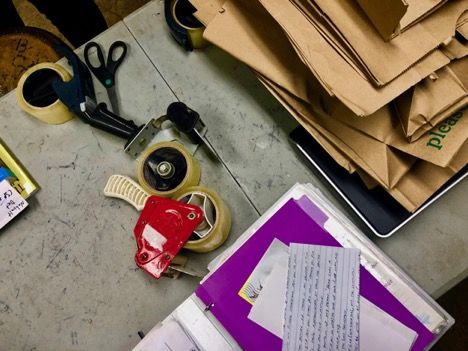 First-time volunteer, Chris Bolman, was inspired to take part in the program after his experience mentoring for Children of Promise opened his eyes to problems in the criminal justice system. "If we aren't part of the change, it won't happen," Bolman said.
With the volunteer space, packaging station, and library all tightly compacted into the Columbia Street basement, it's a little hard to get around without bumping into someone. "That's a good thing if people are in the way," longtime collective member Peter Burka said. "That means that we have a lot of volunteers."
Volunteers can drop in Sundays (2pm to 5pm), Mondays (7:30pm to 9:30pm), and some Wednesdays (7pm to 9pm).
Freebird Books, 123 Columbia Street (between Kane & Degraw Streets), Red Hook