Bogus Charges On Your Cell Phone Bill? You Can Get Money Back, But You Must Apply Now
Cell phone companies are doling out millions of dollars in refunds after agreeing to stop a slew of shady billing practices called "cramming," but few customers have applied to get money back as a May 1 deadline nears, according to Senator Chuck Schumer.
Customers are entitled to as much as hundreds of dollars in refunds from cell phone companies including AT&T, T-Mobile, and Verizon, following a settlement between the companies and the Federal Trade Commission (FTC) for allegedly bogus billing practices. The FTC got involved in November 2013, winning an agreement with carriers to stop "cramming," in which consumers may have been billed multiple times for apps, games, ringtones, and "premium SMS" without the customer's authorization.
Customers may have seen the third-party charges on their bill, but under a heading that appeared to be from the carrier, and with vague descriptions. In one example from the FTC, a customer was billed $9.99 monthly for trivia text messages, yet the bill made it look like part of the carrier's regular fees: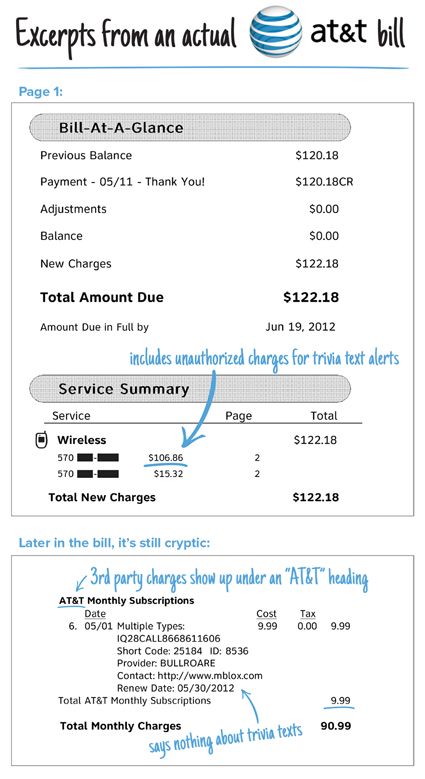 The FTC's webpage has more information on how to identify bogus charges on your cell phone bill, and how to file a complaint.
According to Schumer, despite the massive settlements – $195 million for AT&T and T-Mobile alone – little has been done to inform consumers as the first deadline approaches.
"I'm dialing up the FTC today urging them to provide consumers with more than just a busy signal, after being duped by their major wireless carriers. Consumers deserve ample opportunity to submit for these FTC settlement funds," said Schumer. "The FTC should better publicize the practice of cramming and explain how consumers can apply for their well-deserved refunds."
The deadlines, which vary by carrier, are as follows:
May 1 – AT&T – To file, click here.
June 30 – T-Mobile – To file, click here or call (877) 819-9692.
Verizon, Sprint and other major carriers are still in talks with the FTC on reaching a settlement.
Did you apply? Let us know how the process went, and if you received approval.