Bogota Celebrates 10 Years, Owners Honored At Park Slope Pride Parade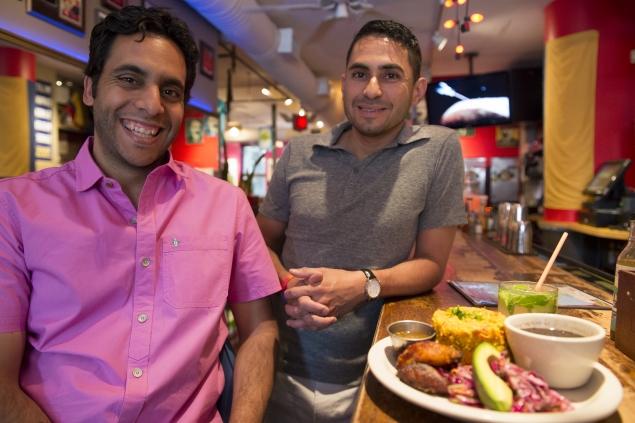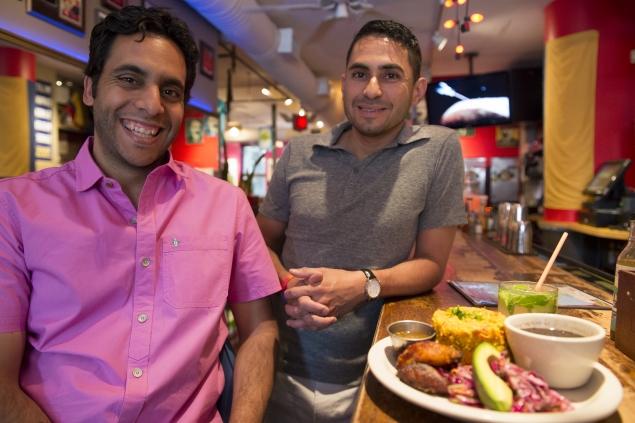 Spouses Farid Ali and George Constantinou are delighted to celebrate their decade-long ownership of one of Park Slope's most praised restaurants—Bogota Latin Bistro. Ali and Constantinou are also well-known community leaders, dedicated to serving the growth and prosperity of the greater Park Slope area.
Their community involvement, coupled with their steadfast dedication to gay rights activism, and of course, Bogota's delicious home-style Latin dishes and outstanding customer service, have earned Ali and Constantinou the esteemed dual honor of Grand Marshal at the Brooklyn Pride Parade occurring along 5th Avenue this Saturday, June 13 at 7:30pm.
Keep an eye out for Ali, Constantinou and their 3-year-old twins Gustavo and Milena at the parade, they will be the ones smiling and waving from the back of the Brooklyn Pride convertible making its way through the crowds along 5th Avenue. Bogota will also be celebrating with discounted drinks and a variety of food specials all weekend long.
The story of Bogota Latin Bistro starts over 15 years ago, when Ali was working a comfortable, yet unfulfilling job as an IT consultant at a Manhattan law firm. Across the East River in Fort Greene, Constantinou was busy dreaming of opening his own restaurant, but to pay the bills, he was hard at work as the floor manager of a soul-food, jazz restaurant called Night of the Cookers.
At the time, these two strangers had no idea that one night of speed dating would bring them together and change the trajectory of their lives forever. In the early months of their courtship, Constantinou would often try to persuade Ali to quit his monotonous job and open a restaurant with cooking inspired from Ali's Colombian background and Constantinou's Costa Rican heritage.
Ali wasn't an easy sell. With zero restaurant and business experience, he regularly told Constantinou that this dream was out of reach. Then one day, Ali spotted an ad in a local newspaper for a $90, 16-week course geared toward inexperienced entrepreneurs that wanted to learn how to start a business.
"I was not willing to invest thousands of dollars on a business degree and thousands of hours in the library to make it happen. I didn't have time for that. But for $90, I thought to myself, that's worth it. So we signed up," Ali said.
The couple worked to draft a rough business plan that eventually went on to win the Brooklyn Business Library's business plan competition, Power Up! In November of 2003, just two years shy of opening Bogota's doors, Ali and Constantinou walked away with $10,000 in cash and $10,000 in-kind services to help make their dream a reality.
It wasn't much, but it gave Ali and Constantinou the motivation needed to move full-speed ahead in making Bogota happen. The business partners started going from door to door and bank to bank in an attempt to find investors. Door after door was closed in their faces and more than 15 banks rejected Ali and Constantinou's attempt for a loan.
"It was discouraging, but then something incredible happened," Ali said.
One of the graphic designers that Ali and Constantinou met through their contest winnings directed them to a bank where he felt they might be able to secure a loan.
"We walked in and there was this man who was all suited up and intimidating, and we thought this was another failure. He looked at our paperwork for all of 15 seconds and then he smiled, broke character and asked us, 'Are you guys going to have a frozen margarita machine?'" said Ali. "We sensed his excitement and said 'Yes! Of course!' He told us he would look over our paperwork and would be in touch."
Ali and Constantinou left the bank wondering if a frozen margarita machine was really going to be the key to their future success, and sure enough the bank called them within an hour saying they had secured a $100,000 loan.
"This is where I tell young entrepreneurs not to give up, the next miracle might be right around the corner," Ali said.
From this moment on, things moved more rapidly for Ali and Constantinou, they secured Bogota's space in Ali's childhood neighborhood of Park Slope and opened their doors to more than 200 excited patrons in July of 2005. Unlike the majority of new businesses, Bogota saw profits in its first year and it has only gained momentum since then.
"I can't believe that I'm ten years older, that ten years have gone by that quickly, it's been ten years of progress and ten years of milestones. I just can't believe it, it flew by," Ali said.
In the past decade, Ali and Constantinou's backing of fair wages and employee benefits, as well as their support for gay rights has been the subject of numerous human interest articles. Their story has even caught the attention of HBO and President Barack Obama.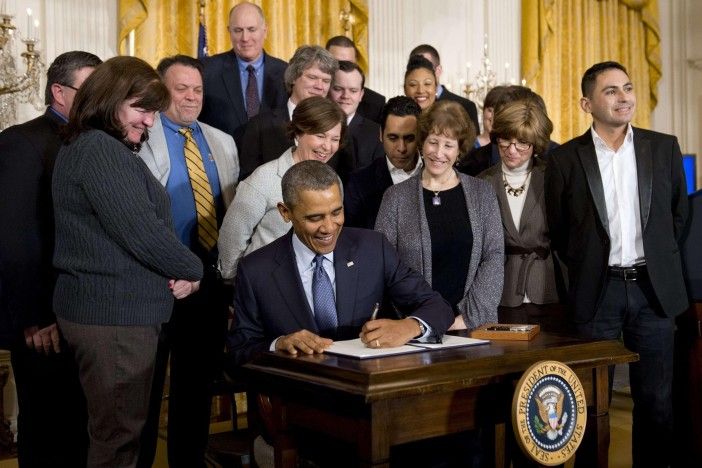 Bogota has been listed as one of Inc. Magazine's fastest growing private companies the past five years in a row. Ali and Constantinou sit on numerous boards including the Inc. Business Owners Council, the Board of Directors of the New York State Restaurant Association, and the Park Slope 5th Avenue Business Improvement District.
Their goals for the future include building out the customer base for their newest restaurant on 5th avenue, Miti Miti Taperia, and providing the best education and childhood for their son and daughter.