Blue Mango, Frozen Yogurt Shop On Kings Highway, Shutters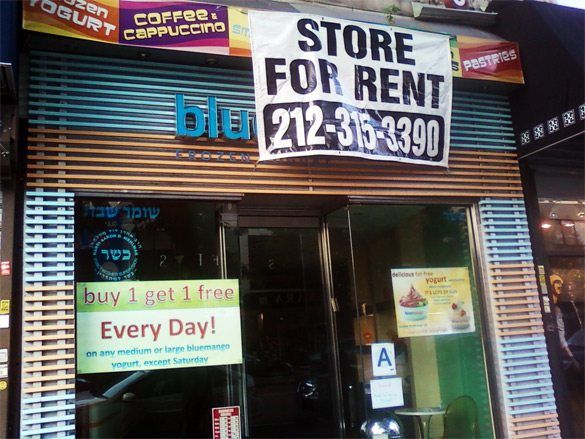 Man, has it been a tough week for businesses in the Sheepshead Bay area. First we wrote about Randazzo's Sandwich Spot closing up after electrical problems proved too frustrating to deal with, then we moved on to Chicken Masters throwing in the towel in the face of mounting government regulations, and then the UPS Store, which called it quits after the parent company wanted to up the stakes on its franchise agreement.
Now, on the other side of the neighborhood, we hear that Blue Mango, a kosher frozen yogurt vendor, has closed down. Located at 929 Kings Highway, a "For Rent" sign went up some time in the past few weeks.
We're not sure how long Blue Mango has been around – it's an area we don't get over to nearly enough – but Yelp reviews for the business go back to 2008.
Good luck to its former owners, and we look forward to seeing what new business will take its place.