Bite Of The Day: Pigging Out At The Smoke Joint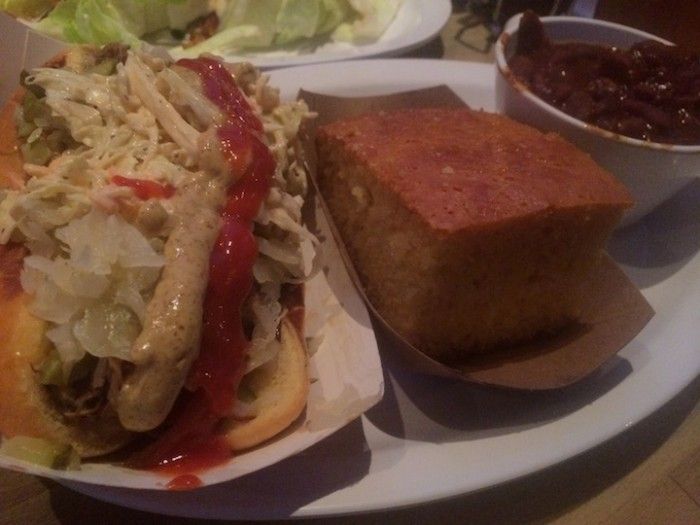 There's something to be said for the summery connotations of hot dogs–but on the whole, this cooler weather is just begging for indulgence in some comfort food.
Enter Fort Greene standby The Smoke Joint (87 South Elliott Place at Lafayette Avenue). We stopped by one recent evening to savor some of their goods, including juicy pulled pork and a dog loaded with tasty extras.

The pulled pork plate ($10) emerged from The Smoke Joint's slow cooker incredibly tender with just an occasional bit of crisp at the tip of select shoulder pieces, and flavorful without feeling slathered in sauce. Our side of slaw was generous, and the pickles just a little bit sweet.
Our hot dog ($5) offered some other yummy qualities: piled high with relish, ketchup, and mustard (as well as pulled pork, beef, or chicken if you're up for it), the dog dubbed multiple times one of the best in the borough is way more satisfying than your standard ballpark fare. It's a dog you can make a dinner out of all on its own–although, we have to admit, we couldn't bring ourselves to skip the restaurant's cornbread or BBQ beans either.
Sound good to you? Wear something loose, don't ruin your appetite, and visit The Smoke Joint (or call 718-797-1011 for delivery) from 11am-10pm Sunday through Thursday, and until 11pm Saturdays and Sundays.