Belt Parkway Pothole Causes Several Cars To Stall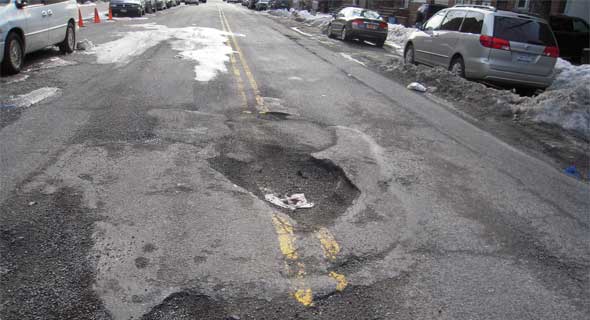 What? The Belt Parkway has potholes? Newsflash!
Well, it's no surprise to any of us, I suppose, that the Belt Parkway has more craters than Edward James Olmos' scabrous wreck of a face after a hunting trip with Dick Cheney. But the congested roadway was the darling of News 12 Brooklyn yesterday, when a magical pothole appeared "overnight," sidelining "at least five cars" due to flat tires or broken rims during the morning rush hour.
"I hit another pothole on the Belt Parkway, as usual," said driver Robert White. "Last time, I cracked my rim, crashed into the wall."
According to the report, the pothole – located near Gerritsen Beach – should have been repaired by yesterday evening (the segment ran earlier in the day).
Know of any other awful potholes in the neighborhood? Share the locations in the comments!
Thanks to local broker for the tip.