Barry Deutsch, Ex-Presidential Candidate From Sheepshead Bay, Dies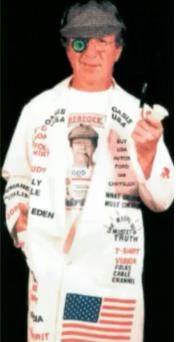 Barry Deutsch, a local Sheepshead Bay man and former Presidential Candidate, passed away last month at the age of 66, according to a report by Brooklyn Daily.
Deutsch, a former lawyer with a Brooklyn-based practice, ran for President of the United States in 1992, receiving 26 votes in the New Hampshire primary. He ran on a platform that railed against the outsourcing of US jobs, particularly the North American Free Trade Agreement (NAFTA).
After his failed bid for Commander-in-Chief, Deutsch carried on his crusade to protect American jobs, creating alter-ego Dr. Sherlock Litter, a bizarre sloganeering pitch-man who managed to star in one video before his untimely death.
According to Brooklyn Daily, Deustch's living situation was also out of the ordinary. Apparently, Deutsch spent most of his time lounging on a cleaned up spot on the otherwise garbage-strewn Plumb Beach. Deutsch insisted he was not homeless.
"It's my tax-free summer beach jungle hide-a-way paradise," Deutsch told Brooklyn Daily. In passing, Deutsch leaves behind his carved out Plumb Beach spot, a cat and three older siblings.