Baltic Street Becoming Boomtown? New Condo Building Just Topped Out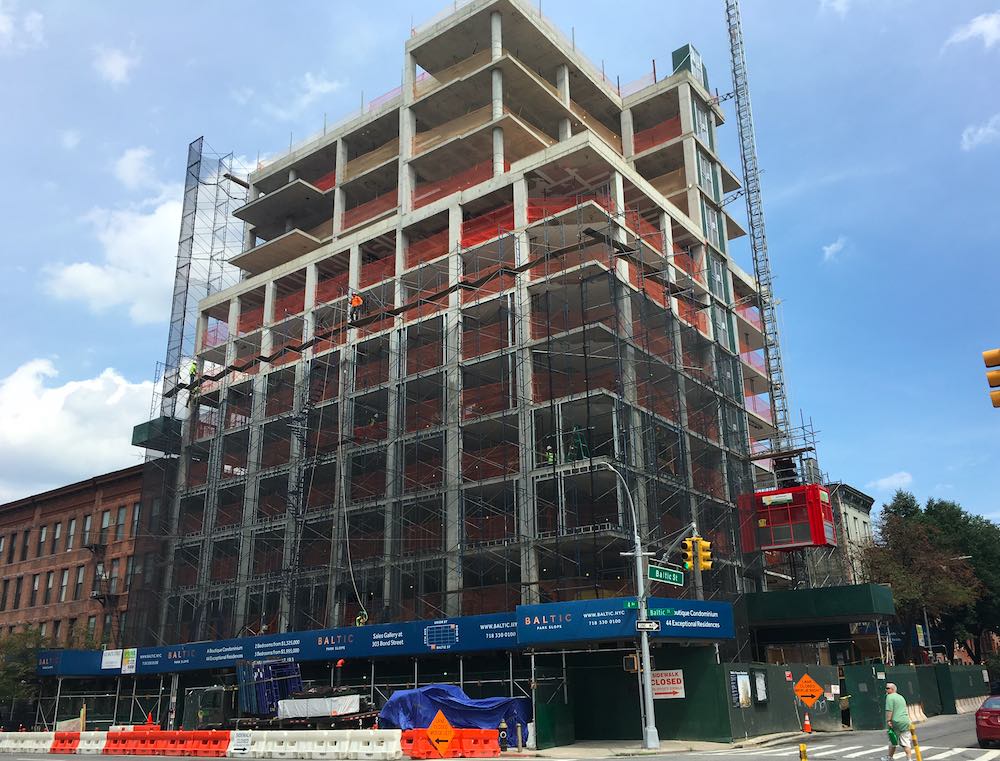 An ongoing project at the corner of Baltic Street and 4th Avenue has been sprouting up fast. The 11-story condo-to-be at 613 Baltic Street has topped out at its planned height of 119 feet, YIMBY reported.
The project — simply called "The Baltic" — will consist of 44 units, with an average per-unit measurement of 1,339 square feet. The ground floor will be over 5,300 square feet, which will be made up of both retail space and a community center.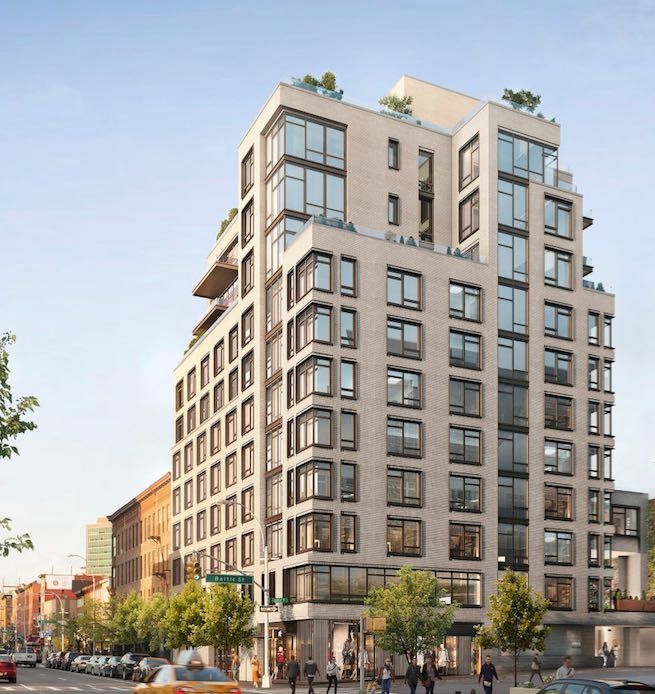 In 2014, JDS Development purchased what was then a four-property site for $6 million.
Construction on the property has been moving fast in mid-2016. YIMBY reported the property was at five stories high at the end of May.
According to YIMBY, "amenities include a fitness center, landscaped gardens and terraces, a roof deck featuring lounges, grills, and dining areas, a movie theater, storage for 22 bikes, and a 10-car garage in the cellar."
JDS and design architect VOA Architecture estimate the project will be completed by sometime in 2017.
JDS has been making their presence known in Brooklyn — particularly in Park Slope and Gowanus — although they are well-known for several Manhattan mega-projects. Those projects include the Walker Tower in Chelsea as well as managing construction for the the ultra-skinny high rise at 111 West 57th Street.
The penthouse apartment of the Walker sold for over $50 million in 2014.
The focus on Brooklyn is a marker of an ongoing shift out of Manhattan for the development company. JDS has already been a part of several Brooklyn-based construction projects, including a rental building at 202 8th Street (near 4th Avenue).
"We like to have a diversity in our portfolio," Michael Stern, JDS's managing partner and founder, told Crain's. "It's getting harder and harder [to develop in Manhattan] … I think there is a lot of opportunity for growth in Brooklyn."
Since this property purchase in 2014, 4th Avenue has become home to a multitude of construction projects, which have been moving south — most recently to 22nd Street. The thoroughfare is also "flipping out"; at least two properties on 4th Avenue have been flipped since their purchase. Developers have certainly made their mark on 5th Avenue as well.
More information on The Baltic can be found here. And you can visit more of our 4th Avenue development coverage here.