Baking With The Greenmarket: Greg's Aunt's Favorite Almond-Apple Tart
This week's Greenmarket-inspired recipe comes from neighbor Greg Wersching, who found himself with an excess of apples one day and no idea what to do with them–that is, until he remembered a recipe his Aunt Michele had been holding onto since the late '90s.
Greg lives on the Kensington/Ditmas Park border. Believe it or not, this is his first ever attempt at baking a tart (which, naturally, he made using fruit synonymous with his favorite season). Lots of apple varieties (and many other recipe ingredients) will be available this Sunday at the Cortelyou Greenmarket, as well as from nearby apple orchards if you feel like getting your day trip on.
Next, Greg plans to go a more savory route with a quiche using winter produce–but for now, you can check out his (or Aunt Michele's) favorite almond-apple tart recipe below.
For this recipe, you will need:
A food processor
Saran wrap
A rolling pin
An 11-inch tart pan with removable bottom
A pastry brush
A cooling rack
And these dough ingredients (or buy pre-made dough):
2 large egg yolks
2 tablespoons of dark rum
2 tablespoons of granulated sugar
1 1/4 cups of all purpose flour
1 stick plus a tablespoon of unsalted butter (total 9 tablespoons), chilled and chopped
1/4 teaspoon salt
1. Combine sugar, salt, and flour in food processor.  Then slowly add butter until is about the size of a pea.
2. Stir rum and egg yolks in a bowl until blended, then add to ingredients in the food processor.
3. Once large clumps begin to form, ball up the dough and flatten it into a disk.
4. Wrap dough in plastic and refrigerate for at least an hour, but preferably overnight.
5. Once dough is sufficiently chilled, let it soften slightly before rolling it out to 14 inches round.
6. Place dough in your tart pan, pressing it against the pan's sides, then return it to the fridge. While dough continues to chill, you can work on your filling.
Filling ingredients:
1 1/4 cups of slivered blanched almonds
1 teaspoon vanilla extract
1/2 teaspoon almond extract
1/4 teaspoon salt
1/4 cup apricot preserves
3 tablespoons dark rum
3/4 cup and 2 tablespoons sugar
6 tablespoons of unsalted butter, room temp
3 apples
1. Combine almonds, eggs, extracts, salt, 3/4 cup of sugar, and 1 tablespoon of rum in food processor, blending until ingredients form a paste. Add 4 tablespoons of butter and blend 10 seconds.
2. Remove tart pan from fridge and spread ingredients from food processor into crust. Chill another 45 minutes or until firm.
3. During this time, you can peel and core your apples, cutting them into 1/8-inch wedges. Then stir apples into a bowl with 1 tablespoon each of rum and sugar, and let sit for half an hour.
4. Preheat your oven to 400° F and slowly melt two tablespoons of butter.
5. Remove tart pan from fridge and drain your apples.
6. Overlap apples in circles atop your filling. Brush melted butter over apples and sprinkle with remaining sugar.
Now that it's oven-ready:
1. Bake the tart at 400° F for 15 minutes, then reduce temperature to 350° F.
2. After another 45 minutes or when apples are tender, transfer tart to your cooling rack.
3. Stir 1 tablespoon of rum with apricot preserves over heat in a small saucepan until preserves melt.
4. Strain into a small bowl, brush over apples, and try to let it cool a little before digging in!
To get the full Greg effect, pair your tart with Dulce de Leche ice cream. But a warning: "I feel it's important to note," Greg says, "the tart was completely devoured in under 30 minutes."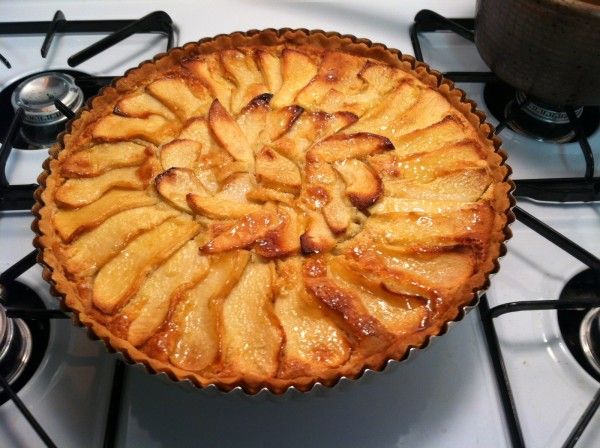 Have a Greenmarket-inspired recipe you'd like to share? Let us know at editor@ditmasparkcorner.com.