Avenue Y Underpass Might Be Nabe's Worst Illegal Dumping Ground, And Sanitation Ignores It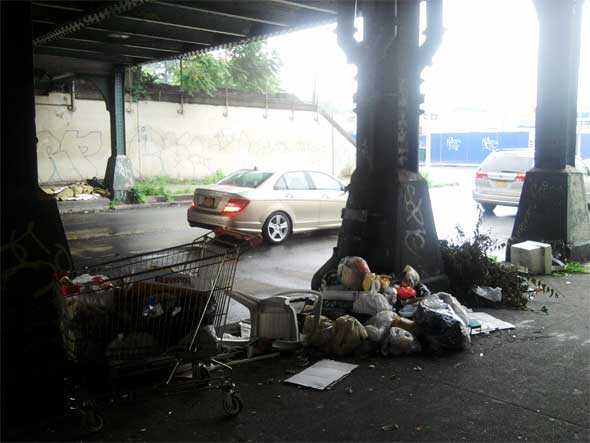 Those who live near the Avenue Y subway overpass – between East 15th Street and East 16th Street – have long known it to be the local pig-sty. But in recent months, the situation appears to have become unbearable.
Garbage has continued to pile up on both sidewalks for months, with Department of Sanitation trucks rarely making stops to clear it out despite passing by at least twice a week to make residential pickups along Avenue Y.
The above photo was taken on July 3, and only shows a small portion of the garbage. The below photo was taken on July 12. As you can see, a week and a half later (and at least three Sanitation drive-bys), the same garbage remains and the piles grow. Across the street, on the northern sidewalk, the piles have grown by several multitudes. One person even left bags and boxes in the middle of the sidewalk, not even shuffling it to the side as other illegal dumpers tend to do.
And look very closely at the second photograph. In the background you'll note a Sanitation Department collection truck. We watched as they attended to the residents' garbage. Then they bypassed this mess altogether, before stopping on the corner to pick up a small bag illegally left there. Apparently, this blight is just too much work for them.
This whole mess was finally cleared over the weekend, but the location remains a chronic problem. We'll be watching to see how fast it piles up again, and how long it takes to be cleared out.