At Kavkaz Restaurant, Introducing Brooklyn To Azerbaijan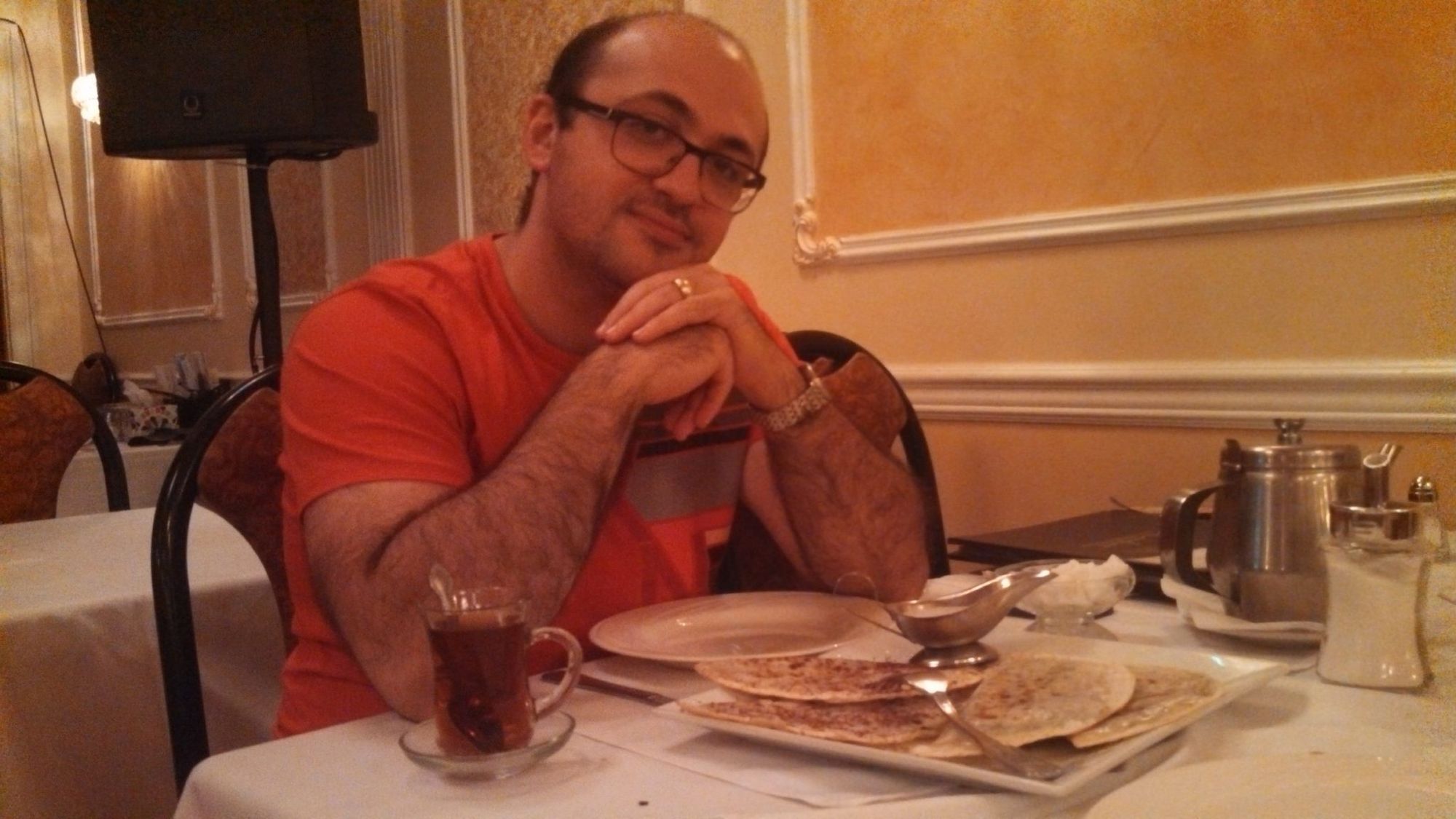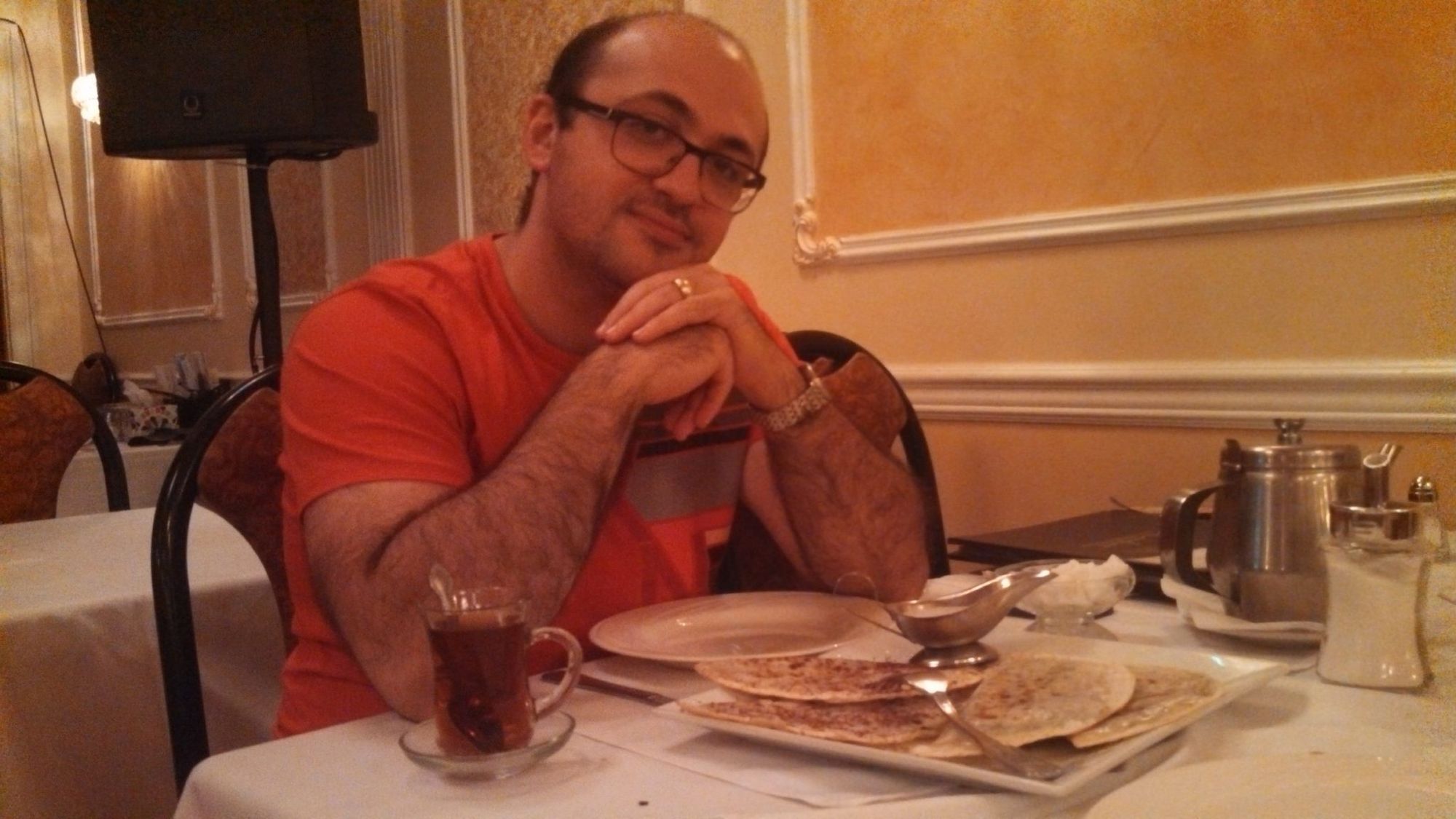 Situated on a relatively quiet block of Coney Island Avenue, on a strip dotted with a pharmacy, a real estate agency, and a doctor, Kavkaz Restaurant has served up Azerbaijani food – heaping plates of kebabs, lamb chops, a gloriously indulgent fried flatbread called kutab, and more – for about a decade and a half.
But, while many of our Eastern European neighbors have been in the know about this spot (which has operated under different names and owners over the years), it has remained largely out of sight for others – something which is about to change, Kavkaz's relatively new owner, David Khanatayev told us.
"We bought this on Valentine's Day last year, 2013, and we changed everything from the floor to the ceiling," David told us while we sat with him in the restaurant, a chandeliered place that evokes both tradition and modernity – a place of impeccable white table cloths and beautiful dishware, as well as drink specials from a full bar that opened Thursday and live music every weekend.
"I want to introduce the cuisine to different cultures," David continued, in reference to the food of his home country, Azerbaijan, a place about the size of South Carolina that is nestled against the Caspian Sea and borders Turkey, Georgia, Russia, and Iran.
Once a part of the former Soviet Union, Azerbaijan, which David left with his family a little more than two decades ago at the age of 10, is a country of dramatic landscapes, including the Caucasus, a mountain system that sweeps through Russia, Georgia, Azerbaijan, and Armenia – and which inspired the name of David's restaurant.
"Kavkaz translates to Caucasus," David, who now lives in Bensonhurst with his wife and two daughters, explained, emphasizing that while Azerbaijan was a part of the Soviet Union, its culture sets it apart from its massive neighbor to the north, Russia.
"Our food, it's very similar to Mediterranean food," David said. "Greece, Turkey, Iran, Georgia, Armenia, they have very similar foods to Azerbaijan."
"The food there, it's amazing – the fruits, the vegetables, they're amazing," he continued. "The meat is natural. Everything there is so natural. It's an amazing place; sometimes I'll dream I'm there."
The menu at Kavkaz is an extensive one, and we got a chance to try the kutabs, which, in laymen's terms, are basically fried bread stuffed with meat and vegetables – and there's no question as to why the delicious dough is one of Azerbaijan's most popular dishes.
"It's amazing, right?" David, who also owns Atlas Meat Market in Kensington, asked, giving a knowing smile, as we polished off one too many kutab.
Besides the kutab, Kavkaz offers such appetizers as dolma (grape leaf rolls), fried calamari, lamb tongue, soups, and salads. The kebab list seems to go on for as long as the Caucasus Mountains, and it includes the Kavkaz kebabs (a mix of lamb adana, lamb kebab, and chicken kebab), liver kebab, prime cut beef kebab, salmon kebab, and more.
And the list doesn't stop there. There are lamb chops, lamb shank, sea bass, salmon, sturgeon, and, again, more.
"This is my favorite, the lamb tongue – it melts in your mouth," David said. "It's delicious."
In addition to the food, the restaurant offers live music every weekend, and David said he hopes to "bring in more live music – the saxophone, for example."
Now that the bar is open, David said it paves the way for other opportunities, including karaoke nights and various drink specials.
This vision – the music and the dancing and the plates of steaming food – has long been a dream of David's – as well as for his father, who David said "has been in the food industry all his life."
"He became a chef when he was 16 and went into the Army," David said. "He always dreamed of having a place like this. "We're excited. We can't wait to share all of this with people who haven't gotten a chance to know Azerbaijan, to know its food."
Kavkaz Restaurant is located at 943 Coney Island Avenue. It is open from noon to 11pm on Tuesday, Wednesday, and Thursday, and from noon to midnight on Friday, Saturday and Sunday. It can be reached by calling (718) 940-9454. To keep up to date on Kavkaz's events and specials, follow them on Facebook.
Photos via Kavkaz Restaurant.