Original Tonto And His Bensonhust Home Remembered As New Lone Ranger Movie Premieres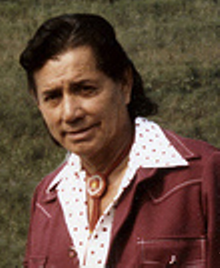 Johnny Depp may be reinventing the role of Tonto in the film resurrection of The Lone Ranger, but the television show's original sidekick – and his Bensonhurst roots – will not be forgotten if neighbors have anything to say about it.
The effort to bring back the classic radio serial and early television franchise has brought some renewed interest to the life of the original Tonto, Jay Silverheels. Silverheels was a Canadian born, Mohawk First Nation actor who at one time resided just off of Bay Parkway near East 4th Street and Ocean Parkway in the Bensonhurst/Gravesend area of Brooklyn.
His home was famous to locals for the giant mural of a Native American chief in full head dress painted on the garage. The home was recently remembered in the "I grew up in Brooklyn New York" Facebook group, when a member described it in a trivia question, asking for the name of the celebrity who lived here, and what the mural was of.
David Rice, who asked the question, later in the thread wrote about his experience meeting Tonto, and squashed a suggestion that it was only a rumor:
He DID actually own it and lived there, but part time. He had other homes as well. My parents took me there, before it was widely known and they even took a photo of him holding me up in front of the garage.
Neighbor Sammy Sanchez piped in with a little more information:
Yep…from the 1950's till the 1970's he lived next to Washington Cementary in a small house just off Bay Parkway near East 4th street in the Bensonhurst/Gravesend section of Brooklyn. His late-50's Cadillac was often parked in his driveway and proud symbols of his Native American pride were displayed in his house window. Native Americans were celebrities in New York and had often been treated well there compared to the treatment received in other areas of the country.
And resident Jerry Bullard shared how he came to learn of it, likely how many of the rest of us did:
I distinctly remember my dad pointing that house out from the car and telling me Tonto lived there…
According to the Lone Ranger Fan Club, Silverheels was born Harold J. Smith on May 26, 1912, on the Six Nations Reservation in Canada. His father was a decorated World War I veteran who went deaf due to a bomb explosion. Smith grew up to be an excellent athlete, showcasing his skills as one of the top lacrosse players. He also placed second in a middleweight Golden Gloves tournament.
Due to his athleticism, Smith earned the nickname "Silverheels," which he adopted as his stage name when he broke into show business as a stunt man. His big break came when he landed the role of Tonto on the long-running Lone Ranger television series. Silverheels appeared in 217 episodes between 1949 and 1957. His iconic performance in the early age of television led him to be typecast as the "Indian" for the rest of his career, but he was able to make fun of his character during appearances on Johnny Carson's Tonight Show.
In his personal life, Silverheels raised and bred race horses. He was married and fathered four children, three girls and a boy. When his career in acting petered out after a stroke in 1975. He died five years later in 1980 at the age of 68 shortly after he received a star on the Hollywood Walk of Fame.
Do you have any memories of Tonto's Bensonhurst home? Even better: do you have any photos? Share them with us!