Artichoke Plays Host To Brooklyn's Second Biggest Pizza Smackdown
WWE rolled into town this weekend, holding its Summerslam and NXT: Takeover pay per views at the Barclays Center, and a pizza eating contest was part of the festivities. In addition, it was the main event of the Park Slope Fifth Avenue Business Improvement District Summer Stroll.
WWE superstars The Big Show and Alicia Fox emcee'd the gluttonous showdown that took place at 6:30pm on August 18 at Artichoke Basille's (59 Fifth Avenue, between Bergen Street and St. Mark's Avenue). To the victor of the gluttonous contest would go the delicious spoils: a free slice every day for the next year, reports DNAInfo.
The popular pizza place opened up just about one year ago, headed up by the Pizza Masters, cousins Sal Basille and Francis Garcia.
"We have a pizza eating contest. No, I am not in it. It is not a rigged contest," bellowed The Big Show, a seven foot tall pro wrestler with WWE.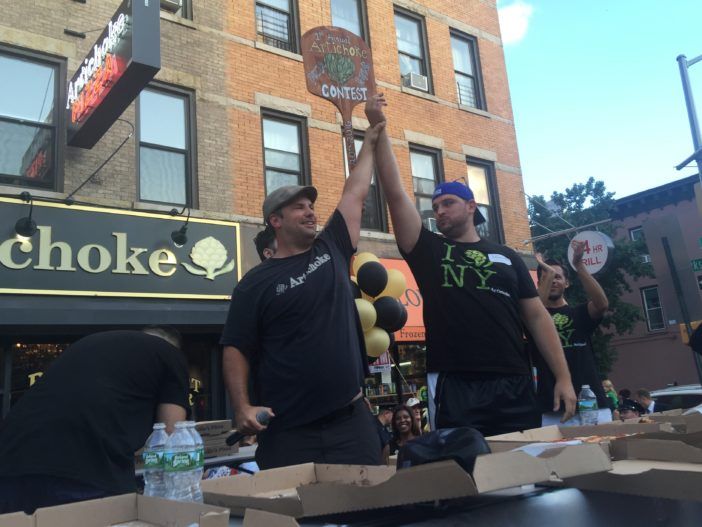 At the outset of the battle royale, the seven gastrointestinal gladiators took the stage. A pizza was placed in front of each, and they were given 10 minutes to eat as much as they could. As Survivor's "Eye of the Tiger" blared across the speakers, the eaters chowed down as much as possible.
In a replay of the main event of Wrestlemania XII, the contest ended in a draw and a special, sudden death overtime had to be declared. It all came down to two brave souls and one slice a piece.
Amit Molhatra and Steffen Gonzalez were the finalists. Molhatra got out to a quick lead and appeared to be closing in on completion before hitting the dreaded food wall. Gonzalez raced to the finish and was rewarded with victory, and in the process, claimed a paddle.
After the contest, The Stoop caught up with WWE's Alicia Fox, as she handed out pizza to Brooklynites and attendees.
"I love Brooklyn, they know what's up," said Fox to reporter Fox.
Artichoke's pizza smackdown was the second major throw-down this year, after Fort Greene Focus and Park Slope Stoop engaged in their legendary battle. Read the Park Slope Stoop perspective of those cheesy fisticuffs, and then check out the Fort Greene Focus perspective.