Art Group Honors Coney Island Hospital Administrator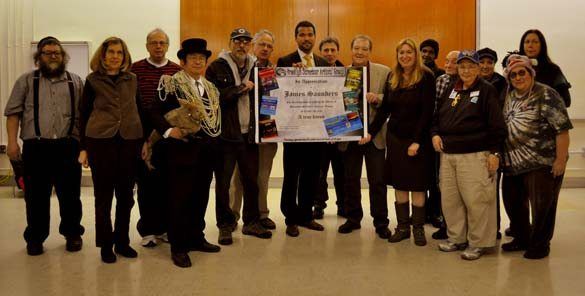 The Brooklyn Streetcar Artists' Group (BSAG) presented an award to Coney Island Hospital administrator James Saunders on Wednesday for his efforts to showcase their artwork at the hospital.
Saunders, the hospital's associate executive director of public affairs, recently announced he would be leaving the hospital to work elsewhere in the public hospital system, and the artists said they wanted to acknowledge his contributions in bringing art to the institution's hallways before he left.
The award ceremony kicked off BSAG's sixth
showing at Coney Island Hospital (2601 Ocean Parkway), in which the facility's second floor hallways get lined with scores of original works from local artists. The group presented Saunders with an award for his involvement and hospitality.
"We couldn't have done it without him," said BSAG Director Arthur Melnick. "James brought us into Coney Island Hospital and helped us establish the gallery at the hospital…we have a home there, thanks to him and above all he's been a very good friend to us."
The event held at Coney Island Hospital exhibits a wide range of works, including drawings, paintings and photography. Each opening event is accompanied by entertainment from local singers, actors and musicians.
"Its an honor and a privilege for the staff to come to this floor, walk down that hallway and be surrounded by the incredible works of art that all of you produce, so its our privilege to actually be in the same environment as your work," Saunders said.