Anti-Muslim Graffiti Sprayed Near Ave Z, Haring St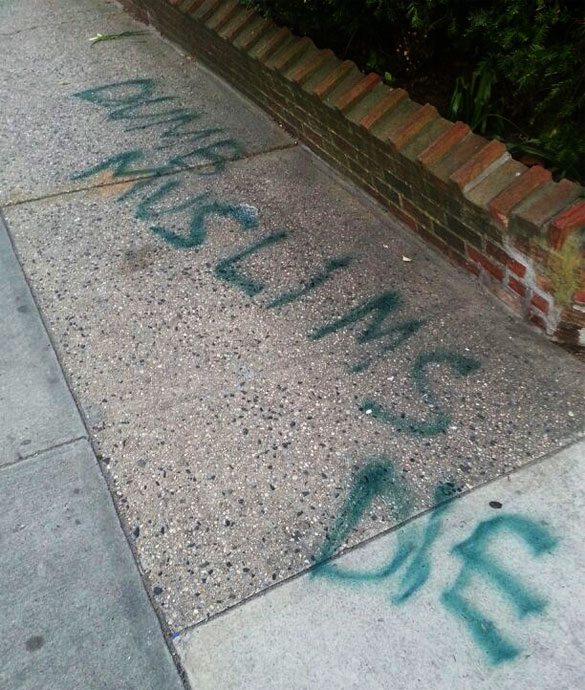 Look at what some hate-filled clown did. A reader sent this photo in this morning. It happened on Avenue Z and Haring Street, an area where many of the community's Muslim residents live.
We're waiting to hear if this was reported to police, and if it's being investigated as a hate crime.
Update (10:45 a.m.): Reader Vadym S. confirms that police are investigating. We're still waiting to hear from NYPD whether or not it's being referred to the Hate Crimes Unit.
Update (12:45 p.m.): Public Advocate Bill de Blasio has weighed in, with a statement condemning the vandalism.
This revolting act of prejudice was meant to intimidate New Yorkers on their streets and in their homes – but because of our unity and our strength, it's not going to work. We won't stand for anti-Muslim bigotry – not in Sheepshead Bay, not in Brooklyn, not anywhere in our city. Anyone with information on these perpetrators should come forward right away by calling 1-800-577-TIPS.
Update (2:28 p.m.): District Leader Ari Kagan, a candidate for City Council, also weighed in:
I was deeply saddened and troubled to learn of yesterday's hate crime, targeting Muslims, in Sheepshead Bay. Southern Brooklyn is a vibrant, diverse community, home to families from all across the world. There is absolutely no place for such hateful behavior in our communities. We must stand with our District Attorney to ensure these perpetrators are brought to justice. Our neighbors will, of course, assist the NYPD with their investigation. I encourage any one with information on this crime to step forward.
Kagan, it's worth noting, is against the Voorhies Avenue mosque, protests over which some say has made this kind of anti-Muslim sentiment publicly acceptable.