Amy Thai Bistro: Good Energy and Thai Food on Flatbush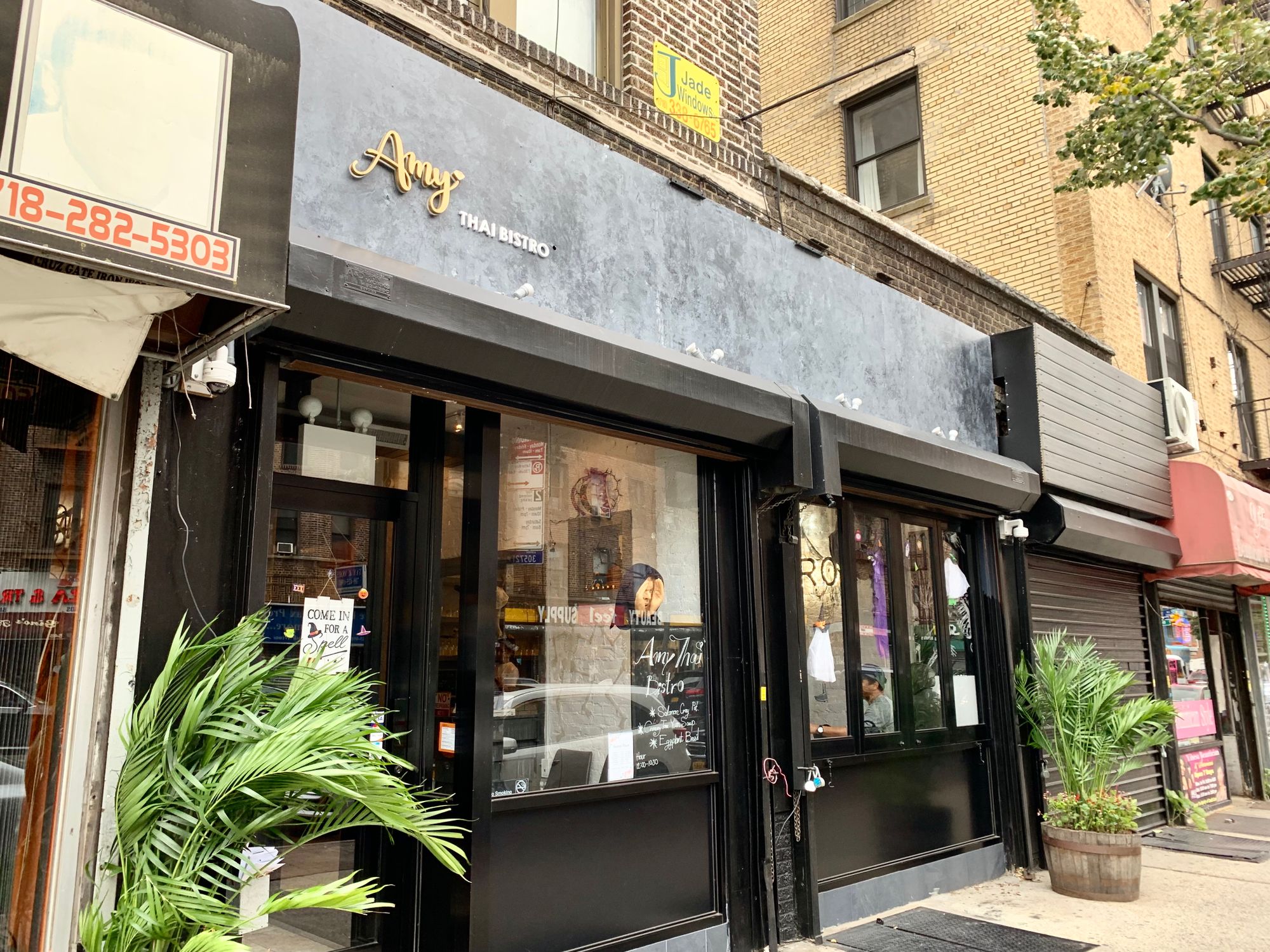 The new space at Amy Thai Bistro, one of the only Thai restaurants on Flatbush Avenue, has a minimal design. The walls are a crisp white, and the dishware come in mismatched, rich colors. It feels chic, but warm and inviting.
This all makes perfect sense once you meet the woman who designed it. Karnchana Vongsawat, known to many as Amy, has worked in the business for years. You might have seen her at Am Thai Bistro, the neighborhood favorite on Church Avenue, which she runs with her business partner, Boonnum Tongngeon. In the last year, both partners, while still working at and operating Am Thai, opened places of their own. Tongngeon's new place, Thai Cook, opened in Queens about two months after Amy's. These new restaurants are not sisters to Am Thai, but instead, represent the women as individuals.
"This [restaurant] is going to be mine. This represents me, everything. At Am Thai we have partners, so we have to share ideas, but this one is what I like. I just made the decisions by myself. Even the design, I did it," Amy said, leaning against the big windows towards the front of the restaurant. She is dressed elegantly, in white trousers and a patterned blazer. She smiles easily, and right away makes us feel at home, insisting on bringing over a beautiful blooming jasmine tea.
She moved to New York from Thailand in 2001, just two weeks before 9/11.
"My parents were worried. I just told them, okay, I'll stay [here] only two years and then go home. Now, it's almost 20 years and I've settled down here. My parents are here also," she said.
While in the city, she attended Laguardia Community College and met her business partner while working as a waitress.
"I was just sick of that kind of job. I was looking to do something like have my own business. I took the class for beauty school, and I [had] already registered, and then my partner called me to take a look at the [future Am Thai space]. We made the decision in 30 minutes. They took my credit score, and then we took it," she said.
Amy was first told about the Amy Thai Bistro space by an Am Thai customer, one of many who asked the women to expand their market. Originally, she asked her partner to join her in the new venture, but she decided to wait for other opportunities.
After many delays from hoping to open in February, the team at Amy eventually had their soft opening on August 9. Alonso Buendia, a partner at Amy and a self-described "behind-the-scenes guy," was there for the event as well.
"We tried to keep it quiet because we knew we weren't 100% ready to open. The kitchen wasn't 100%, we weren't fully staffed. And then, we got hit and then it didn't stop," Buendia said.
"The sidewalk was packed, everything was packed… Everybody was so loving. They came here, they understood, even if there was a little mess-up they said 'don't worry about it, you're good, we're just happy to have you in the neighborhood,' and that made us calm down," he added.
As we're talking, Amy is directing her staff, slipping in a few instructions and requests here and there, always watching and paying attention to the guests in her restaurant.
"I feel like I'm bringing a good energy, a good vibe for the neighborhood. All the customers are like [my] friends. I treat my customers like a friend that [has] come to eat, hang out. They're so happy, all the customers become friends and family. This is the way I am," she says.
"You can come here for the first time and it's almost like you've been coming here all the time. She doesn't forget a face, or anything. She's seen you once, she'll know exactly who you are, probably even what you want to order before you open your mouth. That's great, it's good energy," Buendia adds.
Amy is still back and forth between here and Am Thai, partly because her customers miss her so much when she isn't there, she says.
A big difference between the two spaces, as far as the menu goes, is the kitchen size, Amy says. At Amy Thai Bistro, the kitchen is larger, allowing them to make dishes like duck buns (a favorite of hers). They are still in the process of applying for a liquor license, but hope to have one soon.
After the last few months of extended soft opening, Amy Thai will finally have their official grand opening tomorrow, Saturday 19.
"We invited the monks to bless everyone and everybody. [We will be] offering food to the monk first, and after the monks [make the] blessing and ceremony, then we can get together and enjoy, have lunch," Amy said. There will be a large variety of dishes, including things that aren't on the menu. The event will start at 11:30 am, and is open and welcome to all.
You can find Amy Thai Bistro at 545 Flatbush Avenue, between Lincoln Road and Maple Street. They are open Sunday-Thursday from 12:00 pm-10:30 pm, and on Friday and Saturday from 12:00pm-11:00 pm, with a break from 4:00-5:00 pm. They deliver.