The Questions We Didn't Get To Ask At The Mayor's Bay Ridge Town Hall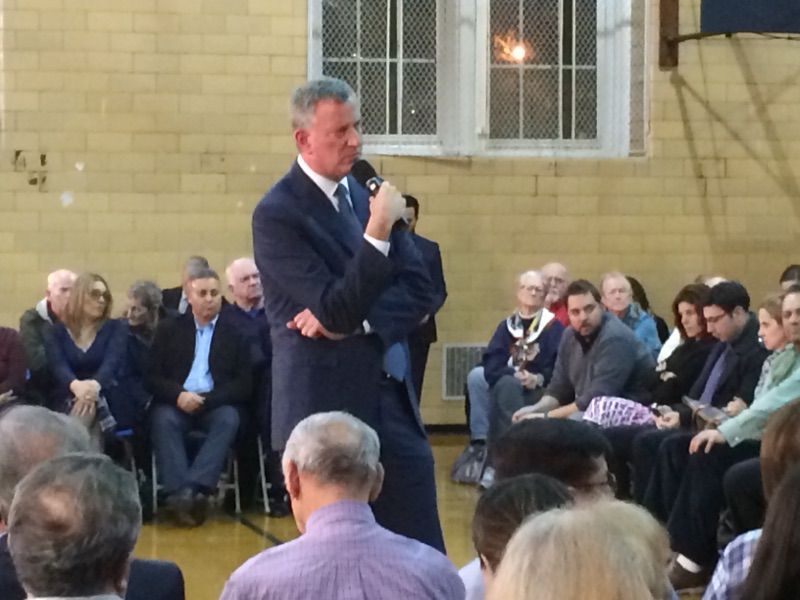 When we heard Mayor Bill de Blasio was headed to Bay Ridge for a town hall Tuesday evening, his first appearance in southern Brooklyn since taking office in 2013, we were hoping to get some answers.
For nearly two hours, the mayor and a panel of experts took dozens of questions from audience members — including two from a pair of Bensonhurst middle schoolers. De Blasio addressed quality of life issues large and small, from District 20 school overcrowding and illegal home conversions, to a particularly speedy stop light and parking problems for the senior van at a specific Bay Ridge senior center.
Some topics were addressed in more detail, such as heroin and prescription pill abuse. The mayor plugged a mental health initiative spearheaded by the first lady called Thrive NYC, which has made Naloxone — a drug that can intercept an opioid overdose — available at 16 local pharmacies.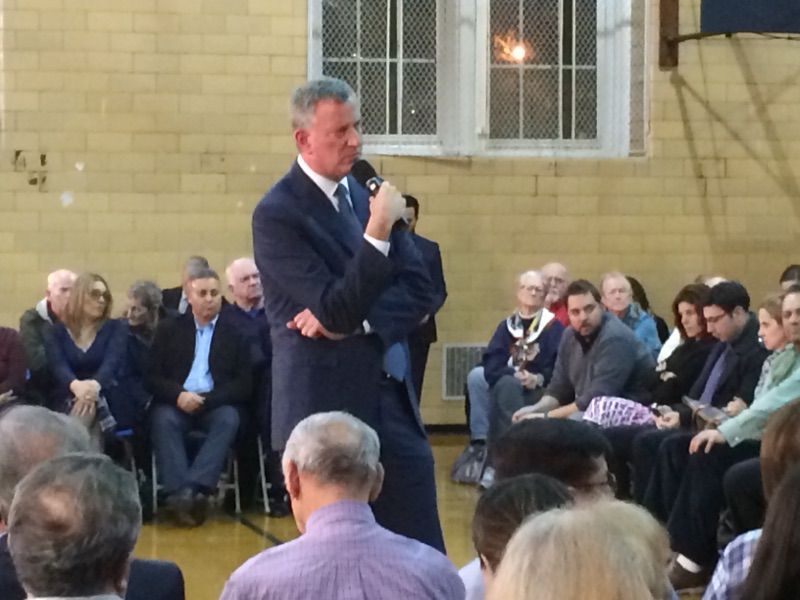 "We need to figure out how to work with parents more deeply, how to educate kids more deeply," said de Blasio. "This is a very profound problem that's going to take a lot of work."
NYPD Captain Anthony Sanseverino, of the 62nd Precinct, described how his officers have saved several lives in the last year since receiving training in administering the drug.
Since the event was mostly Bay Ridge-focussed, several issues plaguing our section of southern Brooklyn were glossed over or ignored. The Southwest Brooklyn Waste Transfer Station was barely addressed, as were criticisms of de Blasio's controversial Zoning for Quality and Affordability (ZQA) plan — which deeply impacts parking in Bensonhurst but not Bay Ridge. Lack of Parks funding for two of southern Brooklyn's largest green spaces went without a mention, and the audience cheered for the mayor's Brooklyn Queens Connector (BQX) plan, despite the fact that it's been criticized for only serving the "hip" side of the borough.
The town hall — hosted by Bay Ridge legislators Councilman Vincent Gentile, Senator Marty Golden, and Congressman Daniel Donovan, and Assemblywoman Pamela Harris — was not advertised publicly; rather politicians, activists, and community organizations were urged to invite people to rsvp. Reporters could attend, but could not ask questions.
"The town hall was meant for residents to ask questions. He took over 30 questions from residents I believe. The mayor had two media availabilities earlier in the day, including extensive off topic Q&A," a spokesperson told us.
Somehow Bensonhurst Bean didn't get the memo, so instead we sent the mayor's office several questions we thought should have been asked at the town hall. Below are the de Blasio administration's responses:
1. ZQA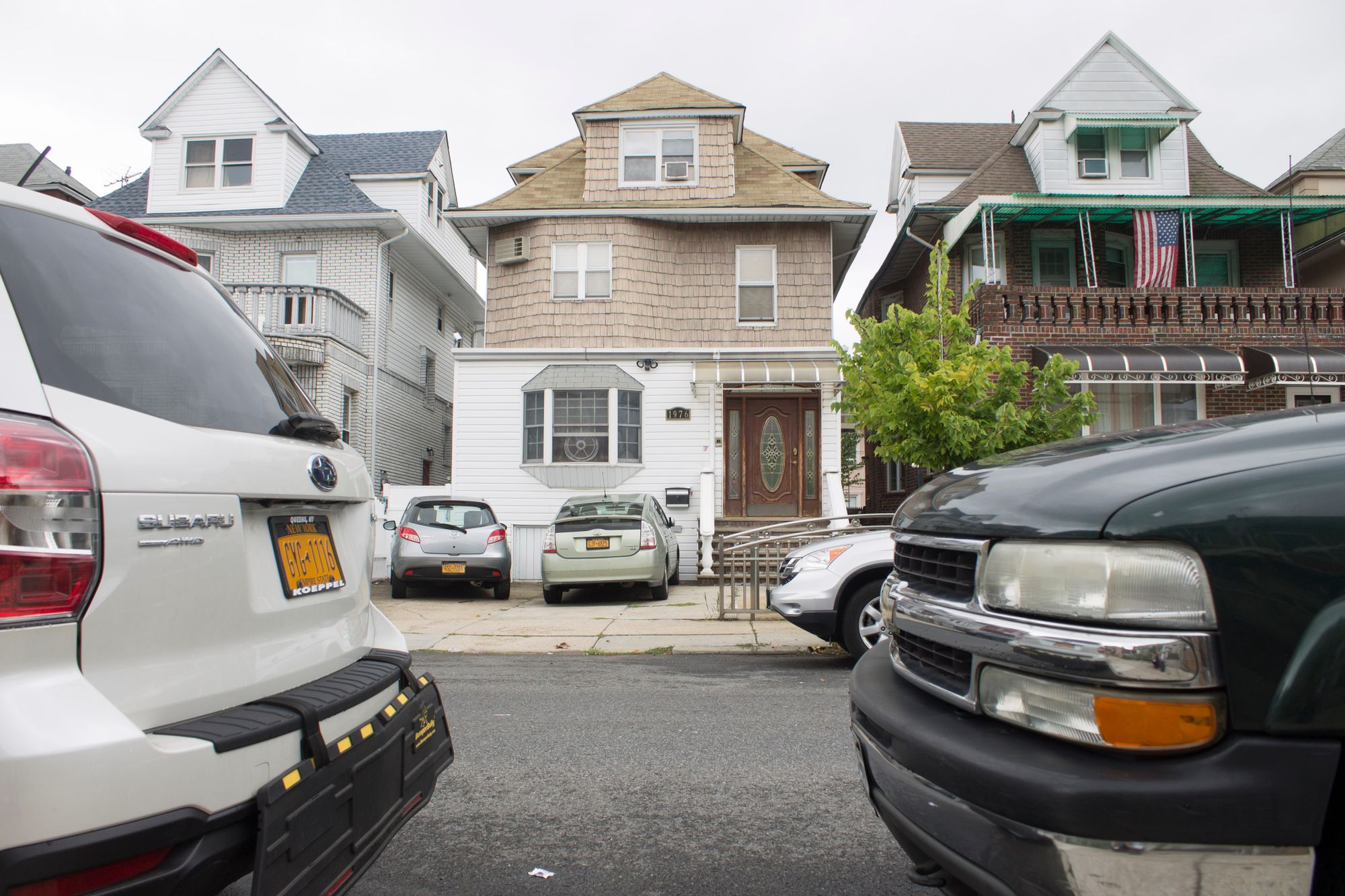 ZQA deems District 11 (Bensonhurst and Bath Beach) a transit zone — exempting qualifying developers from meeting parking requirements — despite the fact that most residents own cars. Bensonhurst already suffers from inadequate parking and congestion. Does the mayor have plans to modify this aspect of the ZQA?
We're in the midst of an affordable housing crisis, and these outdated requirements are a major impediment to build the affordable housing New Yorkers and especially our seniors need. It's shocking, but every three parking spaces we build cost us the equivalent of two affordable apartments. And overwhelmingly, the parking we build connected to affordable housing sits vacant.
We're listening closely to what we're hearing from residents, but we do want to clear up misconceptions here as well. These are requirements that pertain ONLY to affordable and affordable senior housing, not market-rate development. And that's because even while there are communities where car ownership is relatively higher, the tenants of affordable and senior housing have the lowest car ownership rates in the city, especially in areas served by subways and express buses. These changes in no way prevent parking from being built as it is needed, but ensure we don't have requirements far above what we know our tenants will ever use. – Wiley Norvell, Mayor's Press Office.
2. Parks
The only two full-sized parks in our area — Bensonhurst Park and Calvert Vaux Park — have been languishing in a hazardous state of disrepair for years, becoming breeding grounds for crime and the occasional dead body. Only the neighborhood's tiny, massively overcrowded playgrounds were addressed in the mayor's Community Parks Initiative. Any plans to address Bensonhurst Park and Calvert Vaux in future Parks funding to ease pressure on some of the smaller green spaces?
Regarding Bensonhurst Park, an NYC Parks representative told us that the agency is aware of issues in Bensonhurst Park; it is assessing the community's needs, and identifying resources to work toward a solution. Regarding Calvert Vaux, she mentioned new comfort stations coming to the park:
As part of the OneNYC initiative, Calvert Vaux has continued to become a destination for athletics, relaxation, and enjoying nature. In addition to two completed synthetic turf fields, landscaping and lighting, an entry garden, and waterfront restoration, Parks is also currently in the design phase of building a new field house, which will include a comfort station and which received an award from the Public Design Commission this year. For more information, visit our capital tracker. -Maeri Ferguson, NYC Parks Press Office
3. BQX
Last night, we cheered the mayor's Brooklyn-Queens Connector, but southern Brooklyn pols have said that this is plan is a waste of money which doesn't help Brooklyn's most underserved communities. How will the mayor address the bus service cuts, F and R train issues, lack of senior and disabled accessible transportation in southern Brooklyn?
In last year's State of the City, Mayor de Blasio announced new five borough ferry service that will link neighborhoods in South Brooklyn to destinations across the city. That service is being implemented on-time and on-budget, and it will launch as planned in 2017. When completed, for the price of a subway fare, residents of Bay Ridge and Coney Island will be linked to jobs and destinations in Sunset Park, North Brooklyn, Queens, the Bronx and Manhattan. We are working to expand better transit options for all New Yorkers. – Wiley Norvell, Mayor's Press Office.
4. Waste Transfer Station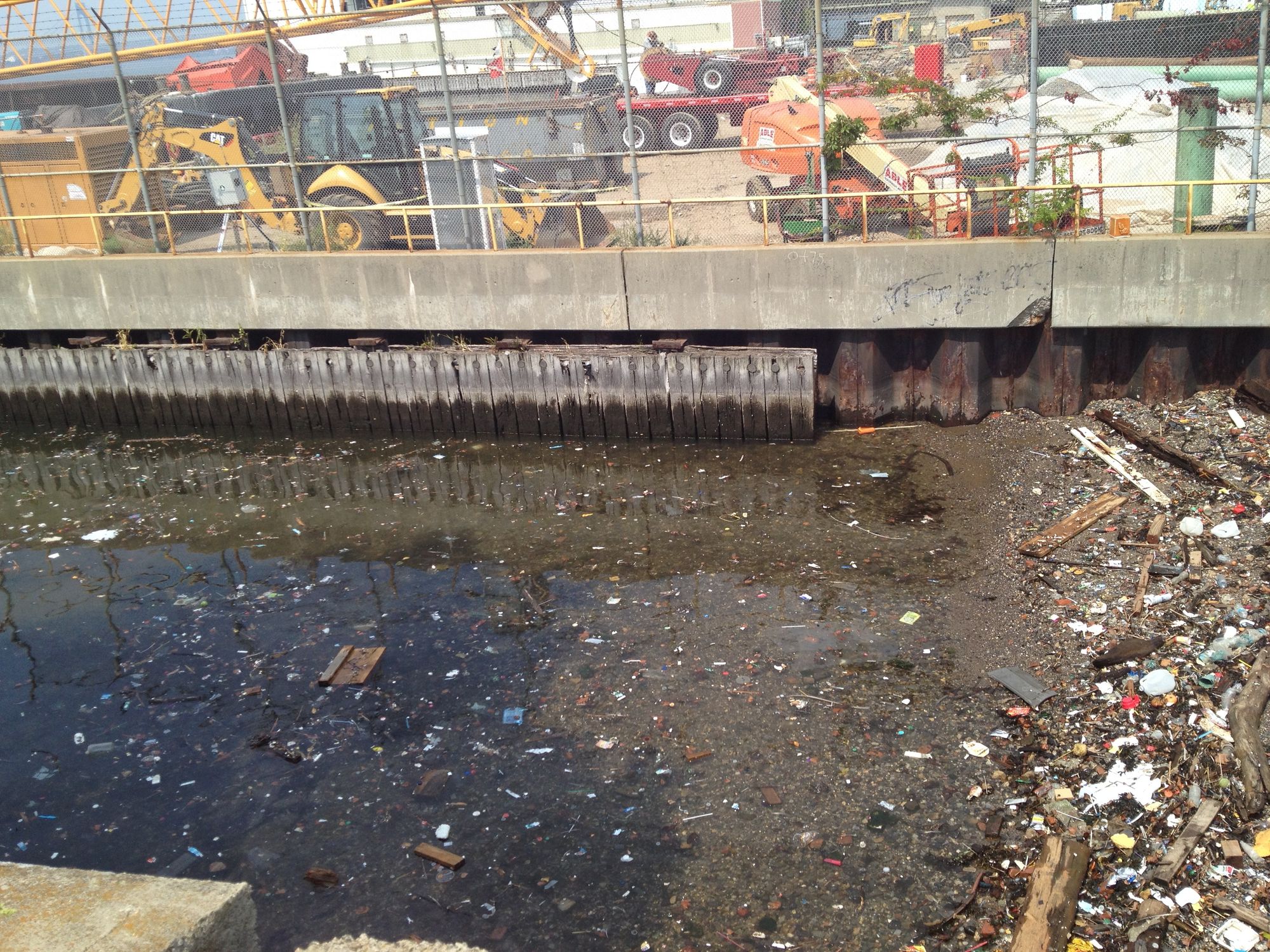 Numerous complaints of negligence at the construction site of the Southwest Brooklyn Waste Transfer Station have been filed with Assemblyman William Colton's office. What added precautions are being taken to address these health and environmental concerns?
The Southwest Brooklyn Marine Transfer Station is a vital part of the City's comprehensive solid waste management plan, which was overwhelmingly approved by the City Council, and has been issued all relevant permits. During the dredging phase, we used the most appropriate equipment to best complete the work and minimize the dispersion of sediment and short term turbulence. – Vito Turso, DSNY Press Office
If given the chance, what other questions would you ask the mayor? Share your thoughts in the comments.