Album Release: From New Orleans To Duke Ellington To Sing Sing Prison, It's Slavic Soul Party!
A band whose members hail from all around Brooklyn will celebrate the release of its latest album with a concert at Williamsburg's National Sawdus on October 29. Slavic Soul Party!, which built its reputation with a weekly residency at Park Slope's Barbès that's lasted well over 10 years, will perform the Far East Suite at the lush performance space that the Village Voice lauded as "state of the art but not-for-profit."
Slavic Soul Party! is an ensemble formed by percussionist Matt Moran that bills itself as "New York's official #1 brass band for Balkan Soul Gypsy Funk." The band's new album, Slavic Soul Party! Plays Duke Ellington's Far East Suite, is a 50th-anniversary remake of Ellington and Billy Strayhorn compositions inspired by their big-band tour of the Middle East. The music was collected on an album of that name after the ensemble's return to the States.
The seeds of Slavic Soul Party! were planted when Moran fell in love with Balkan music twenty years ago. He "started playing in very traditional bands with immigrant musicians or Americans from the Balkan folk dance world," Moran said. "Eventually I had musical ideas that didn't fit in a traditional setting, and I started my own band so that I wouldn't be inappropriate in other people's."
The result is a sound that is obviously steeped in several generations of musical culture developed by African-Americans: jazz, R&B, soul and funk. The influence of New Orleans brass bands is also clearly central, with Moran's devotion to Balkan music tugging Slavic Soul Party! beyond any existing pigeonholes.
Moran was convinced early on that the kind of band he wanted would need strong bonds between the members. He talked to Olivier Conan, one of the owners of Barbès (376 9th Street near 6th Avenue), where Slavic Soul Party! had already played a couple of gigs. "Moran talked about being in New Orleans and seeing the Rebirth Brass Band at Maple Leaf Bar, where they've had a running residency for now thirty years, Conan recalled, "and how it would be great to do something similar at Barbès. So we tried it. That was 13 years ago."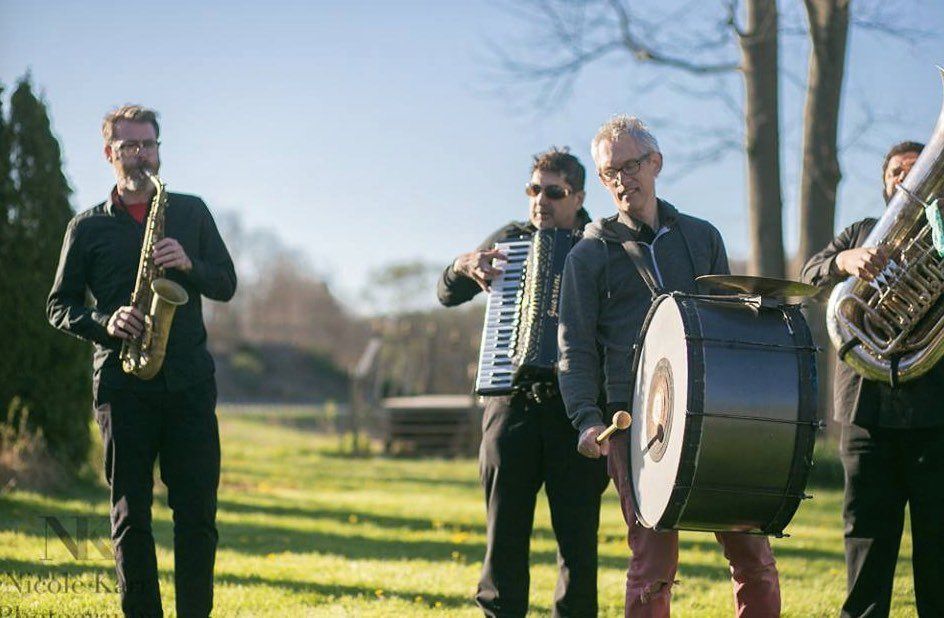 Moran recalls the moment as well. "I asked if he would have us in weekly, and I still remember his exact words: 'You would do that?!' so that sealed the deal. And now we're there 'forever' according to the calendar."
Moran's sense was that having a regular venue for the band would build bonds between the musicians that were expressed in the music. That's validated by both live performances and recordings by the group. The long relationship with Barbès also fostered a strong connection with the club and with the audience.
"I think Barbès and SSP [Slavic Soul Party!] give one another context," Conan said "We've grown together, with similar values and esthetics. We share a similar approach to musical history – with great respect for tradition and a definite urge to tamper with said tradition. SSP remains an unbelievable creative force, always re-inventing itself."
For Moran, Barbès became a touchstone for his connection to Park Slope. "I think Barbès as a venue has formed a very special and unique relationship with the community, because of all the people who show up regularly to make it what it is," he said. "It's a community hub for celebration and creative growth and also a place where people go for solace when we lose someone, too. I've seen it do all those things."
In the years of its residency at Barbès, Slavic Soul Party! has also toured, playing literally around the world: Canada and Mexico as well as in Europe, Africa, Asia and even Sing Sing Prison. But the return to its home base has always meant something special to the band.
"Brooklyn shows have become special because we always have a mix of friends and regulars who know us and our music inside and out, and then people who have come into town and want to have this experience they've heard about. I love that mix of comfort and familiarity and total exhilaration – that's my favorite vibe," Moran said.
"It's starting to feel like more than I can comprehend," he added "Fully grown adults come and tell me they used to sneak in and hear the band when they were kids. I love to hear that, but it's bewildering. That's what I love about the richness of creating a real community around music: it's way more than any one narrative can make sense of."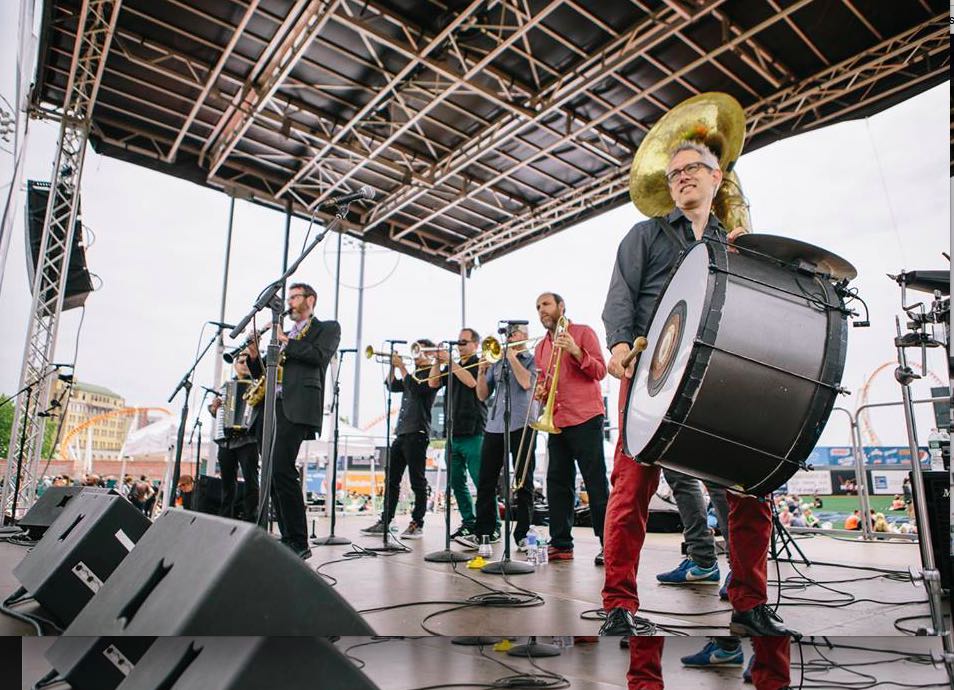 At the beginning of the band's relationship with Barbès, Moran lived in the neighborhood. "On President Street, when it was still affordable for young musicians," he recalled. But as is often the case when artists and musicians help make the neighborhood an attractive destination, Moran in some sense priced himself out of Park Slope.
"Over the years I've been priced further and further away from the club (I've moved twice since we started) and now I'm not in the neighborhood anymore," he said.
.
The band's continued residence at Barbès gave Moran a base for building the tightly knit band he wanted. There's been some turnover through the years — the alumni from Slavic Soul Party! could likely fill an impressive brass section on their own–and the current line-up draws from all over Brooklyn: sax player Peter Hess from Prospect Heights; trumpeter Kenny Warren from Sunset Park, percussionist Chris Stromquist, trombonist Tim Vaughn, and trumpeter John Carlson from Park Slope; and other players from Bed-Stuy, Ridgewood and Prospect Heights.
On Saturday, the group will be traveling from their respective Brooklyn neighborhoods — not to Park Slope but to Williamsburg — where they have landed a gig at National Sawdust (80 N. 6th Street at Wythe Avenue), the artist-run performance space. Opened last year in a former factory after a $16 million renovation, the venue has a team of artist-curators who choose performers.
"It's a fantastic gig, and we're very excited to work with them!" Maron said. "Local composer and performer Sxip Shirey has been in residence with them, and recommended me to them; they got in touch and asked if there's anything I'd like to present. So we're playing the entire Far East Suite, and also premiering a piece I wrote for 12-piece brass band called "The Living Need Light, The Dead Need Music" which was commissioned for an art film a few years ago. It explores some of the connections between brass bands and funerals in Vietnam and the Mississippi River Delta."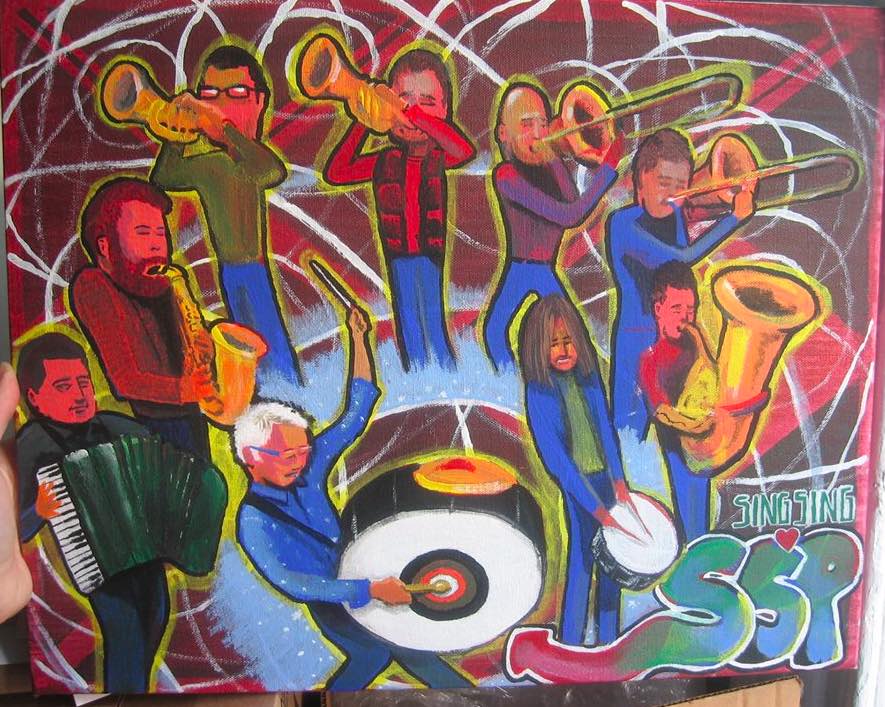 This isn't the first time Slavic Soul Party! has made Far East Suite the center of its show; that's how they recorded it in the first place. The resulting album is proof that a decade honing their chops in live performance is crucial to the band's success. Re-arranging these classic big-band jazz compositions for a Balkan brass band has a kind of high-concept chutzpah it's hard to imagine coming from anyone else. Recording the whole piece live on a single night, as Slavic Soul Party! did, is a musical high-wire act.
"For many of us in and around the band, it's on our top-10-records-of-all-time list," Moran explained about the original Ellington recording. "It's truly an amazing piece of art. I'd played one of the songs, "Blue Pepper," with the band since our inception, and always dreamed of pushing further into the whole suite. Eventually, I got off my ass and did the arrangements, with the help of our sax player Peter Hess. As we did it I realized that we were doing the arrangements 50 years after the original tour, and then we released the record 50 years after Ellington recorded the pieces. It was time to share our love of the album."
"Blue Pepper," the tune that inspired the band's recording of Far East Suite, cakewalks with the rhythms that put the "soul" into Slavic Soul Party! "I love that song, but remember: we've played it off and on for 17 years. I needed a new take on it, so I wanted a peppier tempo, something a little less elephantine than you often hear it covered with," Maron explained.
"I knew that our trombone players could really enrich the harmony and the groove, so I wrote a line for them that I thought would really propel the song, and they set the tone by starting with that," he said. "Then we just play the material, and John Carlson takes a solo on an improvised blues form: we go through the chords of the blues, but just move from chord to chord when the time feels right, like how Balkan improvisers make modulations."
The most familiar tune on the original Far East Suite is probably "Isfahan," featuring a beautiful alto sax solo by Ellington's long-time bandmate Johnny Hodges. On the Slavic Soul Party! version, Carlson, who Moran calls "a phenomenal trumpet player" takes the solo.
The Suite closes with "Ad Lib On Nippon," anchored by a thundering percussion that recalls Japanese Taiko drums. It's hard to believe that it's just Moran and Chris Stromquist providing the big bottom for the brass. For Moran, the song was one of biggest challenges when re-imagining Ellington's recording for Slavic Soul Party!
"I did most of [the arrangements for the album], but Peter Hess tackled the big thorny one," Marton said: "what to do with Ad Lib On Nippon, which starts with a lengthy piano solo on the original recording… not an easy transition for a brass band! But Peter heard the whole thing in terms of mambo and Bulgarian ruchenitsa and totally got inside it to transform it into a vehicle we could work with."
The Live Show Rundown: Slavic Soul Party!
When: Saturday, October 29, 7pm
Where: National Sawdust, 80 N. 6th Street at Wythe Avenue, Williamsburg
Tickets: $25, available online. $30 at the door.
See SSP every Tuesday at Barbès (376 9th Street near 6th Avenue)